What's your opinion about a referendum in Catalonia?
Of the 850 respondents, 28% are in favour (234), 32% are against (269), 26% have no opinion the matter (215) and 14% prefer not the answer (112).
In a general sense, we could say that if we bring together three foreigners living in Barcelona, one will be in favour of the Referendum, one against and the other would be unsure or not answer.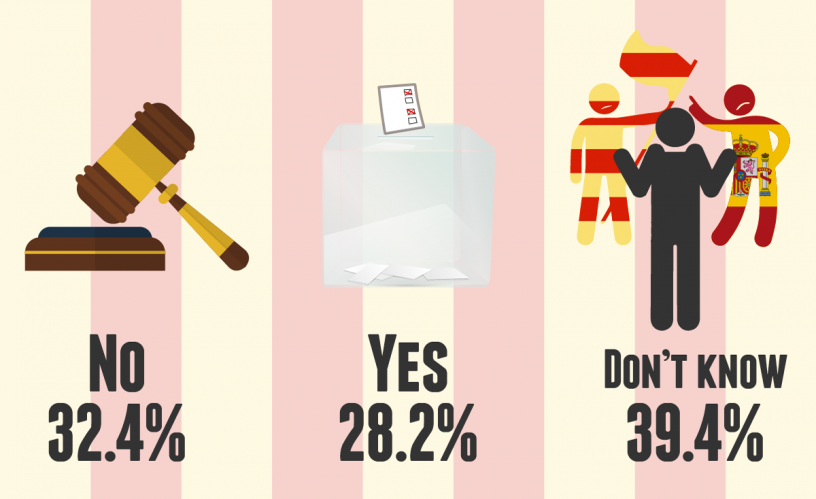 Results of an opinion poll with 850 respondents
Here are some of the comments that the respondents made:
"I agree that they should. The citizens have a right to express themselves, though personally I'm against independence." / "It really doesn't matter to me, but if it happens I'll leave immediately, without a doubt." / "Whether you agree with independence or not; the freedom to decide is vital in a modern democracy." / "We all have political opinions, I think that this is something for the Catalans to decide (or the people that have lived here a long time). It's their land." / "It should be up to the Catalans to decide. They must have the chance to vote. I'm not sure whether I'm for or against independence." / "I think that Catalan independence isn't something real and it's surged more for selfish economic reasons rather than authentic cultural reasons." / "This is for the Catalans, I won't get involved in their decisions."
Differing results with the Catalan population
If we look at the data and take only those in favour or against, we see that "No" to a referendum totals at 54% against and "Yes" at 46%.
This data seems to be opposite to how the Catalan population feels about having a referendum according to their most recent voting in the Catalan Parliamentary elections. The percentage of votes were as follows:
Parliamentary Election, 27 September 2015.
59.19% in favour of a referendum: Junts pel Si 39.54%; CATSIQUEESPOT 8.94%; CUP 8.2%; UNIO 2.51%.
30.67% against a referendum: PSC 12.74%; Ciutadans 17.93%; PPC 8.5%.
General Election, 26 June 2016
56.6% in favour of a referendum: En Comun Podem: 24.51%; ERC-CATSI: 18.18%; CDC: 13.91%
40.41% against a referendum: PSC-PSOE: 16.12%; Ciutadans 10.93%; PP: 13.36%
As you can see, where with the expat population would mostly say "No", Catalans mostly say "Yes" to a referendum and vice versa.
Understanding the data
Other questions were asked in the survey, such as 'For how long have you lived in Barcelona?' and 'What is your level of Catalan and Spanish?'.
If we cross-reference the results for the opinion on a referendum with those who have lived for more than 5 years in the city (114 of the 850) then we see that 59% agree with a referendum (85) whilst 41% are against (59).
Likewise if we cross-reference data with those who have an average or better speaking level of catalan (166 of the 850), then 67% agree (112) and 33% disagree (54).
This is contrasted with the general response in the following infographic: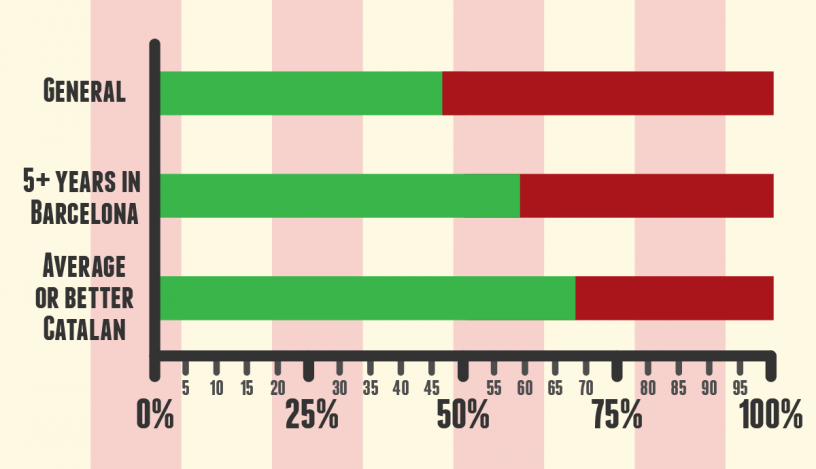 How time and level of Catalan affect opinion on referendum
If you come to visit the capital of Catalonia, ​​we will help you to find the best long term rental in barcelona. We offer apartments of different types, renovated and well furnished in all areas of Barcelona!
Video interviews with expats talking about the referendum
In this video, we compliment the opinion poll with some interviews with foreigners living in Barcelona whom we found around the streets. They conform with the results.
Level of Catalan and Spanish
Comprehension
The linguistic level of comprehension amongst respondents were that 86% understand Spanish very well (61%) or very well (25%) whilst 39% understand catalan well (23%) or very well (16%).
Another large radical difference indicates that only 0,48% of the respondents do not understand any Spanish compared to 19% that have no understanding of Catalan.
In general, comparing both of Catalonia's official languages, the level of Spanish is exceptionally higher amongst foreigners that live here than Catalan.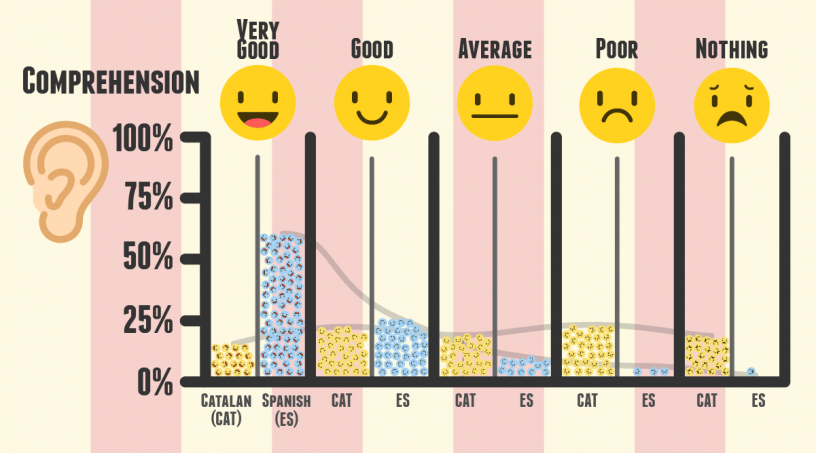 Expat Comprehension level of Catalan and Spanish
Speaking
We see there are many foreigners that 69% speak Spanish very well (43%) or well (26%), followed by those with an average speech ability (17%). Very few have a poor level of Spanish (10%) and almost no-one speaks absolutely no Spanish (1%).
However, with Catalan it's inversely proportional. 72% cannot speak Catalan with no ability (45%) or at least a poor level (27%). The number decreases as ability increases, with a smaller percentage with average level (14%), even smaller with a good level of spoken Catalan (8%) and finally an even smaller amount who speak Catalan very well (5%).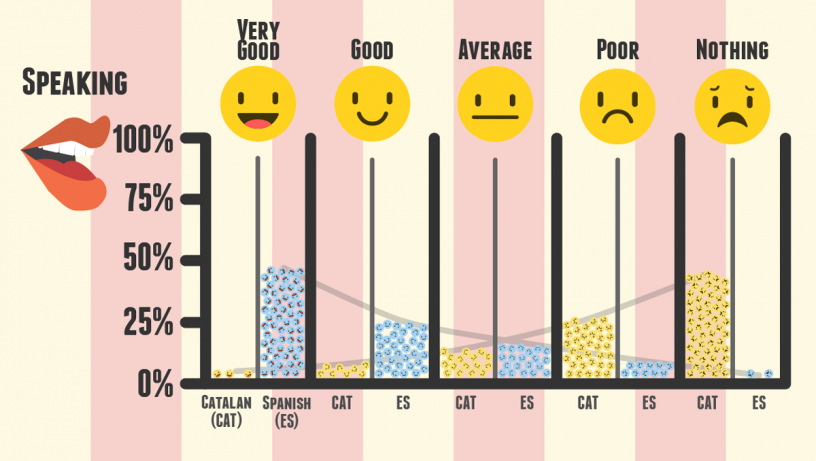 Expat Speaking ability of Catalan and Spanish
Writing
Much like speaking, as many as 70% write Spanish very well (28%) or well (43%), followed by fewer who have average writing skills (17%). Identical to the speaking result is the poor level of writing in Spanish (10%) and scarcely anyone is unable to write any Spanish (1%).
The same inverse proportion between Spanish and Catalan for speech repeats here. There are as many as 77% that cannot well write in Catalan either at all (52%) or poorly (25%). There are fewer with an average writing level of Catalan (11%), fewer with a good level of writing (8%), and hardly any with a very good level (4%).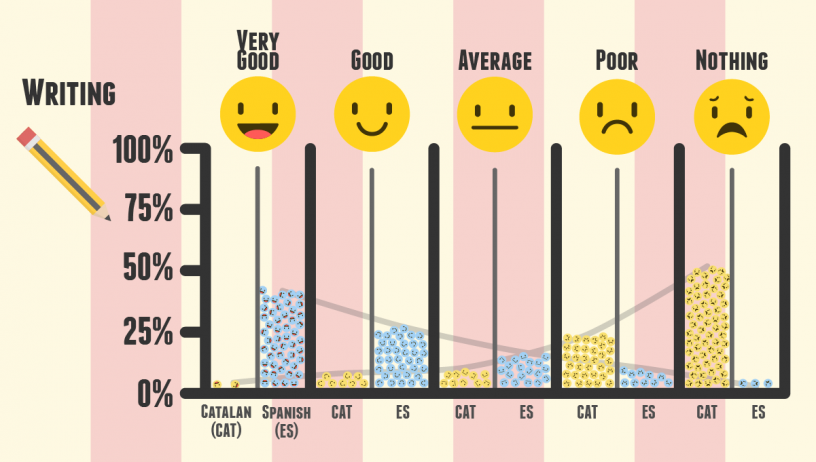 Expat Writing ability of Catalan and Spanish
In your everyday life, have you encountered difficulties for speaking in Catalan?
The majority of respondents - or 68% - have not had any difficulties (564), whilst 27% have had difficulties for not speaking in Catalan (226).
Curiously, 5% have had difficulties for speaking in Catalan (40), when asked to explain why, responses included for being misunderstood, at university, work, etc... Some had problems for speaking Catalan outside of Catalonia.
Would you like to improve your level of Catalan
18% have already organized to improve their Catalan (151) whilst 37% have no interest (306).
The majority with 45% say they will learn but they have not planned it yet (373).
Amongst those that are learning they say they are doing so using books, Television, internet courses, and school courses. Most responses though highlight that the best way to learn Catalan is by speaking with Catalans - making friends and in day to day life like going to university and work. They also mentioned the free courses offered by the Consorci per a la Normalització Lingüística.
About the survey and study sample
The survey was carried out between 1 June and 31 December 2015. 88% answered online and 12% used a paper form.
It contained many questions that allowed us to get to know the opinion of the foreigners of Barcelona. More results have been published in the following articles:
Some of the participants that live in Barcelona have lived in Barcelona for only three months, but the majority have been here for more than two years. The percentages are: Between three months and one year (30%), between one and two years (15%) and more than two years (55%).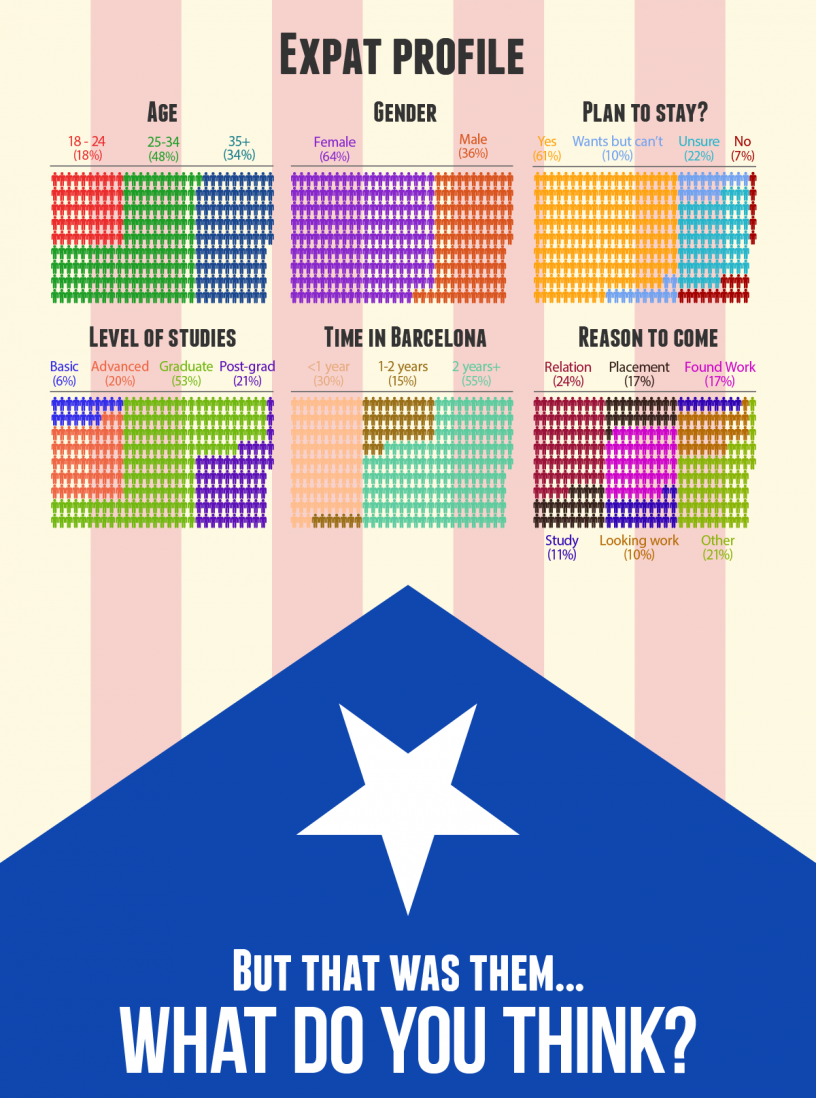 Respondent demographic
Excursions in Barcelona
To make the most of Barcelona and fill your trip with unforgettable experiences and emotions, we offer you the excursions through the Catalan capital organized by our friends - the GetYourGuide team. Choose your excursion and fall in love with Barcelona: