1. Sporty chic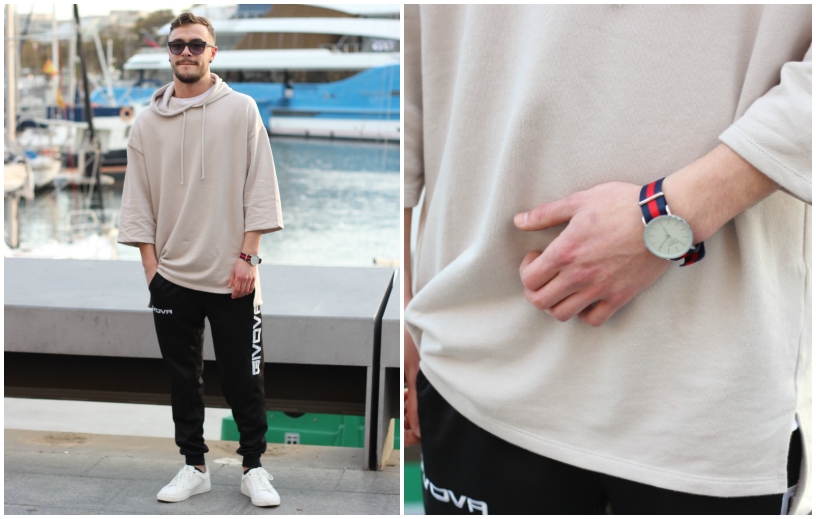 Sporty Outfit
We start off directly with a sporty outfit. Strolling along the promenade of Port Vell, this guy was trying to order some seafood in one of the famous restaurants in front of Barcelona's harbour. We needed to interrupt him to take some nice photos of his casual, sporty look: A loose fit beige hooded sweatshirt, trendy simple black sweatpants and white trainers. Of course, no outfit is complete without some chic accessories, like brown big sunshades and a Springfield marine-style watch. 
2. Old School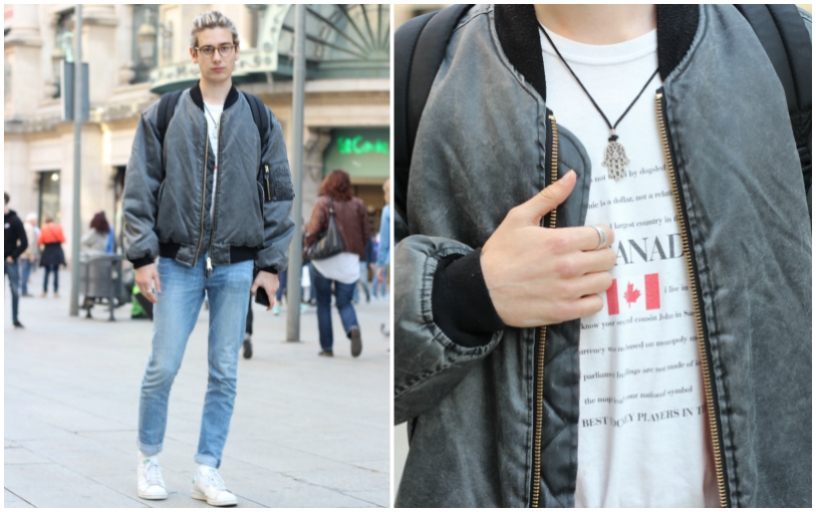 Old school Outfit
Can a new trend be an old one? Of course it can!
This guy definitely likes the '90s and shows us an old school outfit, which we have all seen frequently enough in many college movies from that decade: Big grey bomber jacket, white T-shirt with graphics, bleached regular-fit jeans and some old school white trainers.
He completes his college style outfit with a black backpack, Buddha's hand necklace and plain silver ring on his index finger. 
3. Skater Style 
All black Skater Boy
On a square in front of Universitat de Barcelona you'll find people of all ages, like students who spend their breaks in this sunny spot, elderly people who sit and chat with their children, and a lot of skater boys. 
In between others, this skater caught our attention and stopped his skating for a quick shoot. Our list wouldn't be complete, if we didn't show you an #AllBlackEverything Look, which he rocked without much effort: Wide-cutout loose black T-shirt, skinny jeans and matching trainers in this used look. His fresh undercut and colourful tattoos on his left forearm complement his outfit.
4. Army Hip Hop Style
Hip-hop Style
We met so many stylish guys along Las Ramblas! Stay there for five minutes and you'll probably see a bunch of fashion-conscious boys who are out on a shopping trip finding new garments for their wardrobes. 
This Latino definitely likes army patterns and seems to adopt the American hip-hop style as we see on famous U.S. artists: Cap, T-shirt and low-rise trousers with holes in a worn army style, combined with jewellery and catchy red trainers. 
5. Rebellious Street Style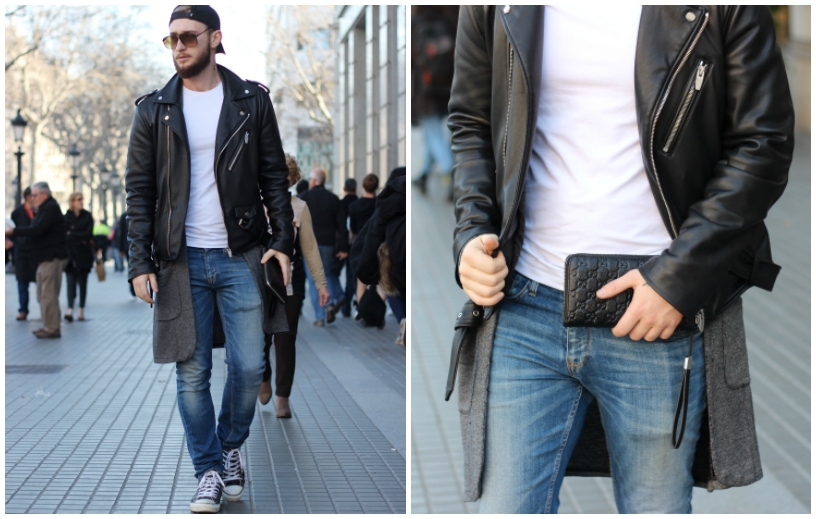 Street Fashion
When we spotted this guy close to Plaça de Catalunya, we knew straight away that he would know exactly how to pose for our photos.
He is fully capable of putting on a layered look with his stylish black leather jacket and grey long cardigan beneath it. We are amazed how a plain white T-shirt, washed out jeans and simple black converse chucks still make this outfit appear rebellious and unique. It could be that his back-to-front black cap, big brown sunglasses and well-groomed manly beard influence the overall look, but we definitely call it one of our favourite styles spotted that day. 
6. Green Casual Style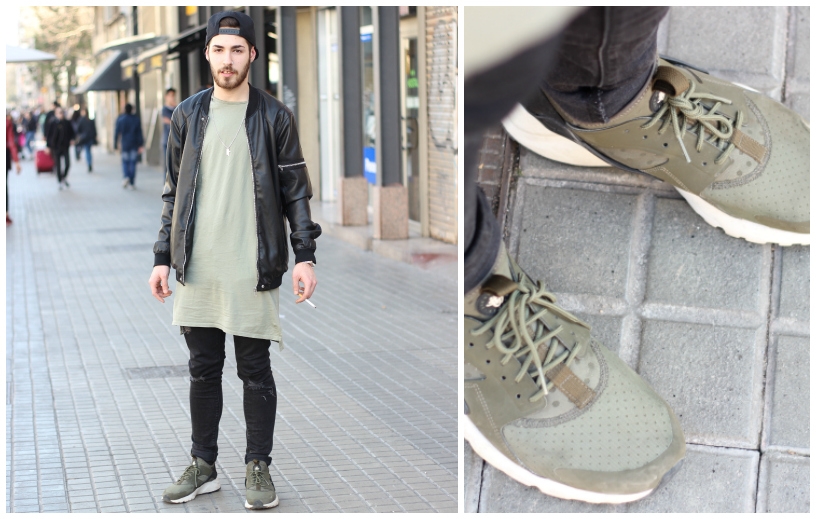 Green Daily Look
If you come to visit the capital of Catalonia, ​​we will help you to find the best apartments in Barcelona. We offer apartments of different types, renovated and well furnished in all areas of Barcelona!
Casual looks are essential! We cannot wear our fanciest clothes each and every day, so we use those daily garments and make them stand out a little with some colourful pieces. 
We met this guy in Paral·lel walking around in a green and black outfit. A black leather jacket, long bright-green shirt, black skinny jeans, matching trendy green Huaraches and some accessories such as a black cap, long silver necklace and silver watch. 
7. Classy Gentleman Style
Classy Outfit
Who knew that there are still men out there who prefer the classy gentleman's look?
We discovered him on a main street very close to Plaça de Catalunya and knew we needed to include him in our article on men's fashion. Of course, this Barcelonian modernized his look by using to-date fashion garments  like a chic beige baseball jacket combined with a classic blue buttoned-up shirt, black skinny jeans and brown chelsea boots. We like how the bright colours harmonize with the dark details, such as the jacket's blue and red cuffs. 
8. Rock Style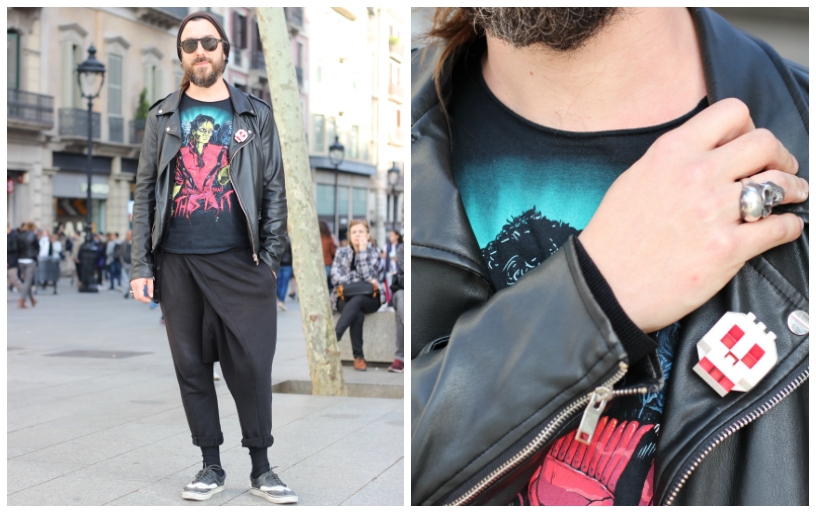 Rock Fashion
Here and there you'll also find some rock styles. This guy really likes black elements, wearing a shiny leather jacket, Michael Jackson Thriller T-shirt and baggy trousers. He added some matching accessories, such as a black hat, black sunglasses and big skull-ring. Look at the little adorable skull badge that he pinned to his leather jacket - we simply love it!
9. Jamaican Flair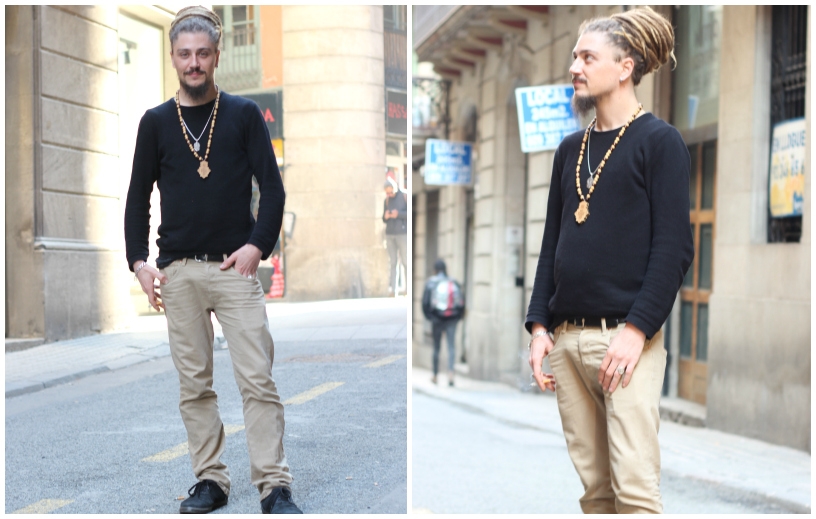 Jamaican Style
What a coincidence that we found this guy directly in front of a Jamaican clothing store around the Gothic Quarter in the heart of Barcelona! When we asked him for some pictures he looked at us in a relaxed gaze and simply nodded with a little smile on his lips.
Even though he only wore simple colours, such as beige and black, we think that his stylish elements perfectly fit with the Jamaican culture, for example the long dreadlocks that he tied up to a giant man bun with the goatee beard and long necklaces of Buddha's Hand. 
10. Hip Hipster
Hipster Look
Fashion is about variety and expressing yourself, feeling as comfortable as possible in your own skin.
We will end our article with this Spanish Hipster, who stands out with his long, manly black beard and special combination of different garments including sleeveless denim jacket, which he places over a long black T-shirt and combines with ankle-length beige pants, standard white Converse and some matching accessories - a black cap, brown nerd glasses and nose piercing. 
He was a waiter in a restaurant very close to our OK Apartment Barcelona office in Sant Antoni. Come and convince yourself of the stylish men you can spot on every narrow street and close to each sight in Barcelona. We are waiting for you!
Excursions in Barcelona
To make the most of Barcelona and fill your trip with unforgettable experiences and emotions, we offer you the excursions through the Catalan capital organized by our friends - the GetYourGuide team. Choose your excursion and fall in love with Barcelona: