1. Casual Style
Jeans, black jumper, sunglasses...
Natural colours and simple cuts, combined with carefully selected details - such as a red '70s sunglasses, thick black belt and plain fabric bracelet - make this outfit our favourite casual style of the day! At first her fashion taste seems minimal and normal, consisting only of standard garments you can buy in any mainstream shop, but on second glaze you see the ideas behind each and every style element: The bright see-through shades that add some colour, the high waisted mum-jeans, the black Converse in used look and her tousled looking hairstyle, remind us of the '90s.
2. Indie Style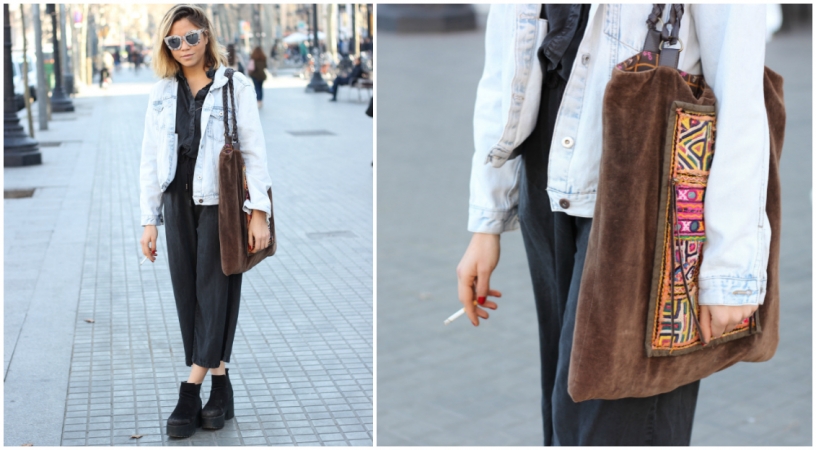 Stylish and laid back
Close to the University of Barcelona we saw this beautiful laid-back fashionista walking right towards us. The combination of her dark grey jumpsuit and distressed jeans jacket fascinated us right away. Wearing '60s marble sunglasses, a big brown velvet bag and chunky black plateau boots make her indie outfit even more unique and eye-catching.
3. Soft Grunge – Black everywhere
Back in Black
After walking around for some time, you will definitely find many black-dressing girls all over Barcelona.
This girl here caught our attention and we loved her simple yet special style: A modest black grunge outfit, combined with reflecting silver sunglasses, nose and ear piercings, chunky black Dr. Martens and a hint of colour inside of her trendy black and orange bomber jacket. With her hair slicked back to a ponytail and cool facial expression, she definitely stood out from the mass.
4. Oversized Boyfriend Style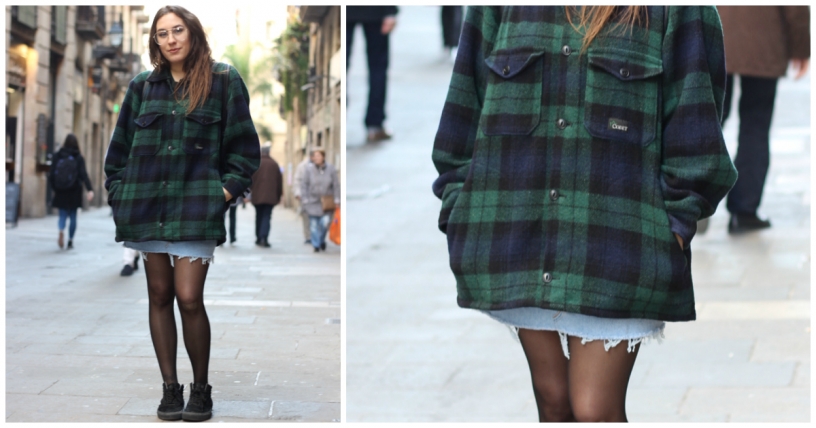 Baggy is best
In the famous narrow roads of Barcelona we found this girl's comfortable oversized outfit. According to society's standards, her style can be categorised into two opposing parts: The blue-green chequered boyfriend lumberjack on the top, in contrast to the feminine denim skirt and transparent thighs that she wears underneath. But hey, we believe in gender equality – these different elements definitely do match and highlight her individual taste in fashion!
5. Street Style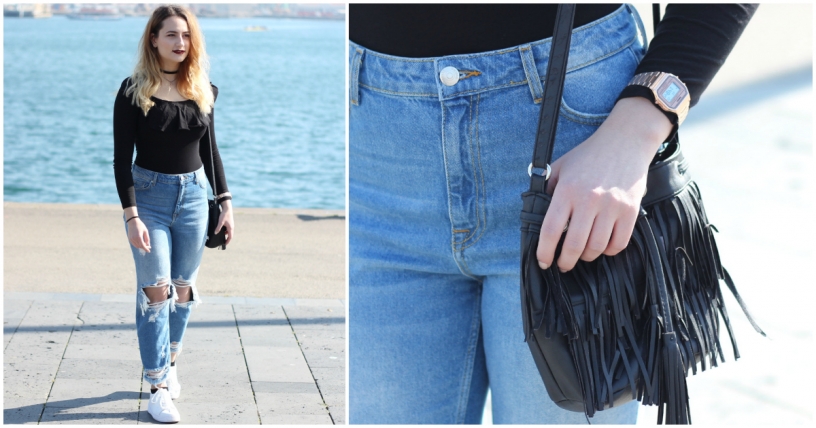 Ready to take on the world
Torn high waist Jeans, simple white trainers, double chain choker and a dark-red lip colour, make this outfit our favourite street style at the Barcelona Marina. Some extra elegance and a highlight added to the look with a black frill off-shoulder top and a leather fray handbag.
6. Romantic Chic Style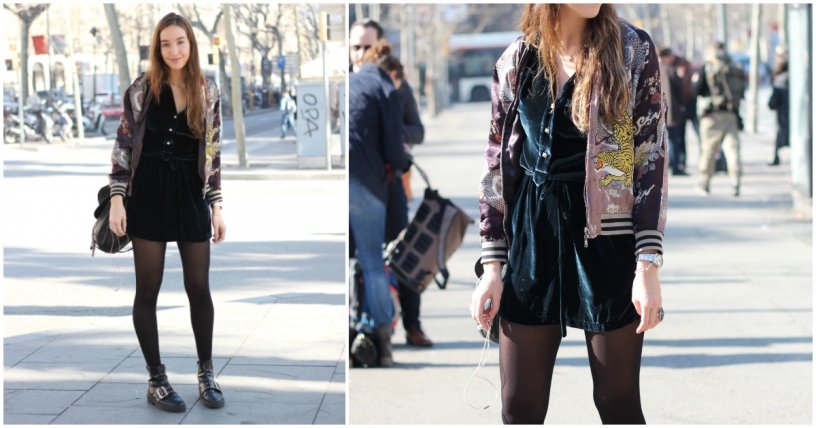 A dash of romance
Some romance right in front of the Universitat de Barcelona can be seen on this cute Barcelonian girl. We call this outfit romantic because of her short little green velvet romper and red bomber jacket, that are adorned with lovely cute silver jewellery and transparent tights. Even though she wears black biker boots with studs, her overall style is still chic and feminine, but surely our sight is also influenced by her lovely smile and and deer-like brown eyes.
7. Girly Rock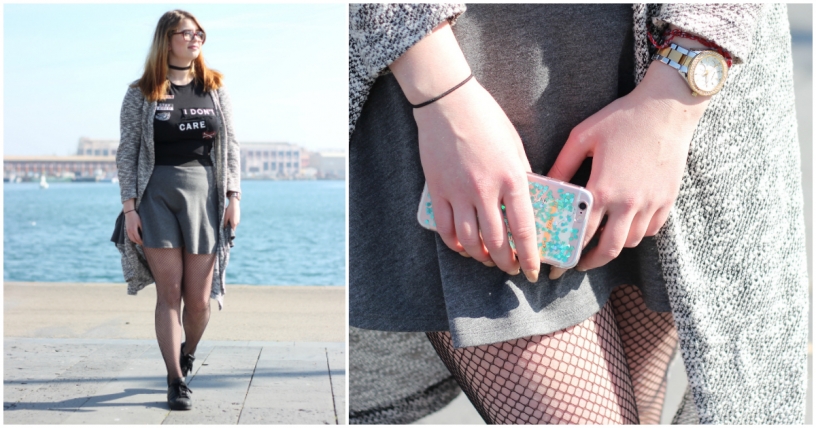 Rocking it
If you want to come work or have a holiday in Barcelona but you have a small budget, it's possible! Look at our offer of cheap places to stay in Barcelona.We offer apartments of different types, renovated and well furnished in all areas of Barcelona!
Not only the view on the beautiful port of Barcelona in front of the Mare Magnum Shopping Centre is delightfully pleasant, but also the stylish girls who visit to show off their fashion conscious outfits. Here we spotted a girly rock style and just had to add it to our collection. A black rebellious T-shirt, long grey cardigan, grey pleated mini skirt and fishnet tights provide the foundation of the rocky outfit. Nice details, such as a golden watch, a black choker, red glasses and an ombre hairstyle complete the youthful look.
8. Exciting Biker Style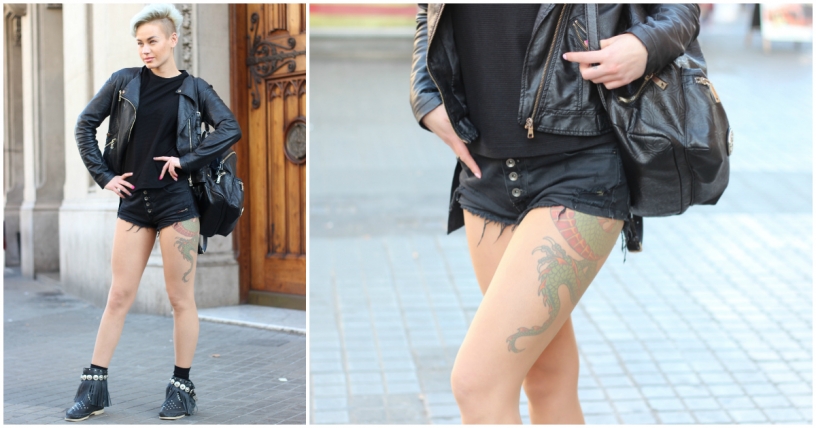 Edgy and fashionable
Look at this diamond we photographed right on Barcelona's most famous avenue Diagonal, standing out in the huge crowd of people, with her bleached-blond undercut hairstyle, which flatters her soft light skin, and wildly snug and short biker outfit. Based on "all black everything", she was ready to take some fashionable pictures and rocked this look with a shiny leather jacket, shorts and backpack accompanied by some tribal leather boots with fringes and a plain black T-shirt. Of course, her colourful dragon tattoo makes her look more unique and creates a mysterious flair surrounding her.
9. Comfy Effortless Look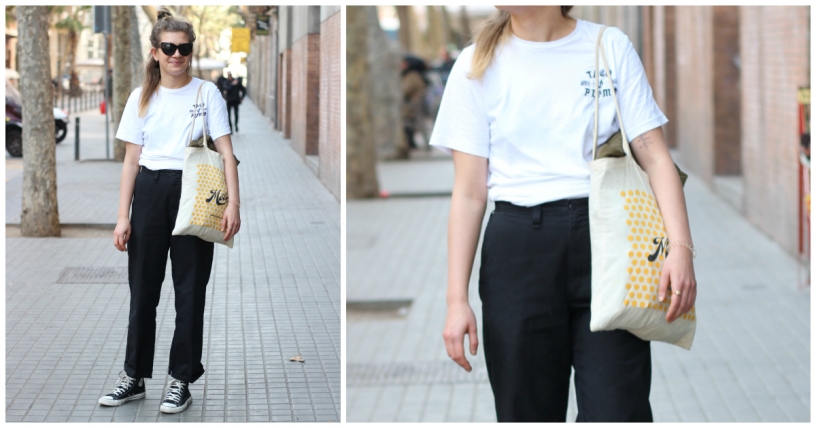 Simple is stylish
Why not go out in your most comfortable clothes? Put on a white plain T-Shirt, wide black trousers, the standard black chucks and a white-yellow jute bag. No make-up needed and don't forget to have a messy half-bun and your opaque black sunglasses!
Excursions in Barcelona
To make the most of Barcelona and fill your trip with unforgettable experiences and emotions, we offer you the excursions through the Catalan capital organized by our friends - the GetYourGuide team. Choose your excursion and fall in love with Barcelona:
10. Extraordinary Pizzagirl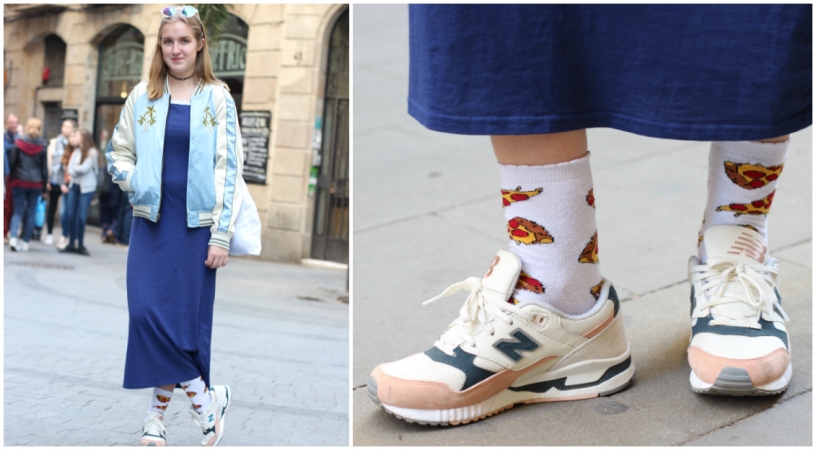 Owning her style
In Barcelona you will spot the most diverse outfits in every and each corner. Look what we found on this narrow street close to Las Ramblas! You definitely have never seen a girl rock a plain blue maxi-dress the way she did: Futuristic mirrored blue sunglasses, a sky blue bomber jacket with white stripes and green details, black choker, trainers and... pizza socks! Who said you have to wear high-heels with a dress and can't go out with your most comfortable sporty shoes and long pizza socks?
We adore this extraordinary style and definitely envy her boldness to wear whatever she wants to and combine outstanding elements with each other.
Do you live in Barcelona or plan to visit the city soon and want to be featured in our next article? Post a picture of your Barcelona street style on Instagram and use the hashtag #OKApartmentStyle and tag us in your picture @OKApartment. The best styles will be uploaded here!
Which of the outfits did you like the most and would you like to see more articles like this? Let us know in the comment section!