Why get a driving licence in Barcelona?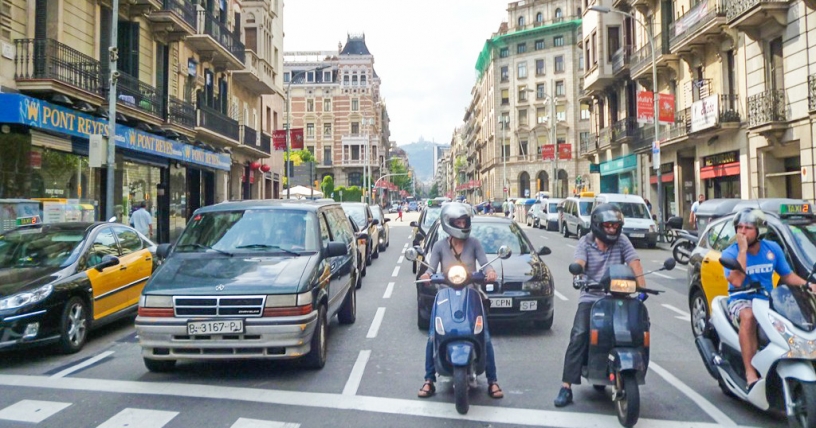 They have their driving licence and you can be next!
If you come to visit the capital of Catalonia, ​​we will help you to find the best long term rental barcelona. We offer apartments of different types, renovated and well furnished in all areas of Barcelona!
Advantages
One factor to consider when trying to pass your driver's licence is the price. Usually it's the cheapest or the best value schools that people look for. In Spain, the prices are roughly half compared to other European countries. If you're a really fast learner, then the cost can be as low as €600 with everything included for theory plus 20 lessons.
The process is less strict and in fact, there is no compulsory school hours to attend, so the waiting time for exams is reduced, allowing you to get your licence in record time compared to other countries.
The procedure
Obtaining a driving licence in an EU member country will make it valid in any other of the EU member countries. The first test is theory, which is carried out on a computer with 30 questions in 30 minutes (allowing a maximum of three errors) selected from a database of 15,500 questions.
The second test is a practical one of 25 minutes and is performed in Spanish, it consists of questions about the vehicle, 5 minutes of driving towards a destination and a 20 minute driving tour following their instructor's directions. If the practical test is not passed it must be repeated and you will have to wait at least 12 days. For most of those who have obtained a licence outside of Spain, they must do so again here.
Do I need to get a Spanish driving licence if I am from the UK or another EU country?
Up until 2015, it was not necessary to get a Spanish driving licence to drive in Spain if you were from an EU country. It is still not necessary if you are just visiting Spain, however you may need to if you are a resident. Those needing to get a Spanish driving licence, having lived at least two years in Spain, include:
If your licence is valid for more than 15 years and is Category A, A1, A2, AM, B or B+E
If your licence is valid for more than 5 years and is Category BTP, C1, C1+E, C, C+E, D1, D1+E, D or D+E
If your licence is permanent
Administrative procedures for foreigners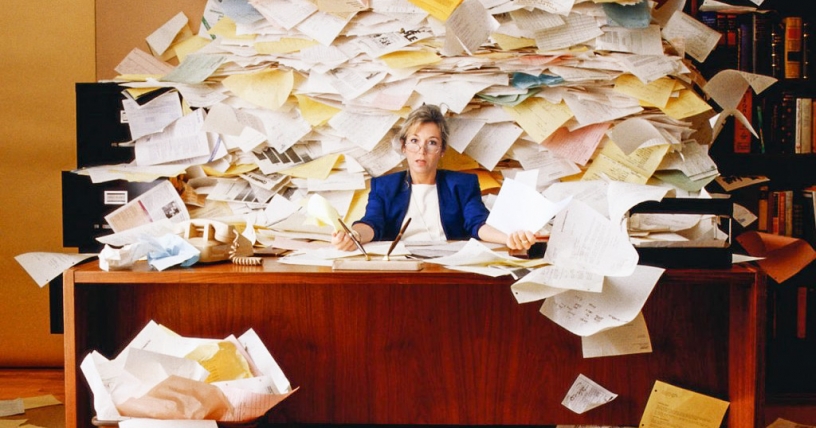 Administrative procedures ...
To get your licence in Spain you must prove that you are a resident.
First get your NIE. You have to bring an EX-15 form, your identity card or passport, and proof of your activity in Spain. Then you have to make an appointment at the Spanish Foreign Office. After paying a fee of €10 you'll receive your NIE. You can also go to the Spanish embassy in your country to obtain the NIE that's valid for three months.
Second, you need to get an Empadronamiento. This will require a filling out the form alongside proof of your identity and proof of address.
Excursions in Barcelona
To make the most of Barcelona and fill your trip with unforgettable experiences and emotions, we offer you the excursions through the Catalan capital organized by our friends - the GetYourGuide team. Choose your excursion and fall in love with Barcelona:
Driving schools in Barcelona
There are three popular driving schools in Barcelona. Hoy Voy offer flat fees with driving lessons of 45 minutes with prices ranging from €19 to €29, while Freedom offers a package that includes all kinds. Stop n' Drive was created with foreigners in mind, so they offer courses in English and French in addition to Spanish.
1. Practicatest English driving School (online)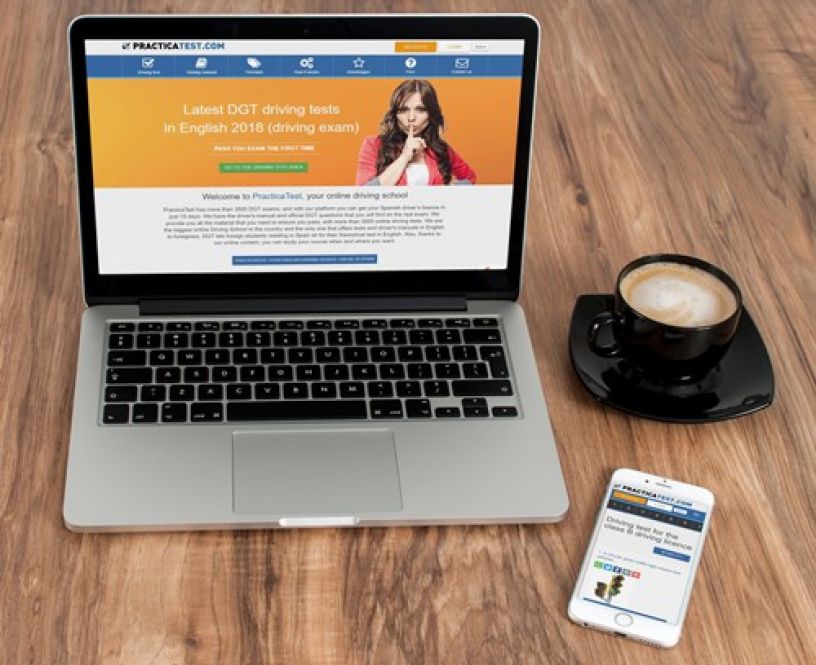 Praticastest Website and App
Practicatest is an online driving school that helps you to get the Spanish driving license in a quick and dynamic in English. We offer our students the latest and official DGT driving test to ensure their pass at the first attempt.
Their driving teacher (Laura) will help and solve you all the questions by whatsapp, mail or phone. Once you pass the theoretical driving test, we send our students to the best driving school in Barcelona, Madrid, Málaga, Alicante, Mallorca, Menorca or Ibiza.
Website
Prices
Theory course in English with 60 days access: 35€
Theory course in English with 180 days access: 45€
Theory course in English with 180 days access + paper book: 59 €
Theory course in English with 180 days access + 2 practical lessons: 54€
2. Hoy Voy
Hoy Voy driving school
This driving school is open from 6AM to 11:15 PM during the week and 8:15 AM to 9:45 PM during weekends.
Theory courses
Intensive courses Monday through Thursday, three hours of classes for two weeks. They also have an app available for tablets, computers and smartphones.
Driving lessons
A driving class is 45 min and is carried out mainly in the area where the test will made.
Prices
Theoretical courses: €193 which includes course materials and registration fee.
Practical driving lessons: Between €19 and €29. The price varies depending on demand.
Website: Hoy Voy (Spanish)
3. Freedom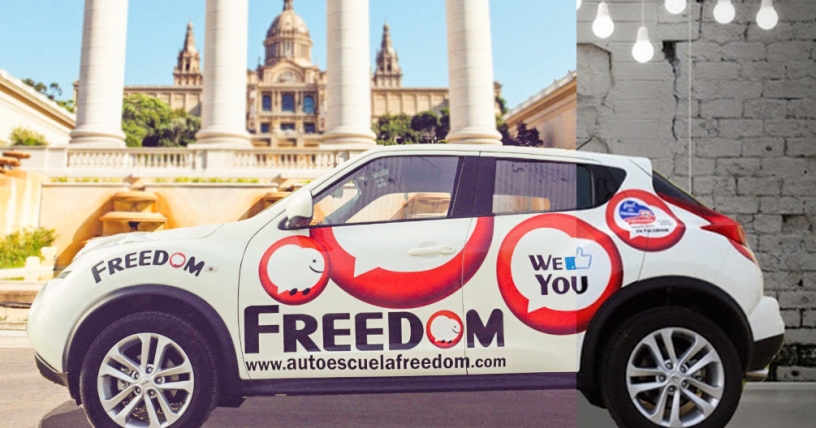 Freedom driving school
Theory courses
8-day intensive courses for 3 hours per day.
Driving lessons
Flexible course schedules where you can take 45-minute practical classes each day with experienced teachers around the examination areas.
Prices
Theory course: €195. The theory course gives you access to the aforementioned 8-day intensive course. The €90 DGT admin fee from the examination body is not included.
Practical course: €480 for first 20 lessons (€24/class). After that the price increases to €34 per lesson.
Website: Freedom (Spanish)
4. Stop'N'Drive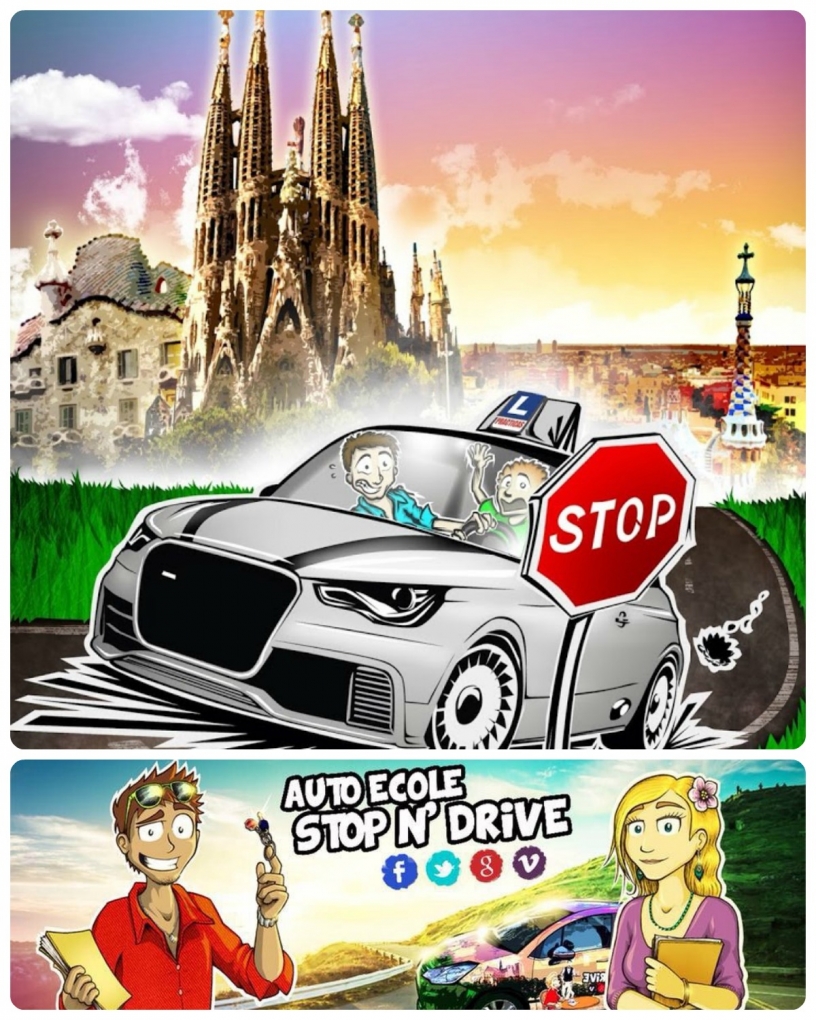 Stop 'n' Drive driving school
In February 2014, Mayk Mistri created the first trilingual school. This driving school offers courses in Spanish, English and French. This is the best alternative for foreigners who do not speak Spanish.
Theoretical courses
Online courses : From your home, you have access to videos and to test for a month
Intensive courses : Driving school in Barcelona, you have 20 hours of classes spread over two weeks.
Driving lessons
Driving classes are available as an hour and a half or 45 minute lessons. There is no minimum number of driving hours. A reservation can be made on the website or directly to the agency and you also have the option to cancel the course.
Prices
School Admin Fee: €85
Online theoretical course: €162 (for videos) and €50 (for testing)
Classroom intensive theoretical course: €200 + €52 online test (aeol valencia) + theoretical English book + €30 Set-up fees + €90.30 Dpt. of Motor Vehicles Official Tax + Access of the mock driving school test (this includes two attempts without paying extra)
Driving lessons: Between €21 and €31
Review of traffic rules: Free (€42 to do it a second time)
Driving exam: €42
Website: Stop'N'Drive (English)