This is how people shop in Barcelona
The best way of knowing something is asking the locals. That's why we took to the streets and asked Barcelona's neighbours about their shopping habits.
After listening to them in this video, you would be able to give yourself a better idea of the mindset here, and be more certain where to buy when you're here.
TYPES OF MERCHANTS IN BARCELONA
As you saw in the video, opening hours / availability is one of the factors considered when it comes to going to one shop or another. You can find below a chart representing the time slots of different merchants that we'll describe further. (1) Corner shops/convenience stores; (2) Supermarkets; (3)Marketplaces; y (4) Local shops (fruits and veggies, fisheries, butchers).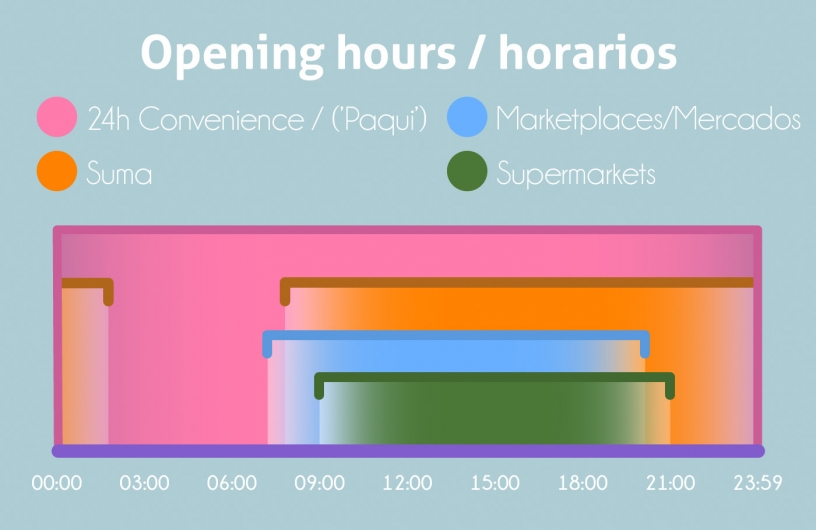 General Schedule for stores in Barcelona
1. Corner shops and convenience stores
Convenience stores are generally more expensive than the rest because of their extended opening hours, sometimes 24 hours a day. You'll also find they are often open during public holidays. It's not uncommon to find the employee behind the till watching some TV show or making a video call at any time during a Sunday until 12 AM any day of the week.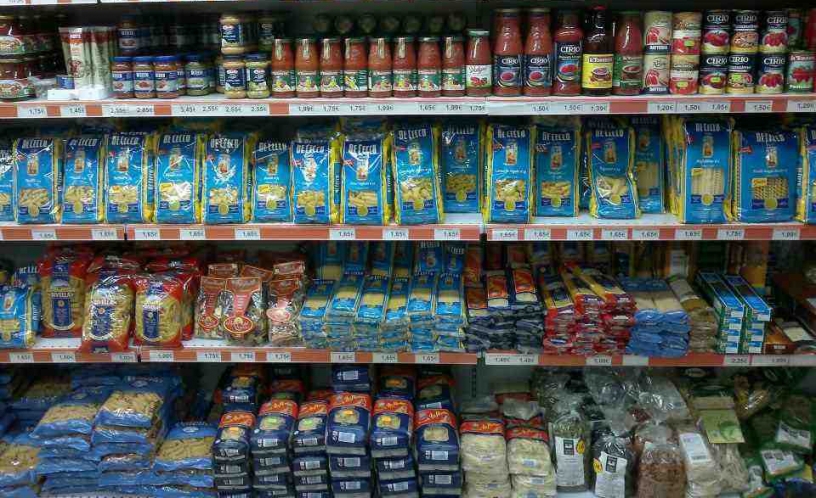 Corner shop
Why shop here?
A corner-shop is a place that will be always open when everything else is closed.
There are very numerous around the city.
There's practically never a queue.
For whom?
Those who need something at ungodly hours and everything else is shut.
People in a hurry and with no time for queues.
When looking for one or very few products.
Those who prefer going just around the corner from their apartment.
People's opinion from the video interview:
" The [sic]corner-shops are for exceptions." / "Particularly on Sundays when everything is closed and you don't have anywhere."
2. Supermarkets
These are recognized establishments all over Spain that satisfy almost every buying need. From grocery to hygiene and cleaning products. The prices are lower than in the corner-shops, but they still vary between them.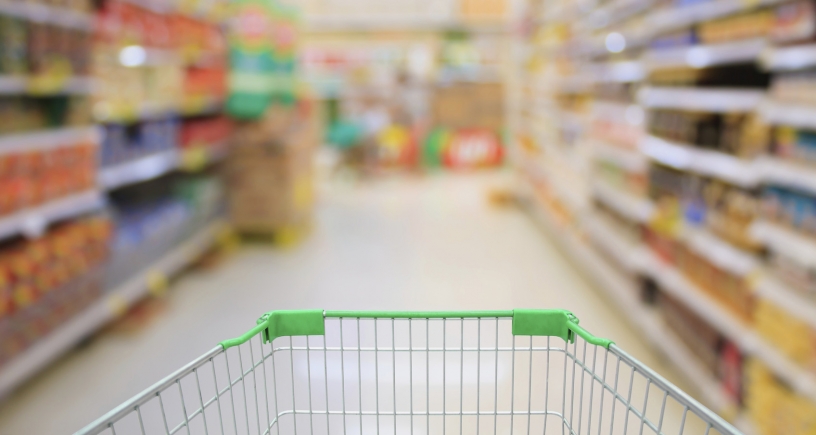 Supermarket
Why buy here?
There's everything you could need.
Cheaper and more variety of prices.
More variety of products.
You can find specific brands you are looking for.
Trust in the quality of the products.
For whom?
Large shopping lists
Looking for variety of products and wanting to compare prices between them.
Looking for a specific brand.
Looking for the most competitive prices.
Those usually unsure of what they need but run across it while shopping.
People's opinion from the video interview:
"You can find a bit of everything." / "Quality is good." / "It's cheaper than in the market." / "Basically because of proximity to my house." / "For convenience." / "Because it's just nearby my house."
On their part, « el Confidencial » has developed an interactive search on their website to get to know which are the cheapest supermarkets of your neighborhood. It's only available in Spanish. This tool works based on a report carried by the OCU ( Organization of Consumers and Users).
3. Local Marketplaces
Here you'll find fresh and quality produce. Prices usually are higher than in supermarkets but, as we said, quality and good conditions of products are more appreciated.
Generally, every district of Barcelona has its own marketplace. There are always a large precinct that hosts different stalls specializing in different products like fruits and veggies ; butchers ; poultry, fishmongers, bakers, and so on ...
Due to the number of different stands for each product, prices can easily vary between one and others. That's why the variety of alternatives is what people look for in this type of establishement.
In the local market surroundings, or even inside, you can also sometimes find market stalls selling clothes, kitchen utensils and more. These stalls or 'paradetas' are characterized by their expertise in their specific products.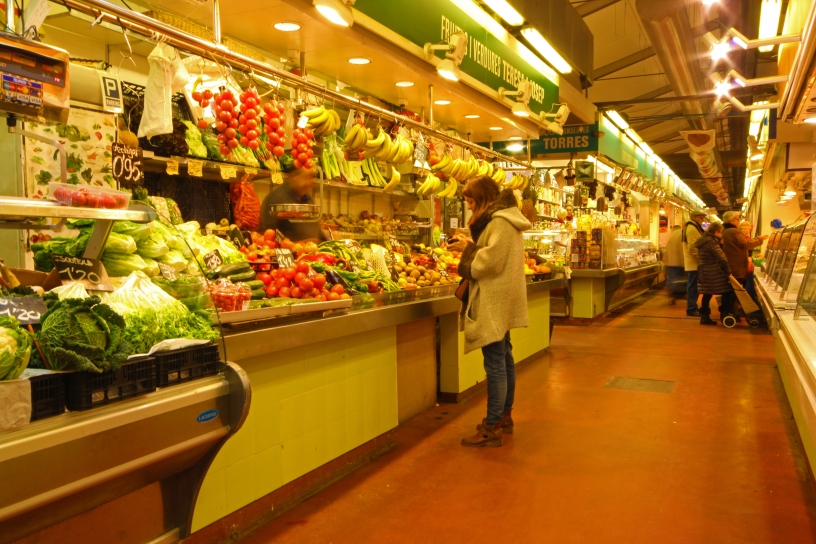 Sant Antoni market
Why buy here?
Fresh and quality products.
Trust, because they are people well known by neighbours
Neighbourhood atmosphere.
Socialization.
For whom?
Those who prefer quality to low prices.
Those who prefer fresh products.
Those who aren't in a hurry.
Those who want to know the local eating habits and typical produce .
To get to know the neighborhood and people.
People's opinion from the video interview:
"If I'm looking for quality I go to the local market." / "Fresh products from the market, packed products from the supermarket." / "Local markets are for those who have time and know how to shop there." / "If I had more money I'd obviously buy in a marketplace".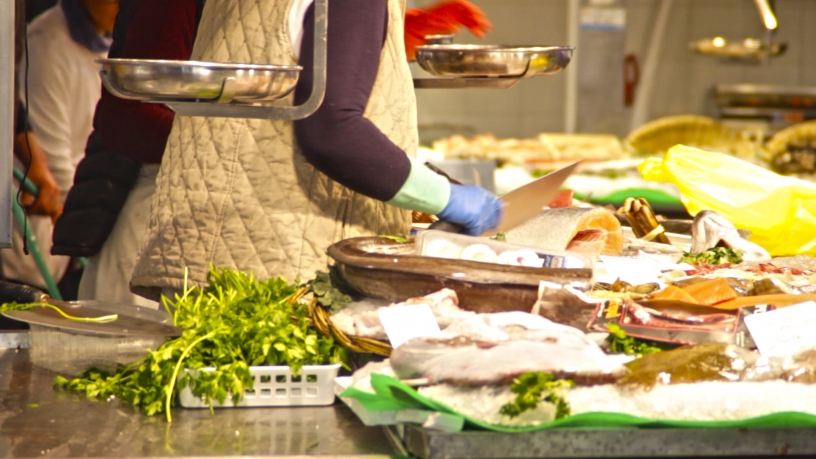 Fishmonger
4. Local shops like the greengrocers, fishmongers and butchers
Everything mentioned about marketplace can be found as a local shop to some degree spread throughout the neighborhood. There are butchers, fisheries, greengrocers… All where you can find fresh and quality food.
Of course, the variety of choice compared to the local market is not as big because you would have to walk from one to the other, but the quality is also good and might even be cheaper. They all provide fresh produce, so because of this prices vary depending of the season and the supply-demand ratio of each product.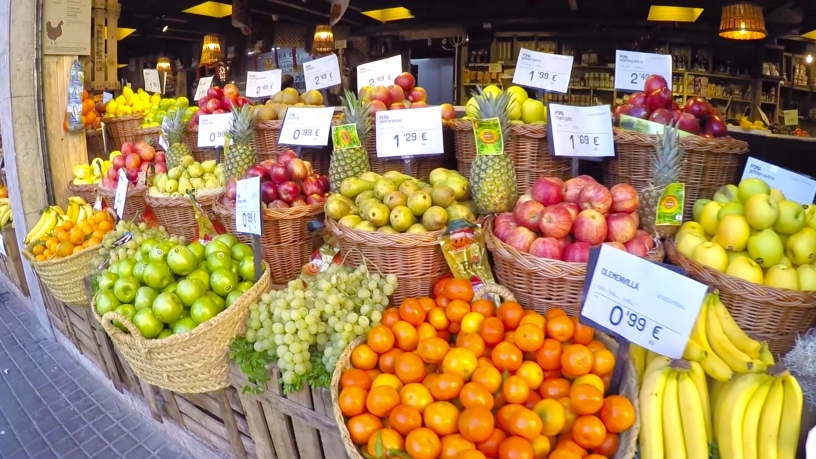 Local shop
Why buy here?
Fresh and quality goods.
Trust, because they are people well known by neighbours
Neighborhood atmosphere.
For whom?
Those who prefer quality to low prices.
Those who prefer fresh products.
Those who want to know the local eating habits and typical produce .
To get to know the neighborhood and people.
People's opinion from the video interview:
"There are butchers which I buy from because my family has always done an the quality gives me trust" / "You know them, they know you. You like how they cut something for you and they know you like it that specific way… And I like that."
PRICES COMPARISON
We jchose some of the most known supermarket chains present in our neighbourhood: Mercadona, Bonpreu, Caprabo, Consum and Día. Also Suma, even if we can practically include it in the corner-shop group they describe themselves as a supermarket, therefore we'll treat it like the other supermarkets.
We have realized a field study of prices of these
essential products for shopping
:
Rice
Milk
Chicken (meat)
Apples (fruit)
Coca-Cola (soda)
Estrella Damm (beer)
Milk
Regarding supermarkets, each product has its own brand which is cheaper, but they also offer other well-known brands. The price of these different brands can change drastically depending on the supermarket, even if it's the same product. This is the case for example for Celtic milk. The same 1,5 L bottle costs €1,19 in Bombreu, €1,24 in the Caprabo and €1,49 in Dia.
When it comes to own-brand milk, prices don't vary so much. We noticed that the own brand of each establishment we went to has practically the same price between competitors. Hacendado milk (Mercadona), Eroski, Consum and Día. Each bottle of those own brands cost €0.60. The biggest difference is for Suma, where their own Gourmet milk costs €0.79. When we wanted to check the cheapest milk in the corner-shops and we noticed that it varies between €1.00 and €1.30.
We'd also mention that if milk is more expensive in one place, well maybe apples would be cheaper for example. So it's not a good idea to choose your favourite supermarket based on that alone. What we're trying to explain is that not every thing is cheaper or more expensive in one place or another. The biggest difference is when it comes to comparing a 'corner-shop' with a supermarket. Even though between corner-shops and different own-brands in supermarkets, prices vary only by few cents.
Rice
If you want to buy the cheapest rice of all the supermarkets, for the own-brand go to Mercadona. It costs €0.68. Dia's rice brand is €0.72 and in Suma it's €0.85.
Others well-known rice brands like Nomen or SOS, maintain their prices across almost every supermarkets at €1.20 for the former and €1.52 for the latter. It's also true we saw a Nomen rice pack for€2.75 in a Suma, which is double the price. Something similar happens with the SOS rice pack corner-shops, listed at €2.25. That's a reason why we put in the same category Suma and the corner-shops, because they generally apply the same price policies as corner shops.
Own-brand milk and rice
We wanted to realize a chart where we could describe clearly the comparison of the own-brands we saw. Rice (in red) and milk (in green), two basic products of any shopping trolley. You can clearly see the lack of variance between supermarkets but a huge spike for the 'corner-shops'.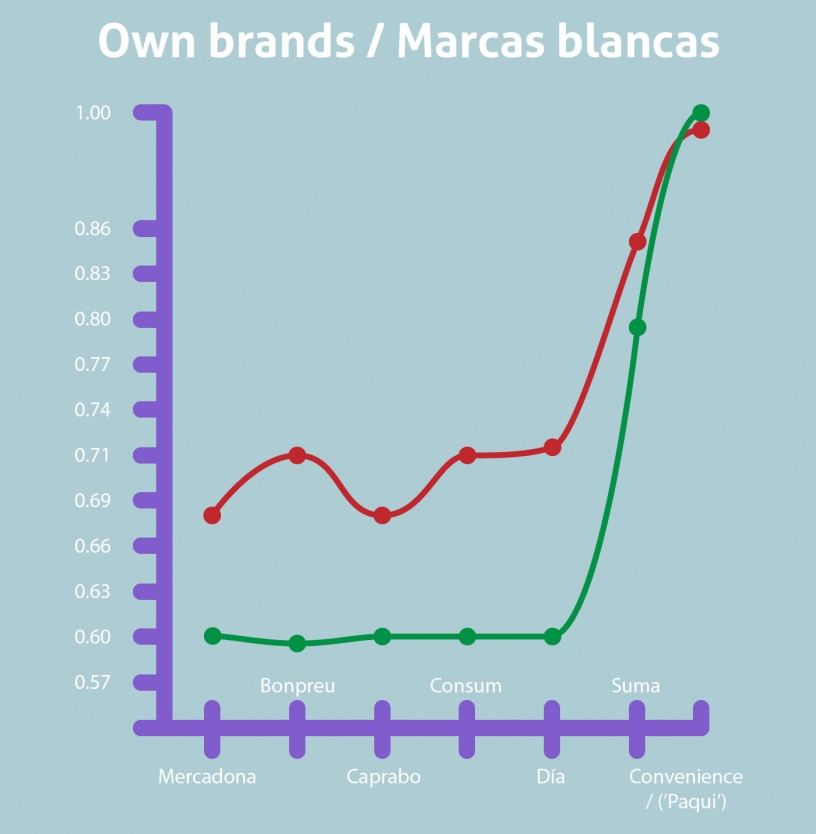 Red: rice / Green: milk
Apples (fruit).
Curiously, the price/Kg of golden apples is the same in a lot of supermarkets. €1.49 in Bonpreu, Caprabo, Consum and Día.
Fruits and vegetables are priced conditionally by the season and supply/demand of the product.
Chicken
There are more differences with chicken . If we check the price by Kg of the chicken breasts, we can notice a big variation. Interestingly, in Mercadona - considered one of the cheapest supermarkets - 1 Kg of chicken breast costs €7.80. This is the highest price between competitors. On the other hand Día offers 1 Kg at €6.85.It's €7.10 in Bonpreu and Caprabo, and €6.95 in Consum.
As for fresh produce in the corner-shops, it's probably impossible to find fresh meat like chicken. While there are many that have fruit, without generalizing, in these establishments the products are usually more time on the shelf than they should be and don't look so good.
Coca-Cola and Beer
Finally talk about brands like Coca-Cola and Estrella Damm Beer. The cheapest can of Coca-Cola is in Consum at €0.50, the most expensive can be found in a 24-hour corner-shop at €0.65.
As for beer, if you want the cheapest supply you'll have to go, curiously... To Suma. We found it here at €0.59. It's the only time it stands out for having a product cheaper than its competition. The most expensive Estrella Damm was also at a corner-shop €0.65.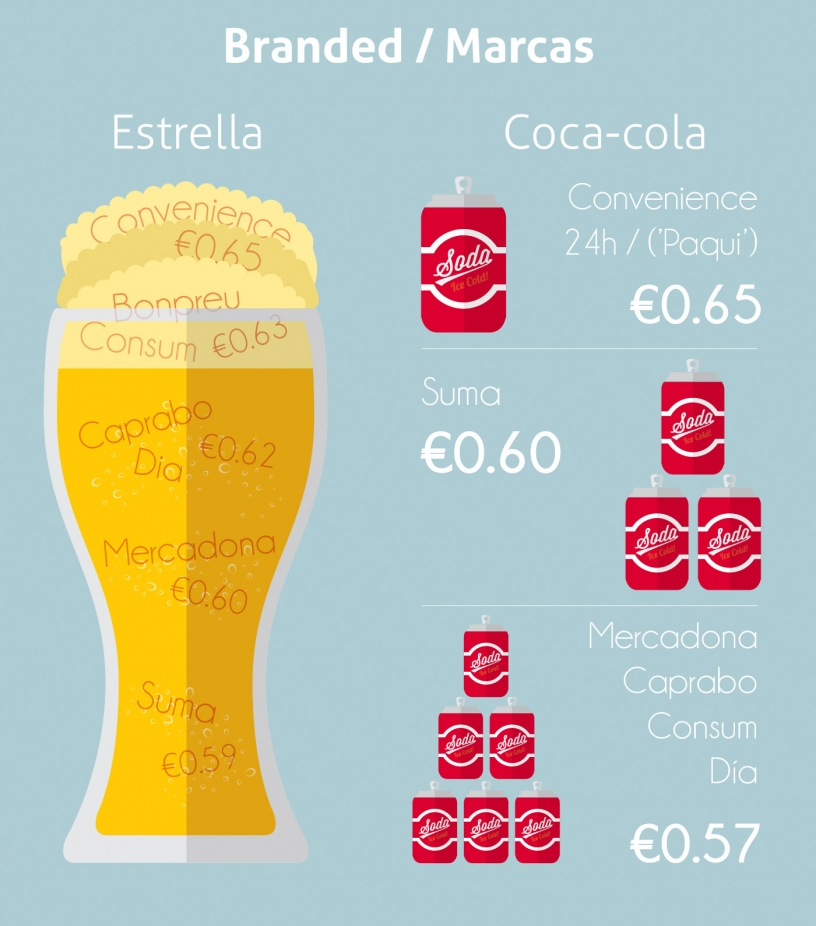 Beer and Coca-Cola
TABLA
Below is a table where you'll see more clearly the price of the different products in different establishments. What else do you need to come to Barcelona? At OK Apartment we make it easy for you. All the information you need, we have it, so ask us.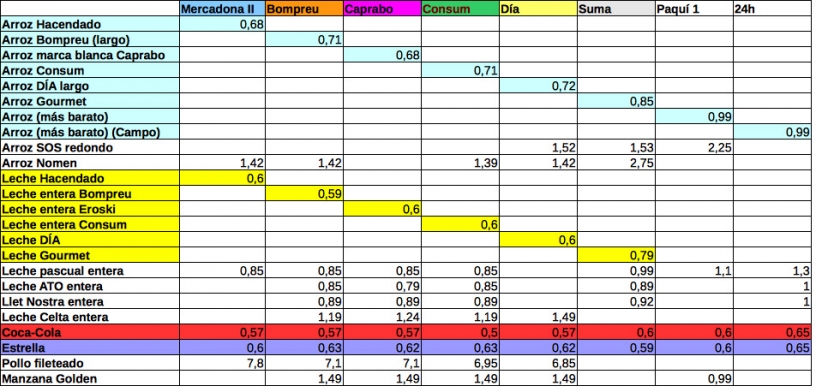 Chart of supermarket prices in Barceona