Festival of Gracia 2017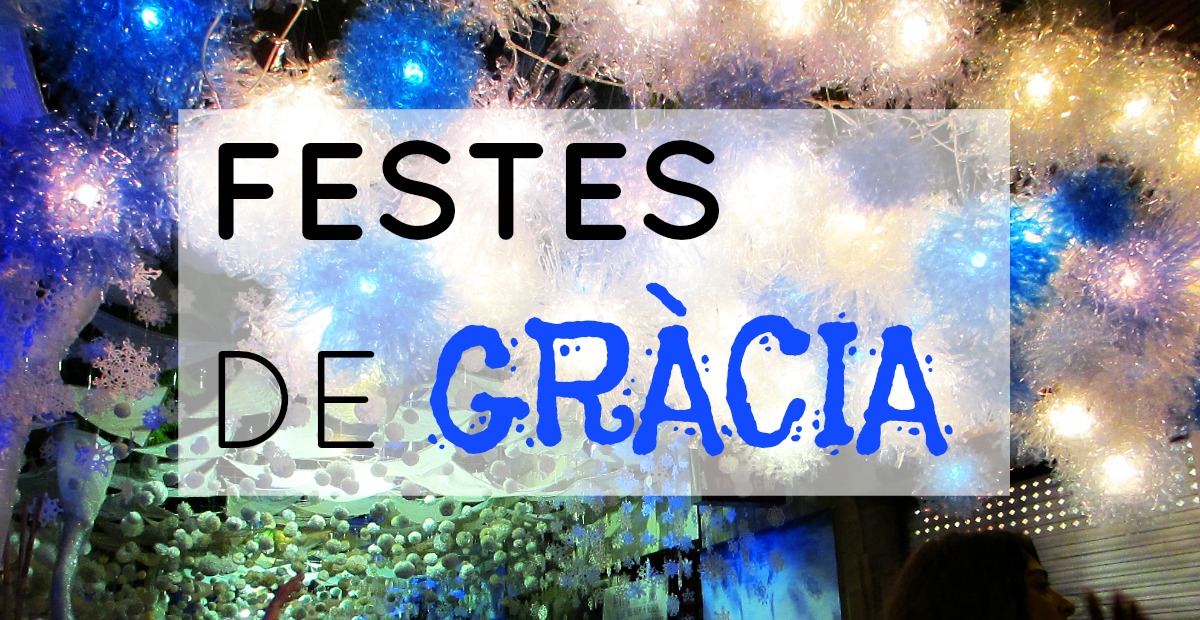 Gran de Gràcia, 167, Gràcia, Barcelona
When: 15–22 August
Where: The Gràcia district. Get there via local rail (Gràcia station); Metro Line 3: Diagonal, Fontana, Lesseps; Metro Line 4: Verdaguer, Joanic; Metro Line 5: Diagonal, Verdaguer.
Price: Free
Accommodation Nearby: Don't miss a moment of the festivities by staying in Gracia in one of these apartments in the district
Website: Official website for the festival (Catalan)
In this article you'll find a detailed summary of the most important activities that take place during the Festivals of Gràcia — known as Les Festes de Gràcia. If you need more information, you can find it on their official Facebook or Twitter page.
From 15 August, over seven days of activities for all ages will take place continuously. This particular year the festival will have a special ambience because it's the 200th anniversary! There will be food and refreshments in the streets at affordable prices.
History
The festivals started in 1817, or at least that's the earliest recorded date historians have about the festival. That means this year is the second centenary of the festival, marking 200 years. Said malcontent was reflected in the decoration of the streets, concerts titled Nova Canço Catalana (New Catalan Song) and carrying out traditional Catalan activities.
During the dictatorship of Franco, the festival had a malcontented tone that was in favour of democracy and Catalan culture during a time of Catalan suppression.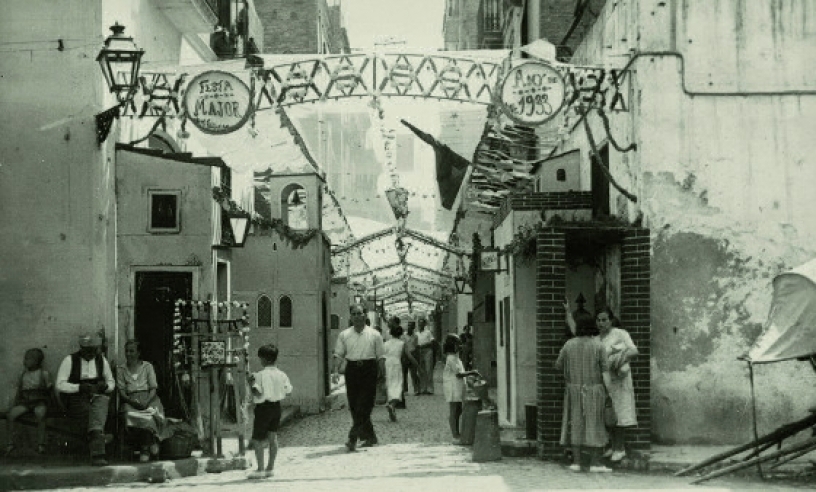 Gracia's Festa Major in 1933...
The Festivals of Gràcia, known as Les Festes de Gràcia is the most important festival in the Gràcia district of Barcelona. It is easily one of the most popular celebrations in Barcelona amongst locals and tourists alike. The origins of the festival date back to the 19th century, but today it's still attracting thousands of people each year.
Street decorations
The biggest attraction of the festival are the street decorations around the neighbourhood, each with a different theme. Various streets battle it out for the most original decorations and the best takes the annual prize. This all results in some very creative transformations.
Handmade ornamental elements fill all corners of Gracia. They are true works of art, made by the area's own neighbours, which flood their streets with colour, life and art. Each street chooses its own theme. They use any recycled and recyclable material at their disposal, such as paper, coloured paperboard and bottles.
This practice can be tracked to the beginning of the 20th Century, with evidence that spectacular scenery was staged along the streets, including pieces from important artists of the time. In 1935, the Comitè de Fires i Festes (Fairs and Festivals Committee) was created, the precursor to Federació de la Festa Major de Gràcia (Festa Major de Gracia Federation). In 1975, only five streets were decorated, but little by little the tradition was recovering. Today there are countless streets that are decorated with a different theme every year.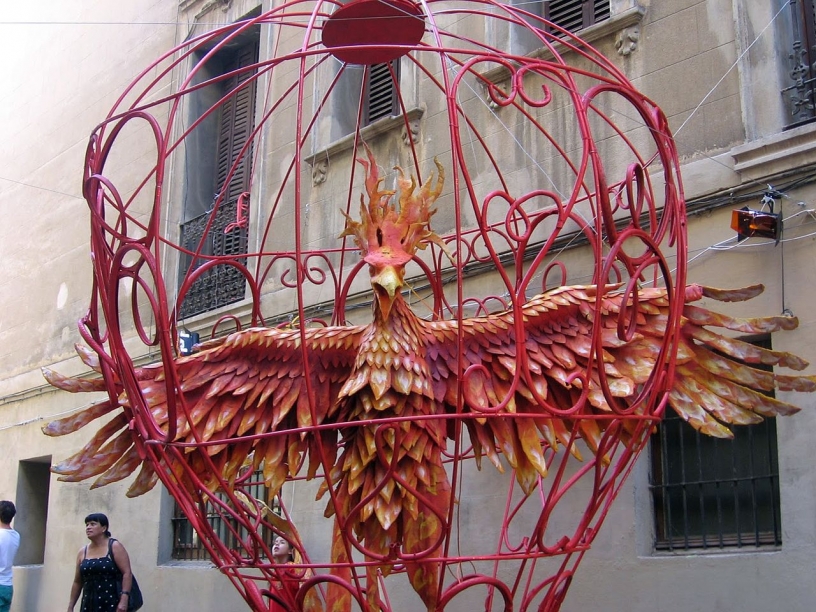 The streets get inundated with decorations!
Sardana dances
This traditional Catalan circle dance is accompanied by a live music. Participants hold hands — usually alternating between sexes — and dance in light movements.
The dance can vary in number of participants and doesn't require great physical condition outside of competitive styles, making it very accessible for anyone wishing to take part. It's a rather simplistic dance so that it's open to everyone to join in, which is why it's so popular.
Castellers day
Teams of Castellers form human castle towers that can sometimes reach 10 people in height. During the Gracia Festivals you can see these human towers being formed live. The teams that you will normally see here are the Castllers de Barcelona, Xiquets de Reus, Castellers de Vilafranca and Castellers de la Vila de Gràcia. The organization in charge is the Castellers de Barcelona.
Meeting and dance of the Gegants
Gegants is Catalan for giants. They are huge effigies that are controlled by a person underneath them. The local Gegants will meet, dance and parade with various others from around Barcelona and Catalonia.
Gegants Parade Route
Leaves from Plaça de la Vila
Carrer de Mozart
Carrer de Jesús
Gran de Gràcia
Carrer de Luis Antúnez
Carrer de Vic
Carrer de Sant Cristòfol
Plaça de la Llibertat
Carrer de Berga
Rambla del Prat
Gran de Gràcia
Carrer d'Astúries
Travessia de Sant Antoni
Carrer de Maspons
Carrer de Sant Joaquim
Travessera de Gràcia
Carrer de Matilde
Finishes back at Plaça de la Vila
Correfoc
Correfoc means 'Firerun'. It's a parade in which Diables (devils) run and dance through the streets spreading sparks and fireworks. There is a percussion band that follows, pulsing out rhythmic and trance-like beats. The devils attempt to scare onlookers by waving fire tridents toward them. There is a child-friendly correfoc for children that's a little less intense.
Various local groups usually take part this correfoc. There's the Drac de Gràcia, Gaudiamus (an effigy of the dragon at Park Güell), Atzeries, Colla Vella de Diables de Gràcia, Diabólica de Gràcia, Maléfica del Coll and other invited guests. Be sure to go dressed appropriately in long-sleeved 100% cotton clothes, no shorts, don't get in the way of the parade and don't wear hair spray!
Correfoc route
Leaves from Carrer de Sant Domènec
Carrer de Sant Pere Màrtir
Carrer de Pere Serafí
Carrer de Ros de Olano
Carrer del Torrent de l'Olla
Carrer de l'Or
Carrer de Verdi
Carrer de la Perla
Carrer de Torrijos
Travessera de Gràcia
Carrer del Torrent de l'Olla
Carrer del Diluvi
Parade ends at Plaça de la Vila for the finale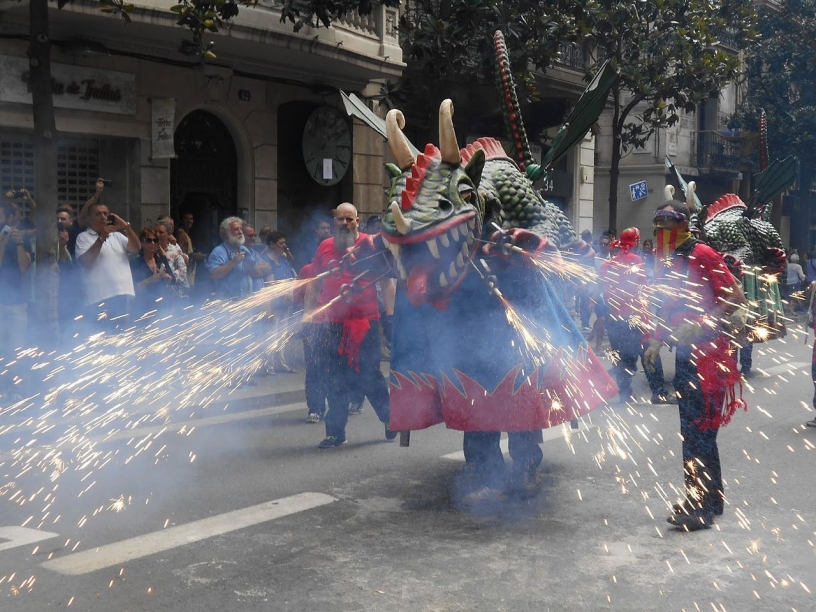 The Gracia Dragón at the Correfoc
Community Street Paella
A typical community meal takes place on Carrer del Progrés, this year on Friday, 18 August. The price is €10 and includes the paella, a glass of wine, snacks and salad. Tickets are available from 10 August. For more information on this activity you can visit the page of this Paellada

Community Paella
Concerts 2017
These are the concerts that will be taking place over the duration of the Festes de Gràcia.
Cabaret night
Date: 16 August 2017 - 9:30PM
Location: Espai de la Calma
Salsa Gitana — Yumi Gypsy Band
Date: 19 August 2017 - 11PM
Location: Pl. Poble Romaní
Concert and Show — Festa Major
Date: 20 August 2017 - 10PM
Location: Plaça del Folk
Flamenco performance — Grup Lucero Cárdenas
Date: 20 August 2017 - 11:30PM
Location: Pl. Poble Romaní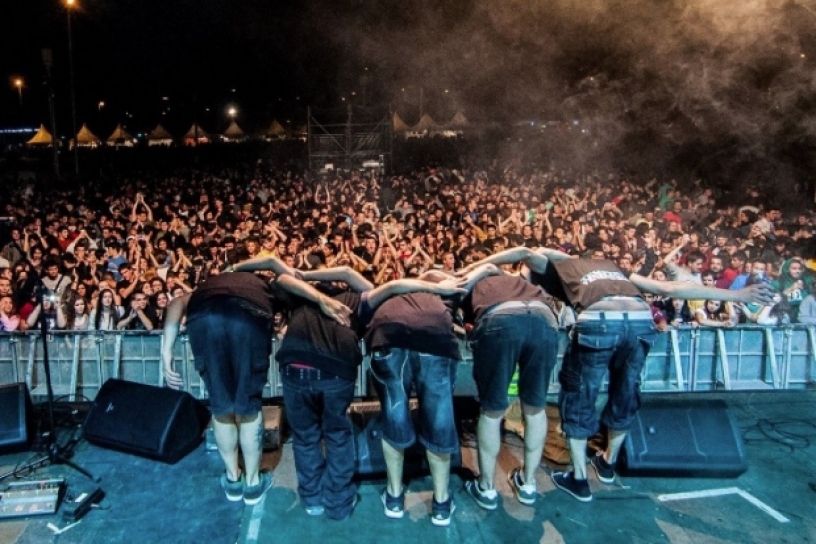 After the concert
They are considered to be one of the most vibrant and well-known festivals in the entire city. Did you know it's not the only one in the city? In fact, every neighbourhood has a Festa Major, so practically every day of the year in Barcelona sees one (full schedule of the major festivals in Barcelona here).
Video of the Gracia festival last year
Do you like this post?
Click here!

0/5 - 0 vote(s)
More events
Share your thoughts
€6

Park Güell 8

|

|

115m²

Luminous apartment for up to 8 people with air conditioning and internet close to Parc Güell