When you decide to open an account, the most Frequently Asked Questions include:
1. What documentation is required?
2. Is it possible to open an account without administration and maintenance costs?
3. What commissions and service charges are there?

Opening a current account in Barcelona
Banks that offer non-resident accounts (No NIE required)
One of the largest problems for foreigners arriving to Barcelona is that they aren't classed as residents for at least the first three months, after which it is possible to obtain a NIE. The NIE is an essential document to be a legal resident in Spain. You'll generally need it for important things such as getting a social security number, accessing public healthcare, and finding work - it's not mandatory to have it set up to work, but some employers demand a NIE, yet in most cases to get a NIE you need to prove you have work - welcome to Spanish Bureaucracy.
In general if you want a 'proper' bank account you'll need a NIE, but to get you started in Barcelona you can open a non-residential one until you get off your feet. There are some banks that offer non-resident current accounts on the basis that you provide them with another form of documentation, such as a passport. For this privilege, these accounts cost extra money, which is why they are considered to be a temporary solution until you can get a residential current account.
Banks that offer non-residential accounts include Banco Santander, La Caixa, and Banco Popular. If you're a business you could open a non-resident account with Banco Sabadell (available in English).
Most of these banks are content with one form of identification like a passport, however one in particular - Banco Popular to be precise - state that they require the "Official letter, document, or card for identification in your country of origin", it's unclear what that would be in a country like the UK for example, so you may have to insist that your passport is valid for this. Banco Santander requires that the named account holder justifies the non-resident status every two years. Other banks require that non-resident accounts are closed within six months, always check with your specific bank of choice and keep in mind they are not supposed to be long-term bank accounts.
Take a look at the official websites of the banks and ensure you have the correct documentation for your needs. Once you get your NIE, it would be a good idea to notify your bank and make a change to a resident bank account.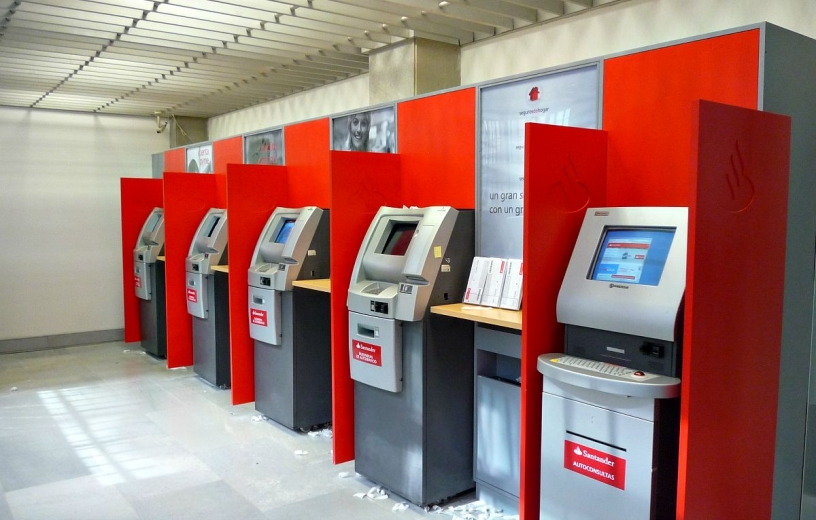 Cash machines at Santander
Resident current accounts without payroll (nomina) required or commissions
What does nomina mean? It means that you have a regular salary or payroll coming into your account. Many banks require this payroll of at least €600 per month to open an account for you, the reasons are mainly for their financial benefit. Unfortunately though, when you're settling into Barcelona it's not usually easy to guarantee this as you may not have found a regular source of income.
There are banks though, that do NOT require a salary and nor do you have to pay any administration fees. Some of the banks that offer this include:
ING Direct: They are an online bank, however they have three offices in Barcelona if you need to see someone face to face. Their bank account without payroll is without commissions, so long as you keep the balance above €2000 (or regularly deposit €600), if 3 months pass without this they say you will "lose the advantages of the account", which isn't very clear what this entails, but you can assume it means being charged for transfers, cheques, etc. What is clear though is that after 6 months of not meeting the requirements there is an annual fee of €20 for the debit card. You can use any 4B network ATM without commissions. You can also use the other ATMs without commissions provided you withdraw at least €60, with exception to La Caixa, who insist charging non-clients.

ING Direct

Evo Banco: If you're between 18 and 28 years old you can open a Cuenta Joven (Youth account) without needing to deposit a minimum amount monthly, and without commissions or fees. You will also get a free debit card until you're 30. Be aware that you might feel slightly limited with ATM access. You can only use EVO bank ATMs for free without limits, apart from that you can withdraw from any 4B system ATM twice each month for free. From the third withdrawal on the commission is €1.
Open Bank: You can open an account without commissions nor fees in addition to receiving a mastercard, again free to use on the 4B ATMs, which includes Santander bank ATMs. They say that there are no special conditions for this.
Triodos Bank: They call themselves an ethical bank, and while there are no commissions for setting up and using the account, there is a cost of €18 per year to use the biodegradable debit card
Banco Sabadell: Their Cuenta Expansión (Expansion account) for young people between 18 and 25 years old doesn't have any charges or obligation to deposit money.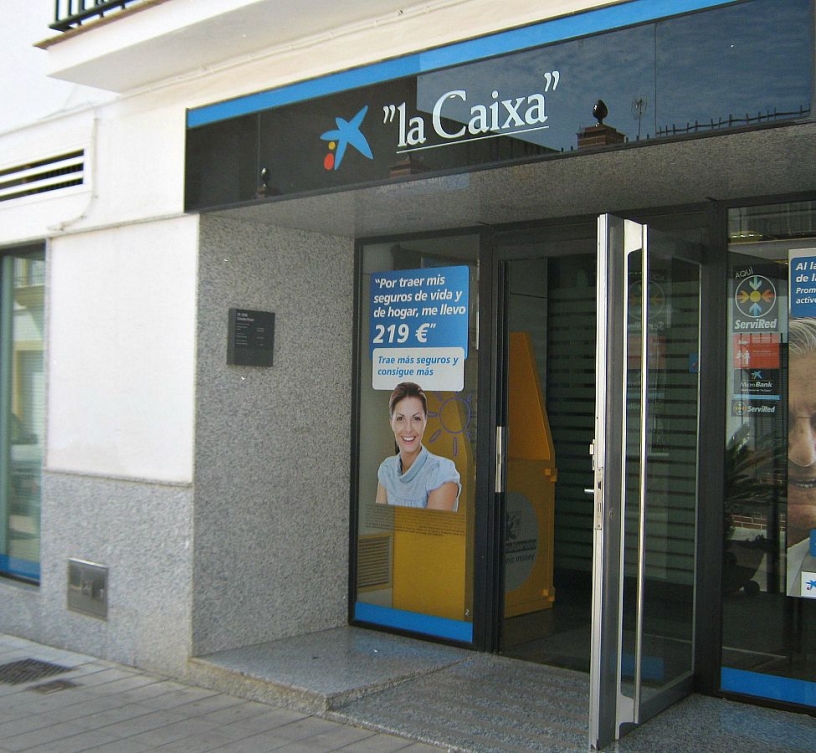 La Caixa
If you already have a salary each month, you could also open a standard current account. There are banks that offer these without commissions like Self Bank (a venture from La Caixa), Bankinter and La Caixa. If you listen to hearsay, then La Caixa is generally the least transparent with its clients. For example with the Cuenta Nómina multiEstrella (multiStar Current Account) there are generally no commissions, but hidden costs mean you may end up needing to pay for transfers after the first 24 "Autoservicio" (self-service) transfers. Things not covered by "Autoservicio" cost €1; not clear at all...
The websites of La Caixa and Banco Sabadell are available in various languages, and the rest only in Spanish or Catalan. If you're new to the city though and you're not familiar with the language a great way to learn for free or very little cost is using language exchanges (learn more here).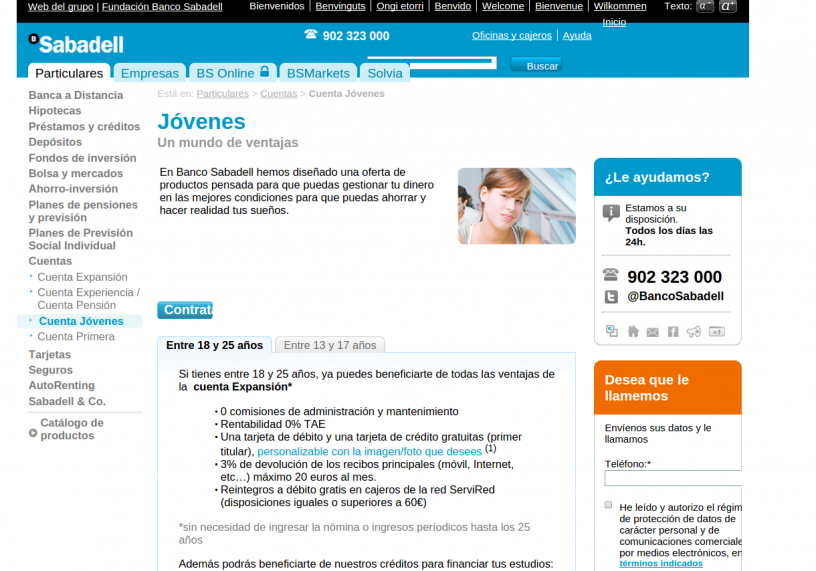 Banco Sabadell Website
Of course, Barcelona newbies won't just need to open a bank account, but also tackle head on the infamous Spanish Bureaucracy. You'll want to start by finding an apartment and eventually registering into the census via the empadronamiento process. Take a look at those pages and get ready for your new life in Barcelona!
Fact: Even the parakeets are opening accounts in Barcelona (totally true, honest)