The Catalan capital is a city that can be explored in many different ways. For tourists, the majority come to the city by plane and get around using public transport. Others decide to rent a motorbike or bicycle and get around on two wheels. There are also those who visit in a car, or simply now live here and need to get around independently. Locals though, know the plight of trying to find a place to park; car ownership in Barcelona as a percentage of the population is as high as 36% (by comparison London is at 30%) and with a road density higher than even New York. It's a struggle to find a place to park, let alone a free one...
But whether you're just visiting or you do live here; if your intention is to find parking without paying anything , it is important to know the correct areas and rules, because fines in Barcelona are very expensive and 'La Grúa' is hiding behind ever corner (and it's just dying to meet you)! So to start with here are the basics of parking in Barcelona.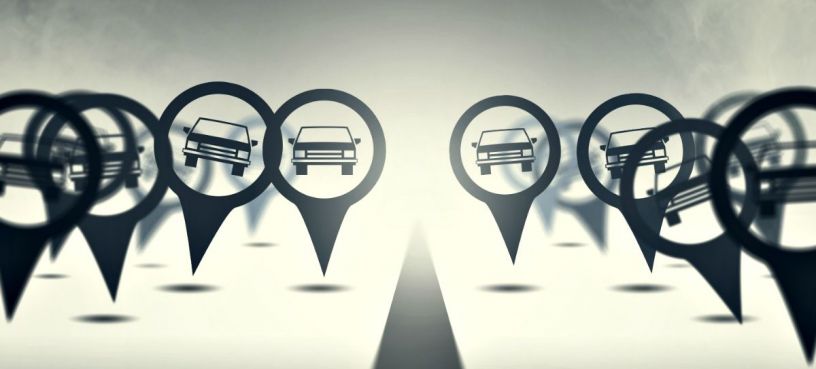 Where to park for free in Barcelona
Paid areas
In the city there are two parking zones; green and blue. Two additional parking areas include loading and unloading bays and bus lanes.
Green
The green parking bays can be found over 22 areas and are parking zones reserved mainly for residents of Barcelona who pay €1 per week to park within their area/neighbourhood. The price is higher for those who don't have a green parking card and without it you cannot leave your car parked for more than two hours.
During weekends though, from 22:00 on Friday, most green areas become free to park in. The same applies from 1st to 31st August, you can park in green areas without paying except in those strictly reserved for residents (which will be signposted). For more information, visit www.areaverda.cat.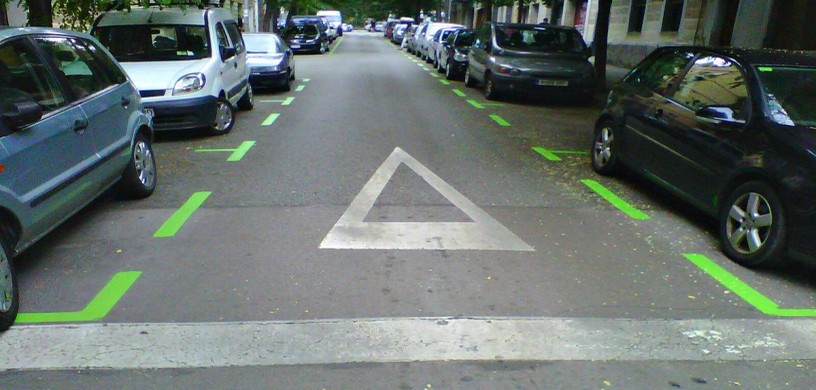 Área verde
Blue
The blue area is a pay-zone for all and has a timed limit depending on the area (usually 1-4 hours). You pay Monday through Friday from 9h to 14h and 16h to 20h. Always read the signs on the parking metres though, because in areas like near the beach or city centre you'll even have to pay Saturday, Sunday, and public holidays. Outside those hours you can generally park for free. It's as simple as reading up carefully the times on the parking meters to not end up being snuck upon by 'La Grúa'.
Loading and unloading bays
The city has parking spaces dedicated to loading and unloading from trucks and vans, where they can leave their vehicle for a maximum of 30 minutes from Monday through Friday between 8h and 20h. These areas are marked with yellow zig-zags. Outside this time, these bays are available for parking.
Bus lanes
You can park during the weekends in some of the city's bus lanes. Usually lanes on wide streets, like Muntaner and Balmes. In any case, for it to be legal it there must be a sign stating the parking conditions, if there isn't one you're not allowed.
Fear 'La Grúa'. Fear the tow truck.
One thing is for sure, flout any of the rules and you'll get a lovely visit from a tow truck, known in the local language as "La Grùa"
Spent too much time in a green or blue zone: You meet 'La Grúa'
It's 8:01 and you haven't removed your car from a loading and unloading bay: You meet 'La Grúa'
Obstructed a van that needs to unload: You meet 'La Grúa'
Parked in front of a garage (with a yellow no parking in front sign): You meet 'La Grúa'
Parked behind public bins, obstructing the bin men: You meet 'La Grúa'
Parked up in a bus lane on a weekday: You meet 'La Grúa' (and have shame brought upon your family)
If you're not sure, the best rule is to not park. A fine is the least of your problems compared to the stress and time you will lose going to the vehicle impound to try to get it back.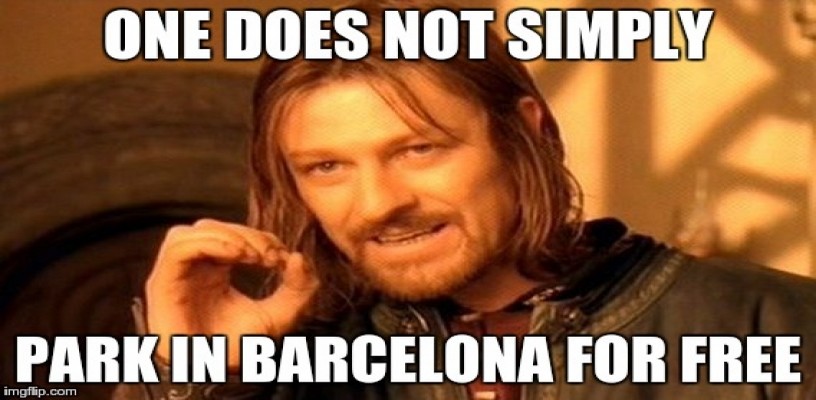 Sean tried free parking and died trying...
Safer options for free parking in Barcelona
If you ask a local on tips to park for free, the answer is always the same - "If you come to Barcelona; don't drive!", because finding free parking is not easy... Though it's not impossible. Granted; forget about parking for free by Ciutat Vella, but there are options away from here.
The areas where you can easily find free parking are in the less central areas. An example would be Zona Universitària or Poble Sec near Montjuïc. You can leave the car all the time you want and without paying a thing. Make sure you leave your car in one of the safe parking areas and that there is no special event going on (... You meet 'La Grúa').
The disadvantage of these parking lots is having to leave the car away from the city centre or from where you live. But they can get you closer to where you need to be and Barcelona has a good public transport network to make up that last part of your trip if needed.
Areas in Barcelona where you can park for free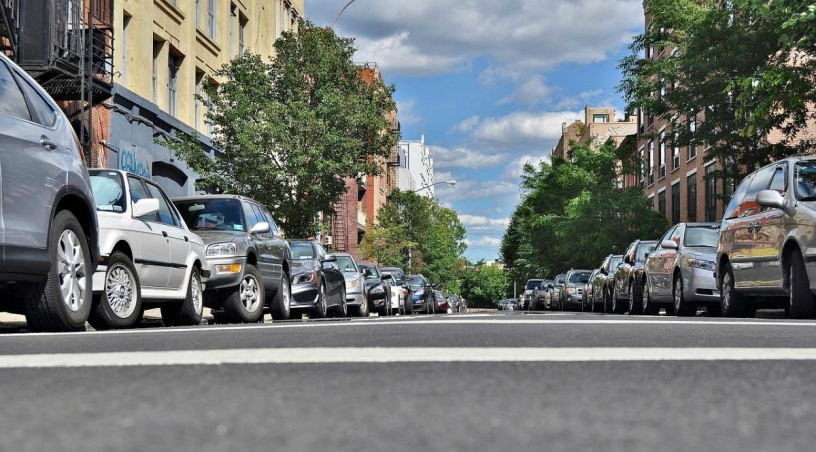 Park without paying in Barcelona
1. Zona Universitària - Palau Reial
Located at the top of Avinguda Diagonal, this is perhaps the most popular area to leave the car. It's where you can find a majority of the university campuses of Barcelona, because of that there are lots of parking opportunities. Of course, during term times in the week the spots are sought by students looking to park near their university, but if you come on a weekend or during the summer you'll have no problem. Here you can leave your car parked for as long as you want without having to pay anything.
Crossing Diagonal, you can park along Carrer Martí i Franques a short walk from Palau Reial Metro station (L3 Green Line). Many of the spots are usually available.
2. Pedralbes
In the residential Pedralbes area in uptown Barcelona, you can usually park for free. There are various streets off of Avinguda Diagonal where you can leave your car. In fact, there are also universities here too with free parking, like the north campus of UPC. There are buses and it's also a short walk from Palau Reial station.
3. La Sagrera
Found in the Clot neighbourhood. This residential zone has various streets with free parking without time limits. There is also the old Sagrera goods station on Carrer de la Baixada de la Sagrera that usually has places to park in.
4. Shopping centres
Shopping malls such as La Maquinista, Diagonal Mar, La Illa, Granvia, Heron City, and El Corte Inglés offer free parking for the first two or three hours. The exception in the list is La Maquinista, which has 24h underground parking. There's also 24h outdoor parking.
Other areas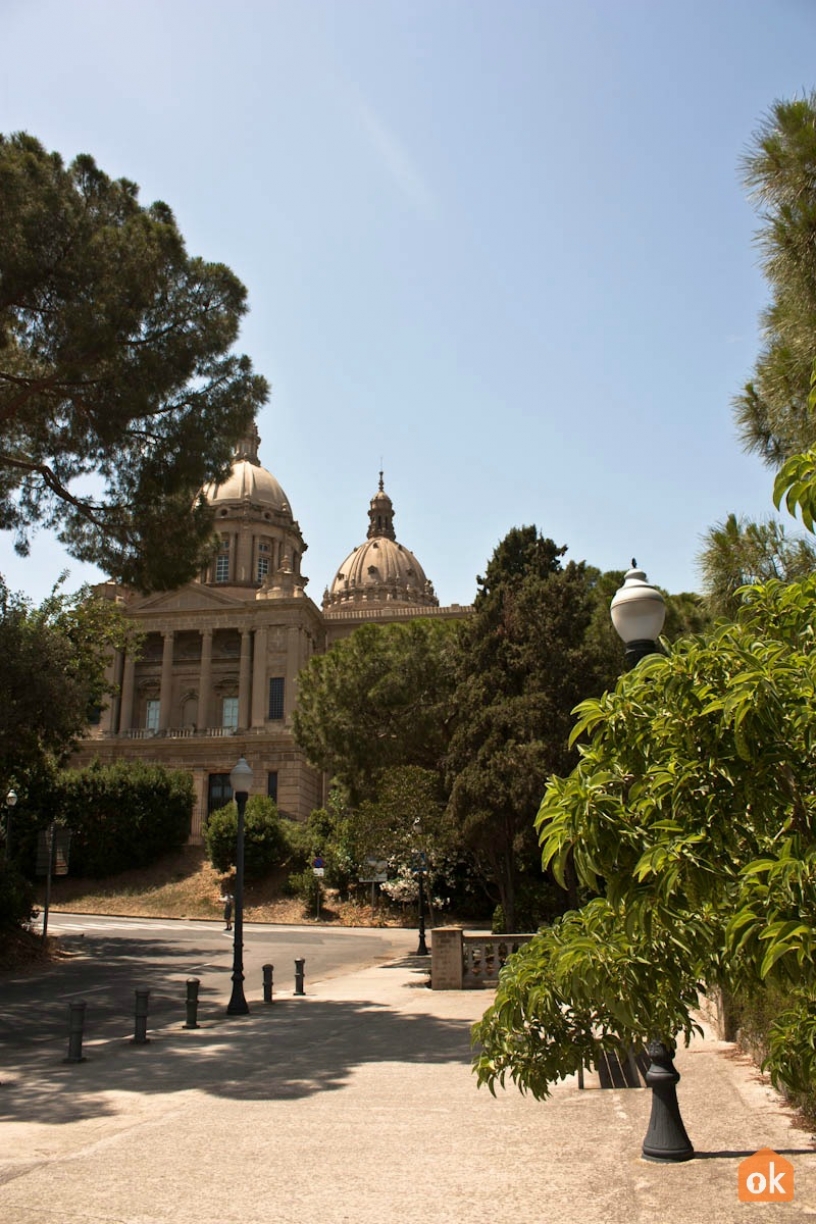 Parking near MNAC
Montjuïc: MNAC (National Museum of Art Catalonia) has free parking. That's in addition to the parking spots near Montjuïc stadium.
Vall d'Hebrón and Guinardó: Two residential neighbourhoods in uptown Barcelona where you can find free parking during the whole week.
Beaches: It's difficult to get close to the beach in your car and still park fro free, but there are some places where it's still possible. Like the spots near Mar Bella and Ronda Litoral. If you try during the summer it is probably impossible, but in the remaining months of the year this area is an all round good place to leave your car.
Now you probably have a better idea about parking in Barcelona! ;) If none of these proposals will convince you, or you prefer parking near the center you can always reserve low cost parking by the city centre on Gran Via.
All that's left is for me to sign off, and wish that you never have to meet La Grúa.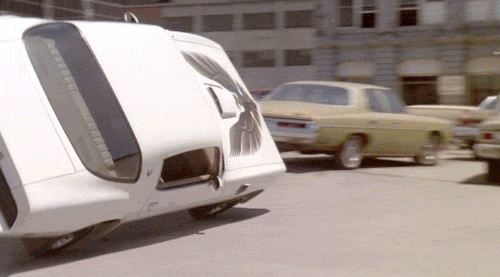 If you lose hope, there is one other option...
Map of areas with free parking