Circuit de Catalunya
(Stadium / Sports Facilities)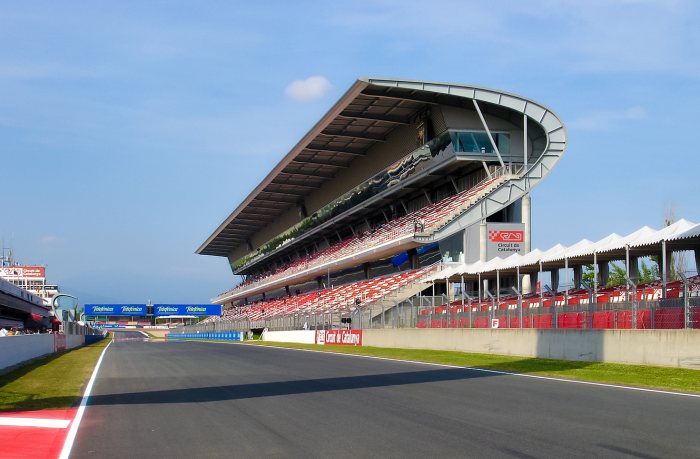 The Circuit de Catalunya is a formula one racing circuit in Montmeló and is situated to the north of Barcelona in Spain.
On the 3rd of October in 1986, the Parliament of Catalunya approved a proposition for the possible creation of a new permanent racing circuit.
Later on 24th February 1989, the consortium of Circuit de Catalunya was established between the local government, the city council of Montmeló, and RACC. This was the foundation of the Circuit of Catalunya
Finally, on 10th September 1991, the Circuit of Catalunya hosted its first official race the Spanish Touring Championship (the winner being the former F1 driver Luis Perez Sala). It wasn't until 29th September 1991 that the 35th Formula One Spanish Grand Prix took place here, after 16 years of absence in Catalunya.
Measurements of the facilities
| | |
| --- | --- |
| Total surface of the circuit: | 120 Hectares |
| Total practical surface of the circuit: | 79.5 Hectares |
| Total area of the Paddock: | 48,000 m2 |
| Total area of boxes: | 4,800 m2 |
| Boxes: | 50 |
There are also organised guided tours of the Circuit of Catalunya in which you can visit the facilities within. You will learn how races are organised, how they are controlled, how the mechanics work, and access some of the usually restricted areas.
There are also chances to drive a Ferrari, Porsche, or Lamborghini around the circuit.
Upcoming events in Circuit de Catalunya

May

10

-

May

12

F1 Grand Prix at Circuit de Catalunya Just like each year the F1 Catalan Grand Prix takes place at Circuit de Catalunya in May!
Fri

10

May
Sun

12

May
Circuit de Catalunya, Montmeló

Jun

14

-

Jun

16

Moto GP 2018 - Circuit de Barcelona-Catalunya Excitement is guaranteed at Montmeló circuit in one of the biggest races of the Moto GP season.
Fri

14

Jun
Sun

16

Jun
Circuit de Catalunya, Montmeló
Do you like this post?
Click here!

0/5 - 0 vote
Share your thoughts
Tired of reading about Barcelona? Find an apartment and stay there!