Festa Major de Raval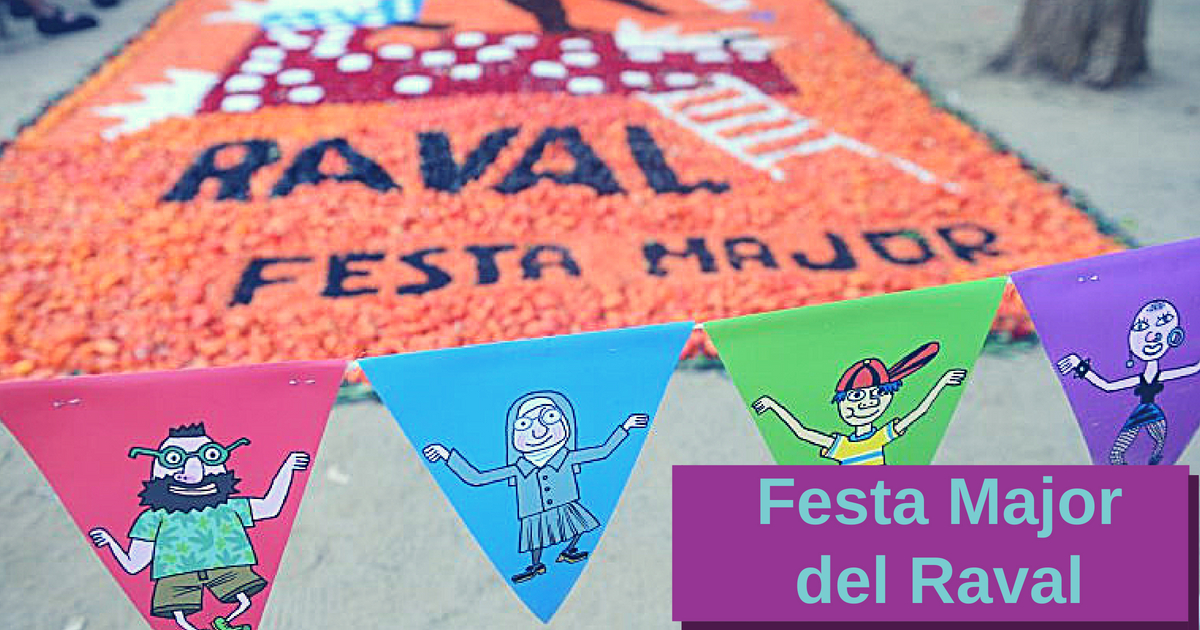 When: From 11–14 July
Where: Raval neighbourhood
Accommodation Nearby: Stay in one of these apartments in Raval to enjoy all that these festivities offer.
Video of the Raval Neighbourhood Celebrations
Let's discover the Annual Raval Neighbourhood Celebrations
A festival in honour of Virgen del Carmen
From 11–14 July the Raval neighbourhood celebrates its biggest festival. These celebrations are in honour of the Virgen del Carmen, patron saint of the neighbourhood's main parish. For four days, its streets will be crowded with people, and full of activities and events. There will be music, dances, children's activities, neighbourhood street meals, gegants parades, correfocs, theatre shows, castellers (human towers), bastoners (traditional dance with sticks), sports competitions and even a skating race that over the years has been gaining prominence in this annual celebration. It should be noted that since 1983 there has also been a selection of artisans and shopkeepers — promoted by neighbourhood merchants.
The main festival of Raval is organised by the Carmen Neighbourhood Association, but as you'll see, several neighbourhood associations participate and collaborate together. There are in addition, parties like The Festes Alternativas del Raval, which will celebrate its 15th anniversary this year. They're equally integrated into the neighbourhood and programming — and of course, presented on this page.
The pregón (announcement), will start the festivities on Thursday, 12 July at Plaça Vicenç Martorell. This year it will be chaired by Faouzi Chati Badou, president of the Moroccan Women's Association in Catalonia. Pasacalles, a traditional musical format, will be played along some streets of the neighbourhood and will be accompanied by the legendary Gegants parade with Ramón and Lola, Quimeta Àngels and henano Manolito. At the end, everyone will gather to dance together. Don't forget 'Els bouets i la vaqueta' (oxen and the little cow) — four iconic figures that are part of Raval celebrations.
A multicultural neighbourhood
The Raval neighbourhood is surely the most diverse part of the city. It's inhabited by people from all over the world. The healthy coexistence has influenced the neighbourhood festival. As a sign of its commitment to respect and multiculturalism, the announcement is given by the president of the Moroccan Women's Association in Catalonia. In addition, you'll see numerous activities in the programme on how the festival follows the reality of the neighbourhood.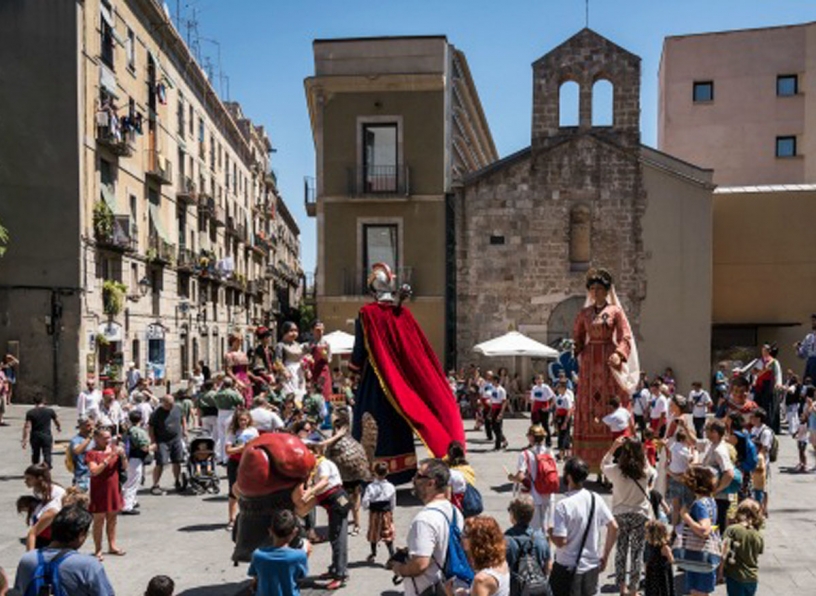 Gegants of the Raval festival
Activities and events
If anything stands out from the official festival programme it's the collaboration with Massana School, which is a place that's strongly rooted in the neighbourhood. Their students have been put in charge of designing the festival poster. Their classes are going to be moved from their traditional building, and so during these days a farewell to the emblematic building — located in the Jardins de Rubió i Lluch — will be given by the neighbourhood. It will take place throughout Friday, 13 July and will be celebrated with numerous activities, food, drinks and music.
You can listen and dance to the traditional habaneras along the Rambla de Raval. Children will enjoy kid's workshops at the Maritime Museum. There will also be a film series with the subject Women: Actions and Resistances. There will be Zarzuela performances, traditional Catalan dances, Bolivian dances, Bangladesh choirs, painting workshops, bastoners and castellers shows, Balkan music and the list goes on! All of it accompanied with a tremendous gastronomic offering reflected in several street meals and dinners by different associations with origins from all parts of the world.
Many museums, theatres and institutions in the neighbourhood open their doors for free and organise guided tours. This includes Palau Güell, the Maritime Museum, CCCB, Sant Pau del Camp Monastery and Liceu Theatre. You shouldn't miss this opportunity to discover and enjoy the Raval's rich culture and history.
Catalan traditions
Pilars dels Castellers
At Plaça dels Àngels, Las Ramblas / Mercat de la Boqueria and Las Ramblas / Portal de la Pau, a Castellers team commemorates its 50 years making human towers.
Diada Castellera
At Plaça Gardunya, more castellers from Barcelona participate, including Castellers de Barcelona, Xicots de Vilafranca, Castellers de Cerdanyola and Muixeranga de Xàtiva. The organisation in charge of this event is Castellers de Barcelona.
XIII Diada Bastonera al Raval
In Plaça del Pedró, seven groups of Bastoners will parade along Carrer del Carme, Las Ramblas, Carrer de l'Hospital, Carrer de les Egipciaques and finish as Plaça de Joan Amades. Each group will perform dances, deliver souvenirs to the participants and a brotherhood dinner will be organised for the groups.
Correfoc de Festa Major
You can't miss the Correfocs at any Catalan festival.
To admire Catalans playing with fire. This is the route: Carrer Guifré, Carrer Joaquim Costa, Carrer del Carme, Carrer Aurèlia Capmany, Carrer de l'Hospital, Plaça del Pedró. It's organised by the Asociación de Amigos de los Gigantes Ramon y Lola (Association of Friends of the Giants Ramon and Lola); and los Diables de la Kinta Forka (Kinta Forka devils).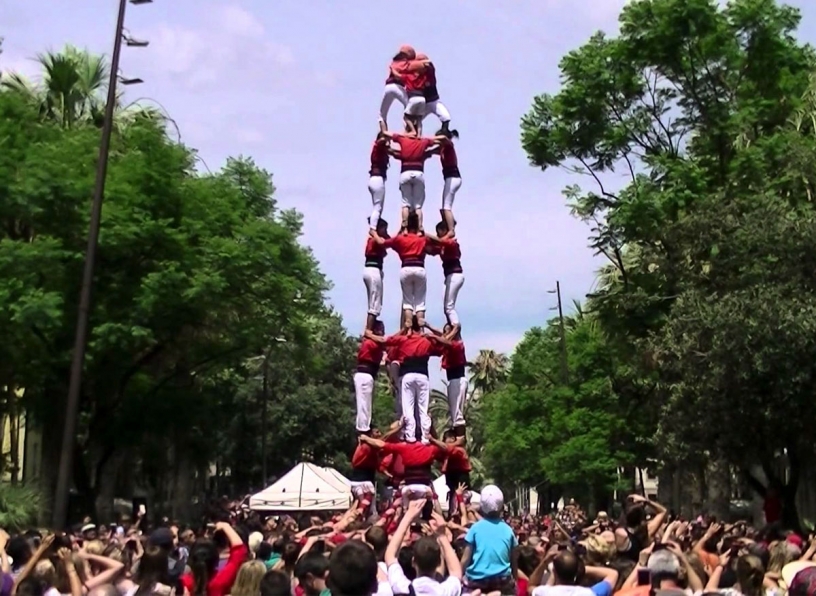 Castellers are part of Raval festivities
Diada bereber
At Plaça dels Àngels, there will be activities organised by the AMICAL — Association Of Moroccan Immigrants in Catalonia.They'll set up a jaima (nomad tent) where henna workshops will take place, creation of plates with Berber names, and an exhibition of Arab dresses and accessories ... There will also be music and typical Berber-Moroccan dishes.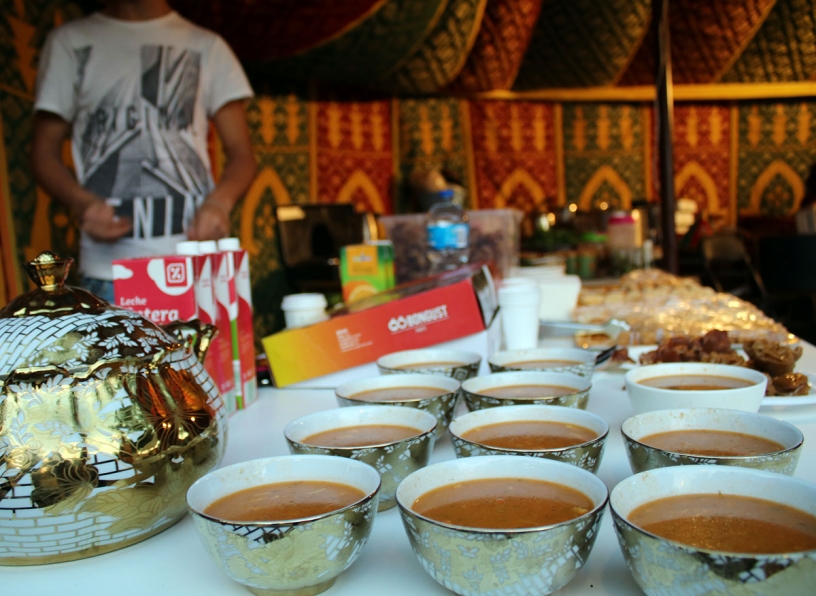 Interior of a jaima during Raval festivities
Sport activities
V Cursa Atletica de la Festa Major del Raval (Athletic run)
Organised between the Raval's Can Ricart Municipal Sports Centre and Franja Raval. A project carried out during extracurricular free time of young people between 12 and 16 years old. It'll have different distances, adapted to all ages and physical conditions, include 3km, 1.2km, 600m and 100m. You must register in advance if you're interested in participating, by sending an email to this address: cursafmraval@gmail.com. 
XXII Cursa de Patinatge de Velocitat del Raval (22nd Raval Speed Skating Course)
This race has taken root in Raval festivities for some years now. In fact it's already been 22 years since it's first edition. It will be on Rambla del Raval. It's organised by the Raval Neighbours Association.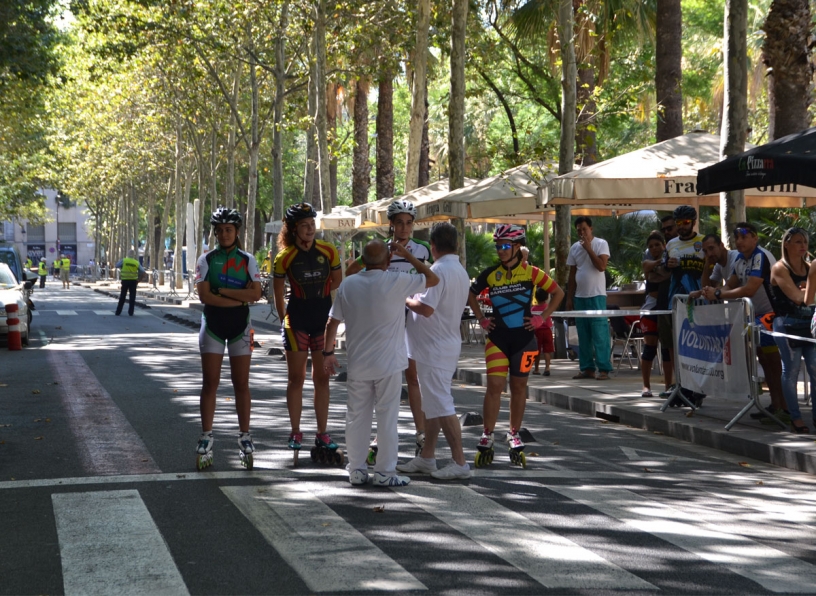 Skating race for Raval festivities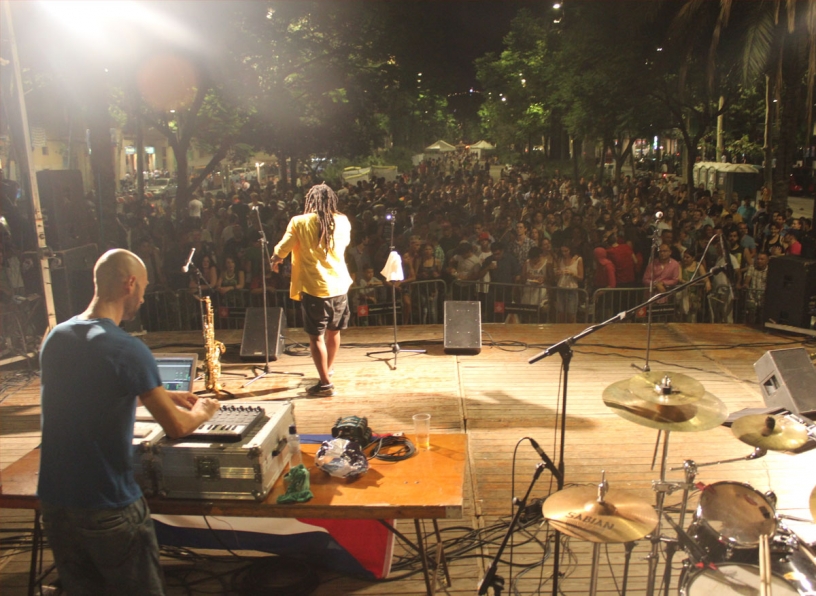 Concerts on the Raval Rambla
Community street meals
Street Paella
A typical community paella will be held in Plaça Blanquerna. The organisation in charge is CAS Baluard.
Pulpada Electronica
On Carrer Aurora, 24, there'll be a community 'pulpada' (octopus) and other Galician dishes. There'll be musical performances and a lot of celebration. It's organised by Raval Verd / Arume Restaurant in collaboration with the Association of Merchants 'Fem Raval'.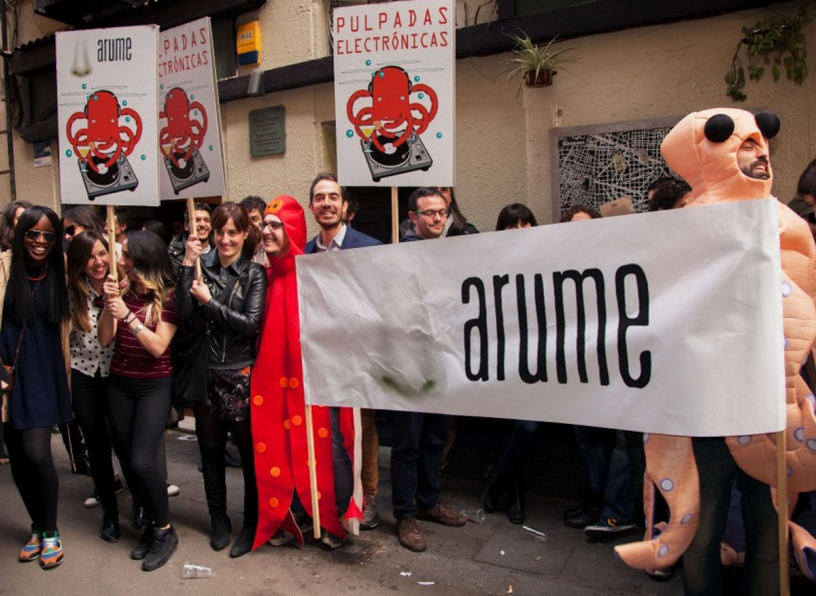 Pulpada electrónica in Raval
Complete program of the Festes del Raval
There are four days without rest and with dozens of activities. A set of celebrations in which it's impossible not to have fun, because there's something for everyone. Check the official programme (Catalan) and join in on all you can.
Festes Alternatives del Raval (Raval Alternative Festivals)
The Cultural Association of Raval - EL LOKAL, has for 14 years organised the Fetes Alternatives del Raval. According to their website they do it in order to 'make visible the struggles and the resistances of everyday locals, to support us, unite us and celebrate life.'
Their aim to defend the people who have always lived in the neighbourhood and now face a problem that they define like this: 'Money from all over the world is buying up Raval for business speculation and tp expel the people who have always lived here — just like in the rest of Ciutat Vella (old city) and Barcelona. We have to defend ourselves because it's our life, our neighbourhood and our city.'
The benefits they collect will be used to support groups and alternative media, buy infrastructure that they'll use (paellas, sound equipment, projector, etc.) and for garnering mutual support.
On their Facebook you can see everything scheduled for these days.
Other images
Do you like this post?
Click here!

1/5 - 1 vote
Share your thoughts
€46

Garcia Beach II 6

|

|

80m²

Cozy apartment next to the beach with air conditioning and sea views