Sitges
(Districts)

Sitges is a small, lively, romantic, and historic seaside city.
Sitges is a coastal town known for it's nightlife, open-minded and liberal attitudes, but also its history and charm; which you can enjoy with family, friends, with a partner, or on your own.
Why Stay Here?
If you're going to look for accommodation in Sitges it would be because it's a small city steeped in history and close to Barcelona , making it an ideal place to live. With more than 28,000 inhabitants, Sitges attracts more and more people thanks to its tranquil winters and lively summers.
Attractions
If you are a beach lover then you will certainly like Sitges thanks to its kilometres of sandy beaches where you can enjoy sunbathing. You can also pass time walking the promenade by the sea with a beautiful view... And who doesn't like a romantic sunset?
In a small coastal town like this you can also enjoy its rich cultural and historical heritage. Don't miss the beauty of Sant Bartomeu Church, an ideal place to take pictures with an unbeatable view of the Mediterranean sea.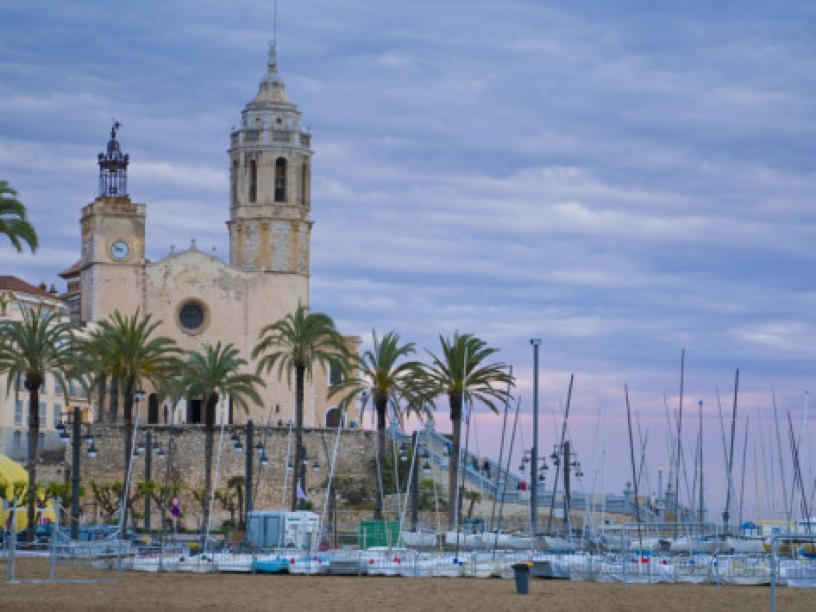 Sant Bartomeu i Santa Tecla Church
There are also beautiful natural landscapes such as the Garraf Natural Park and Terramar Park where you can admire the magic of nature and have a pleasant day out with a picnic.
If you want to end the day partying, during the summer Sitges is the ideal place as there are many bars and restaurants that are always on trend with some of the most important clubs in the region, including the world-known nightlife brand "Pacha" which first opened here in 1967, long before the Ibiza one.
Where to Eat
There's no shortage of Restaurants in Sitges, however here are small restaurants that we recommend:
Le Queenz Dinner Show: Decorated in a modern style, you can taste Spanish flavours and enjoy the cabaret show. You will receive a particularly great welcome with a glass of champagne. Something you won't regret!
El Trull: A great local for more traditional Spanish food with a wide variety of tapas. An all-round great restaurant that's ideal to visit with friends, family, or a partner.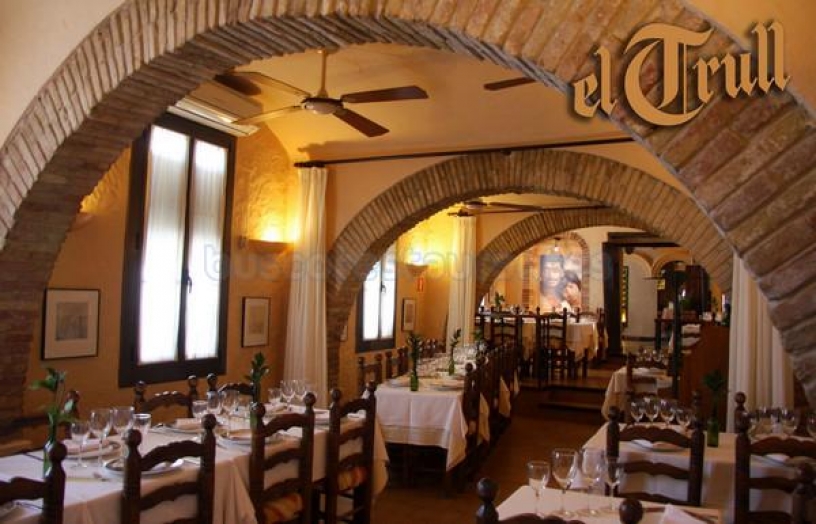 El Trull Restaurant in Sitges
A tip if you want to eat something local: From winter until spring you can order a Xató Penedes. This dish is a salad of endive, tuna, and local cod that usually is accompanied by an omelette and is very typical of Sitges.
Nightlife
Sitges is a welcoming city that's very lively in the summer, offering activities for all tastes. Our favorite place is El Donostiarra, a bar located in the city centre. This is a nice place to start the evening with a wide selection of tapas displayed on the counter, transforming it into a colorful delight to see. Another locale to visit is Cafe de la Plat with an ever-stylish modern decór. Oh and remember to stop by Pacha!
But Sitges is not just summer. Throughout the year you can attend major events such as the International Fantastic Film Festival of Catalonia, its iconic carnivals that leave other regions jealous, musical events like the Antic Jazz Festival or the International Vintage Cars Rally from Barcelona - Sitges, and there are many more activities throughout the year.
Shopping
There are many supermarkets around the city, like Mercadona, Carrefour, Lid, and Aldi. There is also a shopping center called OASIS with shops of all kinds. Also, just a 10 minute drive is a shopping and leisure centre called Vila Lauren where you'll find everything you need.
Getting Around
By car (38 km, 45 min) departing from Barcelona via motorway C-32 Pau Casals (with toll) towards Sitges-Tarragona, exit number 30. You can also go via the C-31 motorway that passes by Castelldefels. Note: If you prefer not to pay tolls then the journey will be 18km longer across the Garraf coast)
In just 30 minutes by train you can reach Sitges. Catch a train departing from Clot, Passeig de Gracia, or Sants station. A return trip costs only €10 and there are trains every half hour between 5:30AM and 10:30PM.
Do you like this post?
Click here!

4.5/5 - 2 votes
Share your thoughts
Tired of reading about Barcelona? Find an apartment and stay there!