Hospitalet de Llobregat
(Districts)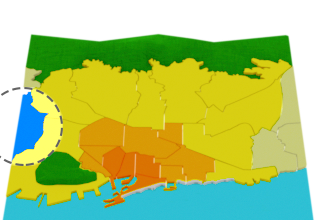 The city is located just next to Barcelona and is well connected via public transport.
The city is located just next to Barcelona and is well connected via public transport. It's right in the middle between the neighbouring zones of Barcelona, Esplugues, Cornellà, and El Prat. This city is divided into 6 districts and 12 neighbourhoods.
Why Stay Here?
This city has its very own historical side. There is evidence of human activity that suggest the origins of this area date as far back as the Paleolithic and Noelithic eras. Similarly many roman remains can be found in the Hospitalet Museum of History. Anyone who loves their history will love this city.
Another great advantage of the city is that if you are looking for accommodation near the airport of Barcelona, staying in Hospilalet de Llobregat is one of the best solutions.
The city is full of migrants from other parts of Spain that came during the 60s and 70s in search for better things during the dictatorship of Franco.
Attractions

Hermitage
As it is an entire city with 6 districts (each named District I, II, III, IV...) , there are many things to see in each. n District I you can visit the La Farga Centre, the Museum of History, Can Sumarro Library, and the Centro Cultural.
District II is home to the Central Plaza, which is always full of life and activities.
If you want to get a taste for the urban transformation of the city, a stroll through District III is all you need.
The "La Florida" neighbourhood in District IV is a hotbed of commercial activity and is a well known zone to get some tapas. It's the perfect place to go shopping or to the market; you'll find everything you need.
District V is for sports lovers, with the huge Sports Complex - L'Hospitalet Nord. Also worth a visit in the area is Can Serra which is a modernist construction by famous Catalan architect Josep Puig i Cadalfach.
For parks and green spaces District VI is the place to be. This district is also home to the Bellvitge neighbourhood where you can visit the Hermitage of Santa María de Bellvitge, a temple built in the 9th century in a Romanesque style.
Where to eat

Tapas in Hospitalet de Llobregat
In the city of Hospitalet de Llobregat, there is no shortage of wineries where you can go for lunch or dinner. But most advisable is the bar called L'hospirineos, which offers an extensive menu with all kinds of cuisines, from Chinese cuisine to burgers and sandwiches... So there's certainly something for everyone!
For a taste of Southern Spain and Andalusia, you'll just love the Córdoba bar, which specializes in Andalusian tapas. The quality to price ration is unbeatable. Wherever you go though, don't hesitate to get lost amongst the neighbourhoods because you'll surely end up finding a great place to taste some Spanish cuisine.
Nightlife

Tarja Concert
One of the primary places to go in Hospitalet is the Salamandra 2 hall, with a very rocking environment. Various concerts are organized here and there are 2 halls. Entry to the club starts at 1AM, so you'll have plenty of time to warm up.
In fact, if you like to go to concerts, then take a look at the concerts held at Mood Factory. For a drink, the 'Deposito Legal' Bar is perfect!
Shopping

Gran vía Shopping Centre
To go shopping, you'll be spoilt for choice in Hospitalet because there are places all over the city. However, the best place to shop in the city is definitely Gran Vía, not only is there a massive IKEA here, there's also the Gran Vía 2 Shopping Centre where you'll find absolutely everything. Fashion, restaurants, fast-food, interior design stores, and much more!
Movilidad

L1 - The Red Line
L1 - Red Line at Hospital de Bellvitge, Bellvitge, Avd. Carrilet, Rambla Just Oliveras, Can Serra, Florida, Torrassa, or Santa Eulàlia will take you to Barcelona's the city centre in 12 - 23 minutes depending on your starting station in the city.
L5 - Blue Line at Can Boixeres, Pubilla Cases, or Collblanc will take you to the Sagrada Familia in 15 - 23 minutes depending on your starting station in the city.
Local Trains run along the south of the city. You can catch one at Sant Josep, Gornal, Europa | Fira, or Illdefons Cerdà, they will take you into Barcelona (Plaça d'Espanya) within 5 - 10 minutes
To get to Hospitalet de Llobregat from the airport you can simply catch the number 46 bus, which also stops off at Gran Via 2 shopping centre, as well as Plaça d'Espanya in Barcelona city.
Do you like this post?
Click here!

3.63/5 - 19 votes
Share your thoughts
Tired of reading about Barcelona? Find an apartment and stay there!