Before going
Which game to choose and at what price
If you come to visit the capital of Catalonia, ​​we will help you to find the best apartment in Barcelona. We offer apartments of different types, renovated and well furnished in all areas of Barcelona!
On this point, many factors come into play. Prices can vary from €10 to over €1000! Keep in mind that — in order to spare your wallet — it's better to go to Camp Nou between October and February, and avoid the months of May and August when there are decisive matches for the titles in May and the new team is unveiled. During El Clásico (Barça-Real Madrid) or the Champions League, tickets can quickly reach exorbitant prices, but you can still attend competitive games at reasonable prices, relying on mid-ranking teams. Although it's possible to find seats for friendly matches at €10, you can expect to spend between €50 and €100.
Where to buy a ticket
To state the obvious, if there's one essential thing to do before going to see a match at Camp Nou, it's to buy the ticket. For this, the best option to do so is through the official website of the Club, or through an official distributor (like ticketmaster.com). For flagship matches — El Clásico for example — tickets can run out very quickly. In that case, the most desperate option is to contact an unofficial re-seller. Keep in mind the risks, scams are common. Stay alert and show some common sense if you get your tickets through an unofficial route.
Feel free to bring your children to a game at Camp Nou. The atmosphere is very friendly and it's definitely an activity to enjoy with your family. Leading matches, like El Clásico and Champions League, can be more dangerous and so don't be surprised if in these cases bringing children is forbidden.
Choose a seat
Choosing a good seat can be a real headache. You have to take into account the view, type of environment of each area and, of course, the price. Camp Nou stadium was designed so that wherever you are you'll have a good visibility of the field. Prices vary depending on their category. From the least expensive (category 3) to the most expensive (category 1).
General (category 3): They're high places with a very good view. But don't expect to look directly into Messi's eyes, you'll be way too far for that.
Gol 3 (category 3): Also high places, behind the goals. Good overview, but mainly occupied by tourists and sometimes discounted tickets according to the type of game.
Gol baix (category 3): Just behind the goals at the field level. Here you'll be at the heart of the action. In this area you'll find hardcore Barça fans, in an environment that could be called 'de fuego'.
Lateral General (category 3): At the side of the stadium, with a very good view, but away from the field.
Gol 1 y 2 (category 2): Closer to the field, good views. Ideal place with a mix of families and fans.
Lateral (category 1): Good overview and close enough to the field to take nice pictures.
Premium (category 1): Simply the best angle to enjoy the experience. But of course, the price goes accordingly.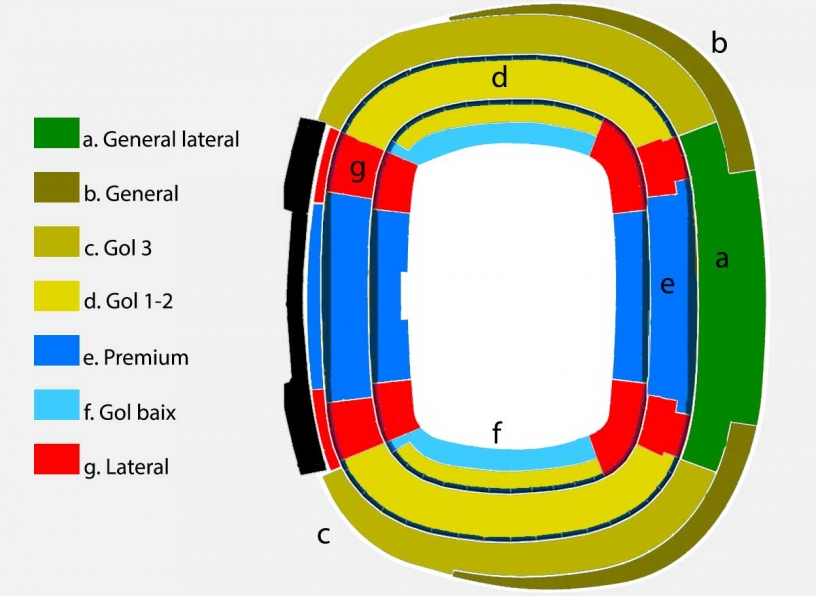 Categories of places at Camp Nou
Excursions in Barcelona
To make the most of Barcelona and fill your trip with unforgettable experiences and emotions, we offer you the excursions through the Catalan capital organized by our friends - the GetYourGuide team. Choose your excursion and fall in love with Barcelona:
Prepare your journey
If you come to Barcelona to attend a match at the Camp Nou, you should know that matches can move from Saturday to Sunday, or from Wednesday to Tuesday or Thursday. The reasons for these changes can be varied and the club won't make any refunds if you can't adapt. Make sure you have a one-day margin before and after the match, this way you can also visit one of the most beautiful cities in Europe. For this reason we suggest that you to find accommodation near Camp Nou.
On the match day
How to get there
To get to Camp Nou, you have several options. The easiest way, if you come from the centre, is to take the metro. Take Line 3, then exit at Collblanc or Badal for gates 2 to 17; or take Line 5, then exit at Les Corts for gates 17 to 21 or Maria Cristina for gates 1 to 11. Remember that the metro closes at midnight from Monday to Thursday.
If you decide to take the bus, the lines that will take you there are lines 7, 15, 43, 67, 8, 74, 75, L12, L50, L60 and L62.
To enjoy the cheerful atmosphere in the surroundings of the stadium, we recommend that you get to the stadium by foot among the fans. You can take this opportunity to warm up your cheering voice while joining the fans singing Barça hymns.
Finally, avoid taking your car at all costs. It'd be a shame to have to spend the game in a traffic jam, and parking in Barcelona is generally very difficult!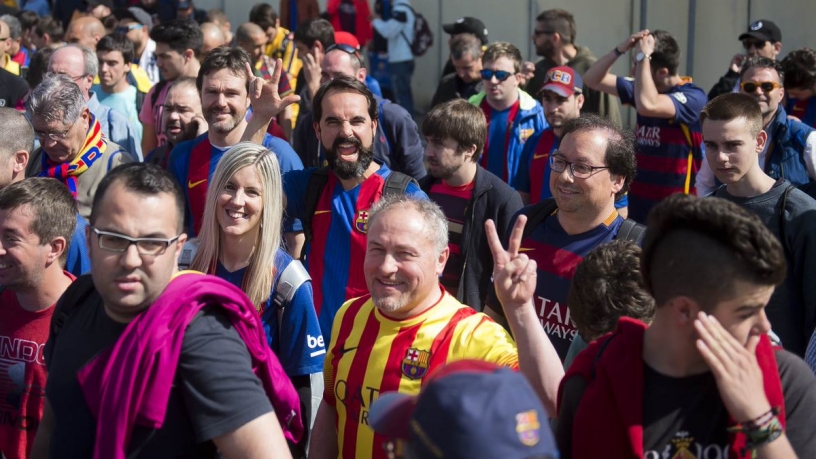 Barça fans going to Camp Nou
On match days, it's necessary to arrive at least 30 minutes in advance. The stadium can host around 100,000 fans, so it will take a bit of time to go through security and find your seat. We'd even recommend going to stadium an hour and a half before kick-off, so you'll have the opportunity to visit the Camp Nou Museum and take some pictures of the stadium, while sensing the fervour rising across the stands.
What to bring with you
Take advantage to bring all the accessories from the club you have at home. Scarves, flags, face-paints; be creative. Photos and videos are allowed. You can take food and drink, but the latter must be non-alcoholic, uncovered and less than 500ml. Leave firecrackers, lasers or anything that could be dangerous at home. There are no locker rooms at the entrance so you'll be forced to throw away any forbidden items before entering the stadium. Leave your valuables at home, take only what you need and you'll be able to enjoy the experience without worries.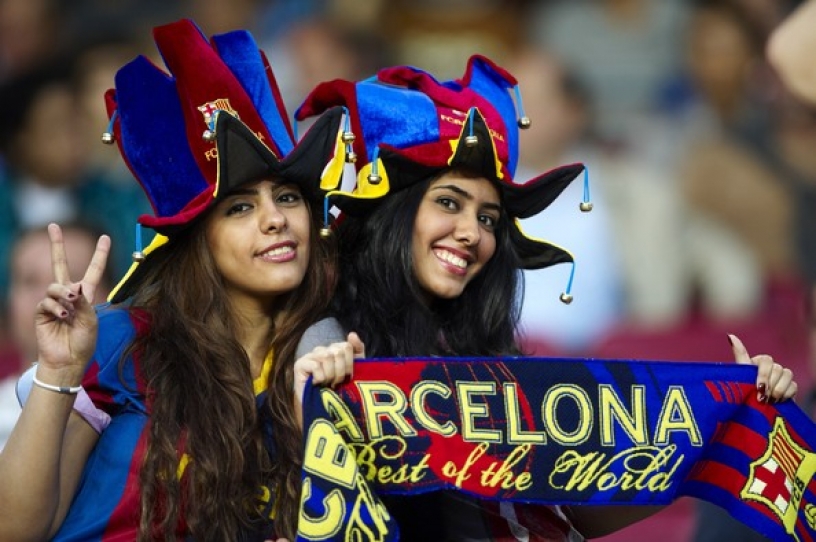 Barça fans
During the game
Once kick-off happens, you'll have 90 minutes of excitement, chants, songs, screams and even tears. Inside the stadium there are points of sale with refreshments and snacks, but bear in mind that everyone will have the same idea during the break. The sale of alcohol is prohibited in the stadium and smoking isn't allowed inside or along the stands.
After the game
Now that players have returned to the locker room, it's time to leave the stadium. To avoid the human tide heading to public transport, you can stay for a while to enjoy the bars. If the match went well and you're still in the mood, then you can head to the Canaletas fountain at the beginning of Las Ramblas to celebrate the victory along with the fans. The urban legend says that whoever drinks this water will return to Barcelona. It's here that the supporters of Barça, since 1930, come together to celebrate the triumphs of their team. If it's an important match, be prepared to party!
An example of what awaits you after an important match