Guttman Institute - Rehabilitation after neurological, spinal, and nerve injuries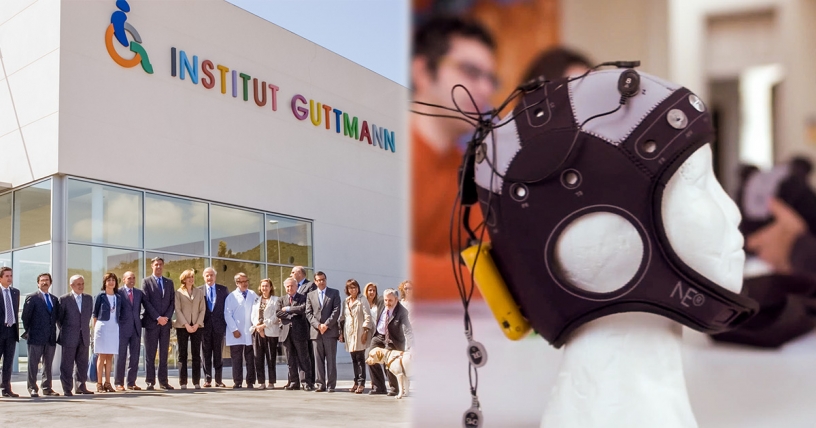 Innovative treatments at the Guttman Institute in Badalona, Barcelona.
If you come to visit the capital of Catalonia, ​​we will help you to find the best long term rentals in barcelona. We offer apartments of different types, renovated and well furnished in all areas of Barcelona!
This hospital is named after Ludwig Guttman, and was opened by Guillermo González Gilbey who had an accident and became tetraplegic. The treatments in Spain were not sufficient at the time and after being treated by and studying under Guttman, he brought those techniques back with him to Barcelona. Under their medical director - Miguel Sarrias Domingo - the centre has become one of the best in the world and now helps to save lives and helps people with physical disabilities to live as normal as possible using the latest in medical technology. Currently they are located in Badalona, but this year for their 50th anniversary they are planning to re-open a clinic on the original site inside Barcelona in the Sagrera neighbourhood.
The centre is accredited by the Joint Commision Institute - a US company that recognizes quality hospitals like the world famous Mayo Clinic. It has innovated in various ways and was among the first in the world to implant Sacral Anterior Root Stimulation devices using the "Barcelona Technique" to treat people with spinal cord lesions who struggle to empty their bladders.
One of the institutes most vanguard procedures is its use of "non-invasive brain stimulation" to treat people who suffer from neuropathic pain. It mixes external brain stimulation and virtual reality to help patients with spinal injuries.
The centre has staff who speak English, Spanish, Catalan, Russian, and Arabic. The specialities include (and are not limited to):
Infantile Cerebral Palsy
Parkinsons Disease
Multiple Sclerosis
Medular Lesion
Traumatic brain injury
Cerebrovascular accident (stroke)
Amyotrophic Lateral Sclerosis (ALS)
Post Polio Syndrome
Dysmelia
Guillain-Barré syndrome
Address: Camí Can Ruti, s/n, Badalona, Barcelona
How to get there: Option 1 - Catch Metro Line 2 and exit at Badalona Pompeu Fabra, from here catch the B6 bus to the centre. Option 2 - Catch the FGC train R2N line from Sants and exit at Montcada I Reix, from here take the B12 to the centre.
Contact details:
Excursions in Barcelona
To make the most of Barcelona and fill your trip with unforgettable experiences and emotions, we offer you the excursions through the Catalan capital organized by our friends - the GetYourGuide team. Choose your excursion and fall in love with Barcelona:
Fundacio Puigvert - Urology, male fertility, and nephrology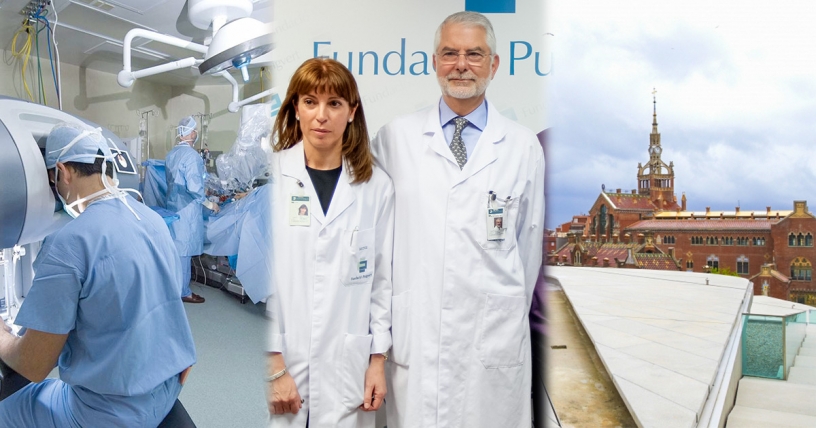 The Da Vinci robot, Fundacio Puigvert Medics, and views of Hospital Sant Pau
One of the most specialized medical centres in Barcelona is Fundacio Puigvert, which is dedicated to treated problems related to the urinary tract, kidney, and male genital system. They are always on top of the latest medical innovations and were among the first to use external lithotripsy and most recently the first in Spain to carry out robotic surgery with the sophisticated Da Vinci robot. They were also the first centre in the world to carry out a transplant using their favoured technique called laparoscopy - also known as keyhole surgery - as it is minimally invasive. Imagine; the day when a transplant is carried out as a minimally invasive procedure is already here because of centres like Fundacio Puigvert. It's also right on the same complex as Hospital Sant Pau, a beautiful modernist hospital that is protected as a UNESCO World Heritage Site.
The centre has staff who speak English, Spanish, Catalan, and French. Within the three specializations - urology, nephrology, and andrology - their procedures include (and are not limited to):
Urology

Lithiasis of the urinary tract (stones / calcium deposits)
Tumours
Non-tumour discorders e.g. Stenosis, fistulae, urinary tuberculosis, injury and trauma.
Incontinence and irritation of the urinary tract
Pediatric urinal diseases and enuresis (bed-wetting)
Check-ups

Nephrology

Renal diagnosis and treatment
Renal transplants
Check-ups

Andrology

Genital disorders - curvature correction, testicular ectopia (displacement), testicular prosthesis, ejaculation dysfunction.
Male contraceptive surgical procedures - Vasectomy or Recanalisation to reverse a vasectomy
Impotenence diagnosis and treatment using ultrasound, psychological tests, penile prostheses, and more.
Assisted reproduction - IVF, microinjections, and more
Male and female sexual dysfunction
Address: Carrer de Cartagena, 340-350, 08025, Barcelona
How to get there: Metro - Line 5 (Hospital de Sant Pau – Dos de Maig), Buses 10, 15, 19, 20, 35, 45, 47, 50, 51, 92, 117, and 192
Contact details:
Instituto de Otologia García-Ibanez - Otology
Institut Garcia Ibanez - One of the leading Otology centres in the world
One of the places that modern otology as we know it was first pioneered is the Garcia-Ibanez Institute of Otology. The centre has contributed much to the field. Their first achievement was in 1946 with the first operation on a deaf patient. Even today they created their own HA Middle Ear Implant called "Marpla" (Garcia-ibanez Notched Universal Prosthesis), that's used around the world for people with mild to severe sensorineural, conductive, and mixed hearing losses.
For over 40 years, Emilio García-ibáñez Ferrándiz has performed over 25,000 procedures, especially in otoneurology and microsurgery.
The centre has staff who speak English, Spanish, Catalan, Italian, and French. The procedures include (and are not limited to):
Otological Laser Microsurgery - Otosclerosis, chronic ear infection, middle ear disorders
Auditory implants - Cochlear, middle ear, brainstem, and Bone-Anchored Hearing Aid (BAHA)
Otoneurology - Tinnitus, vertigo, acoustic neurinoma, and facial nerve disorders
Sinonasal disorders
Otological Endoscopies
Radiofrequency
Facial plastic surgery
Facial nerve rehabilitation
Laryngostroboscopy
Address: Carrer del Dr. Roux, 91, 08017, Barcelona
How to get there: FGC - Line 6 (Sarrià or Les Tres Torres)
Contact details:

Phone:+34 932050204
Email: fundacion@iogi.org