Barcelona is home to many of the world's best footballers, including Luis Suárez, Gerard Pique, Philippe Coutinho and of course the legendary Lionel Messi. But where exactly do they live in Barcelona?
Being one of the world's highest paid celebrities, we expect Lionel Messi to live a lavish lifestyle in an impressive mansion and he does not disappoint. In 2009, Messi decided to move his family from Pedrables to a different area in Catalonia. Let's take a look...
Who is Lionel Messi?
Lionel Andrés Messi, also known as Leo Messi, is a famous footballer who was born on 24 June 1987 in Rosario, Argentina. Messi started playing football at the age of 5 for a local club coached by his father. He then went on to play for another youth team, who only lost a single match over four years. However when he was 11 years old, he was diagnosed with a growth hormone deficiency. Although he showed immense talent, the local clubs were unable to pay for his treatment.
At age 13, he was spotted by Carles Rexach, the sporting director of FC Barcelona, who promised to pay for his treatment if he moved to Spain with his family and enrol at Barcelona's youth academy.
Throughout the years, Messi quickly worked his way up the ranks, despite only being 5 feet 7 inches tall and weighing 148 pounds. At 17 years old, he became the youngest player in FC Barcelona history to score a goal.
By 2008, he had become one of the greatest football players in the world, finishing second to Cristiano Ronaldo in the 2008 FIFA World Player of the Year. He is the player to have won the most Ballon d'Ors in the world (he has won 5), an annual award given to the player deemed to have performed the best over the previous year.
Messi has recently signed a new contract to extend his stay at FC Barcelona until 2021, where he will reportedly earn £500,000 (€565,000) per week. It is estimated that his net worth is around £230 million, making him one of the richest sportsmen on the planet.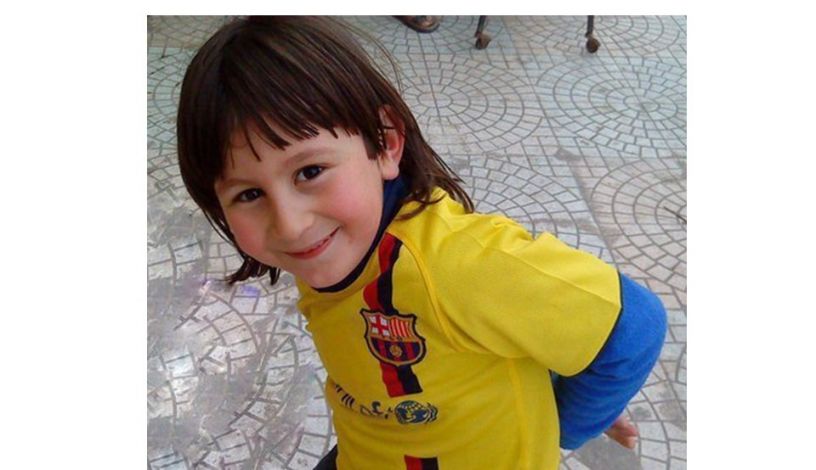 A young Messi
If you come to visit Barcelona, ​​we advise you to stay in an apartment near Camp Nou. This way, you will know one of the most emblematic districts of Barcelona and save money since hotels are more expensive and offer you less space and comfort.
Where does Messi live?
Messi lives in a small area called Bellamar, a prestigious and expensive suburb of Castelldefels, Barcelona. Houses in this area normally sell for around £4.5 million, however the best houses usually go for a lot more. Since the development of the area, thanks to footballers like Messi, it has been revalued and become one of the most exclusive neighbourhoods in Catalonia.
This urbanisation is only 12 miles from Camp Nou Football Stadium and has easy access to Ciutat Esportiva, where the players train. Bellamar offers the stars the luxury, exclusivity and discretion that the residents seek, whilst being just 16 miles from the centre of Barcelona, giving them the best of both worlds.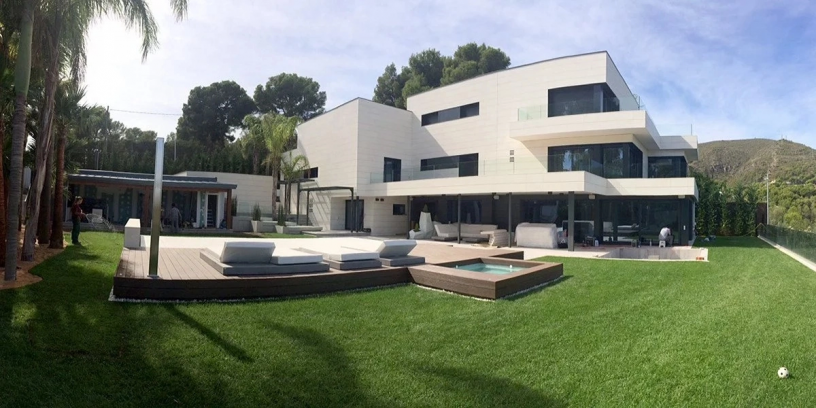 Exterior of Messi's house
In 2009, the Argentinian bought an old house for €1.8 million. He has spent more than €6 million renovating and adapting his home to his taste. Messi's modern pad overlooks the beautiful Catalan hills and the Mediterranean coast, with lots of open terraces and large panoramic windows to enjoy the views.
The interior of the house is decorated in a Mediterranean style with light coloured walls and wooden floors. The basic, uncomplicated décor gives the house a comfortable and modern feel. The general colour scheme in the house is beige and brown, with light beige floors and dark brown or light walnut furniture. The sofas are generally dark brown or dark grey. The house also has a gym.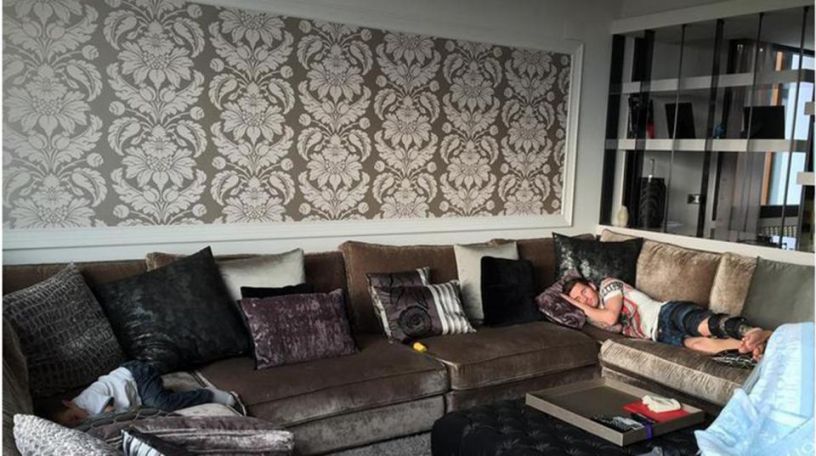 Messi relaxing with his son
The mansion is surrounded by a garden where he can spend time with his wife, Antonella Roccuzzo, three children, Mateo, Thiago and new baby Ciro, and two dogs. He has built a playground for his young boys, as well as a small football pitch and swimming pool. He also has a stunning terrace with a barbecue and outdoor dining area.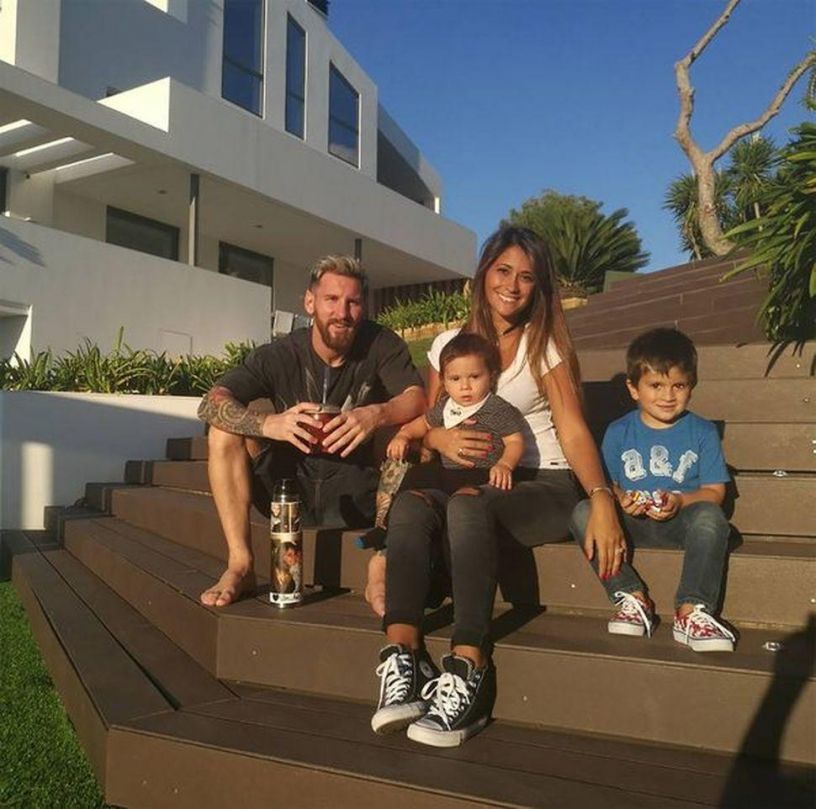 Messi relaxing in the garden with his family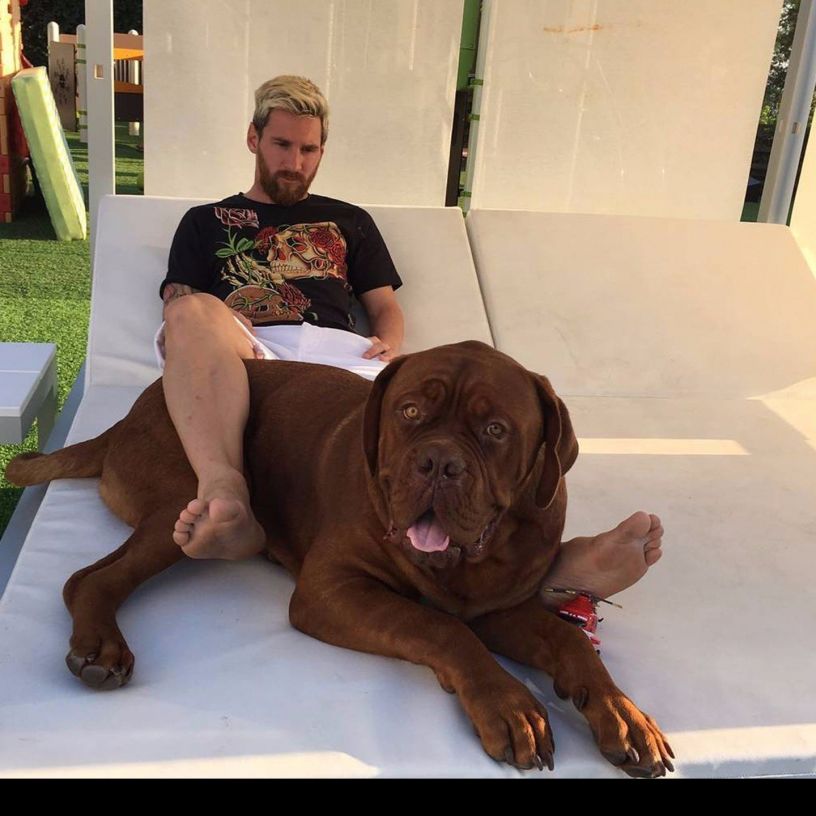 Messi with his beloved dog
Noisy neighbours...
For global superstars like Messi, you don't have to put up with rowdy neighbours, you can just buy them out instead. According to his team-mate Ivan Rakitic, the people living directly next door to Messi were making life very difficult for the family.
In 2013, the neighbours were apparently struggling for money, so rented out the rooms in their house. However, the new tenants were nosy, rude and often played loud music, disturbing Messi and his family.
At first, Messi tried building a wall in between the two houses, however the neighbours threatened legal action, so instead, he bought them out so he could be alone.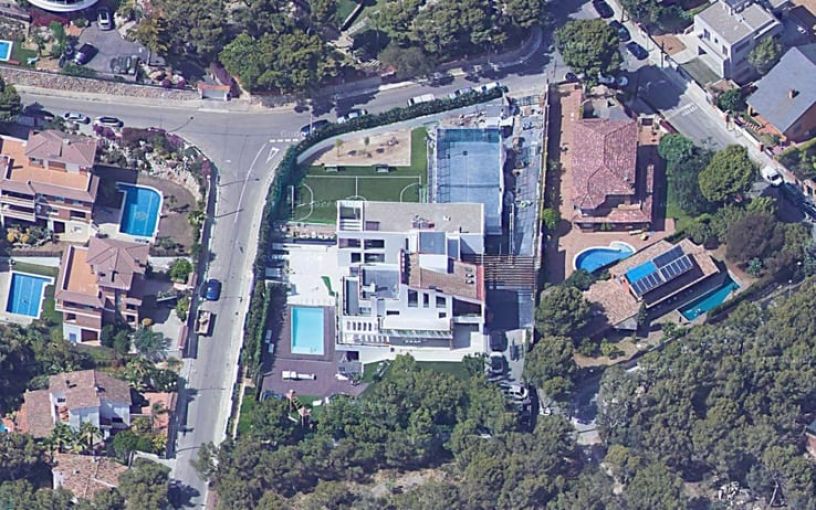 Bird's eye view of Messi's house
Excursions in Barcelona
To make the most of Barcelona and fill your trip with unforgettable experiences and emotions, we offer you the excursions through the Catalan capital organized by our friends - the GetYourGuide team. Choose your excursion and fall in love with Barcelona:
Has Messi's house prevented the expansion of the airport?
Barcelona El Prat is the 7th busiest airport in Europe, so naturally airport bosses want to expand the it with a new runway near the suburbs of Gava and Castelldefels. The addition of the new runway would get more flights in and out of the city.
However, the president of low budget airline Vueling has revealed that the airport is unable to expand because planes aren't allowed to fly over Messi's house, just 10km from the airport. Until now, it has been reported that the area of Castelldefels has an environmental restriction over it, meaning that planes are not permitted to fly above it. However, airline bosses seem to believe that the restriction is due to Messi's influence.
Whatever the reason, the airport is unable to go ahead with their plans. The denial of the project has frustrated airline bosses such as Javier Sanchez-Prieto, the president of Vueling airlines, who has said that "This doesn't happen anywhere else in the world".
However, Messi has denied making a statement about the airport or its operations. Vueling have been forced to issue a public apology to the Barcelona player for involving him in controversy.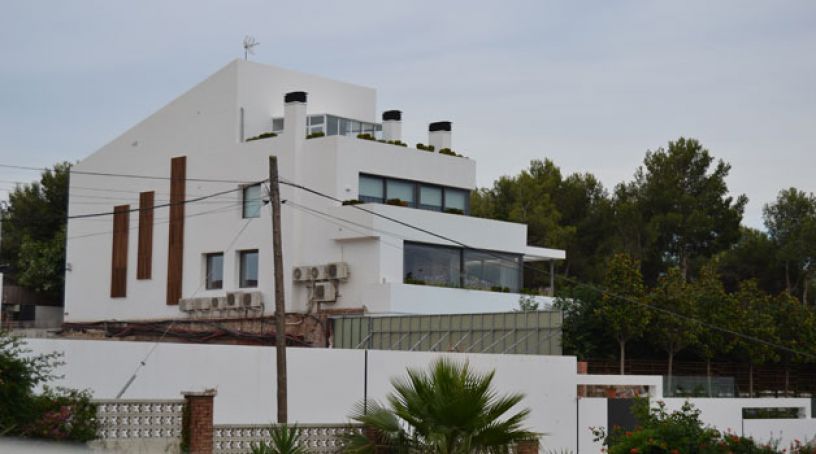 Messi's house in Castelldefels
Fake house
If you search for Messi's house on Google, you are most likely to find a football shaped house, but don't be fooled! This is completely fake and Leo Messi's father, Jorge Messi, has issued a statement denying the information, saying "I totally deny this information. Neither my son nor I have contacted that man, we do not even know who he is. And we do not want to make any home".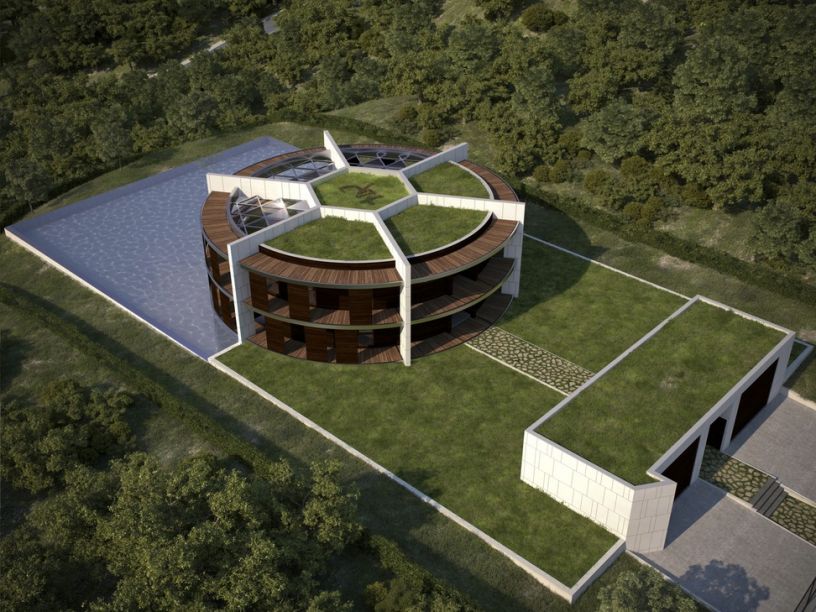 Fake House
House Tour
Want a tour of his real house? Watch the following video!