Paid Options
If you've decided you're going to pay to learn Spanish, then these are some good places to go to learn: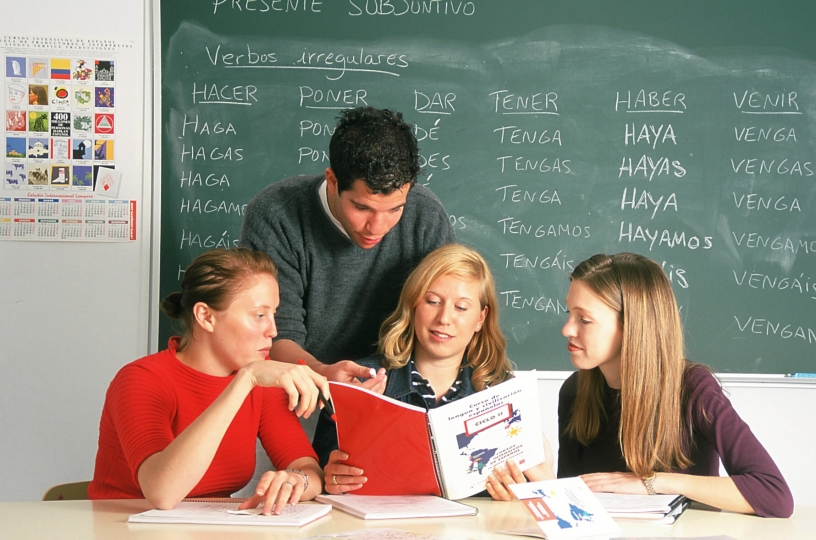 Class sizes include large and small groups, pairs and one-on-one.
If you come to visit the capital of Catalonia, ​​we will help you to find the best long term rental in barcelona. We offer apartments of different types, renovated and well furnished in all areas of Barcelona!
Private classes
If you have a large budget, then private classes are highly recommendable. It's actually quite common for foreigners that already have a grasp of the language and want to improve or maintain it with the help of a teacher. The prices vary as you find teachers with different levels of qualifications, ranging from €20/hour, more or less, up to €50/hour if the teacher is particularly experienced or needs to travel to your location.
To find a teacher, you can use a website like Tus Clases Particulares or search on social media, namely facebook. If you're at a university here, then take a look at the announcement board and search for Spanish natives looking to have conversations with foreigners.
School classes
The traditional way to learn a new language. In terms of fees, each school has their own. The most common option, a 20-hour intense week, usually costs between €100–€300. However, the more you prolong your course for — some schools offer courses for one year — the better the price will be in terms of value.
There are dozens of language schools in Barcelona, each one with its own characteristics, but in general they have Instituto Cervantes accreditation as a rubber stamp for their quality. Here's a selection of 5 schools to learn Spanish in Barcelona accredited by the Instituto Cervantes.
International House Barcelona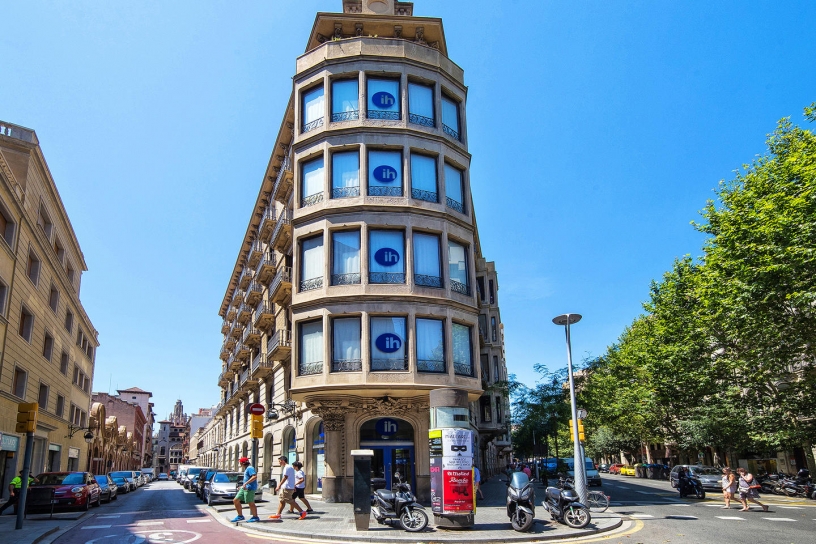 International House Barcelona Façade
The International House (IH) Spanish learning centre is one of the most prestigious institutions in Barcelona — also Spain — for the training of foreign students and future teachers. IH offers a wide range of courses at all levels and hours of availability. It also offers a complete cultural and social program that has guided visits to emblematic places, all included in the price of the course.
Address: Carrer Trafalgar 14
Telephone: +34 93 268 45 11
Excursions in Barcelona
To make the most of Barcelona and fill your trip with unforgettable experiences and emotions, we offer you the excursions through the Catalan capital organized by our friends - the GetYourGuide team. Choose your excursion and fall in love with Barcelona:
Enforex Barcelona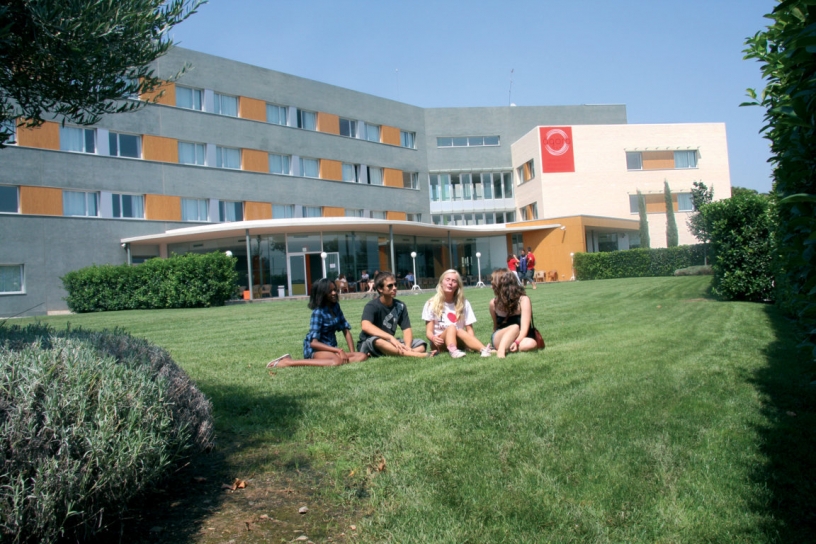 Enforex Barcelona
This is the largest Enforex centre in Spain and Latin America, with a capacity of 550 students. They provide courses that allow students to participate in language exchange programs and thus mix daily with native speakers for full Spanish immersion.
Address: Carrer Diputació 92
Telephone: +34 93 488 13 31
Escuela Mediterráneo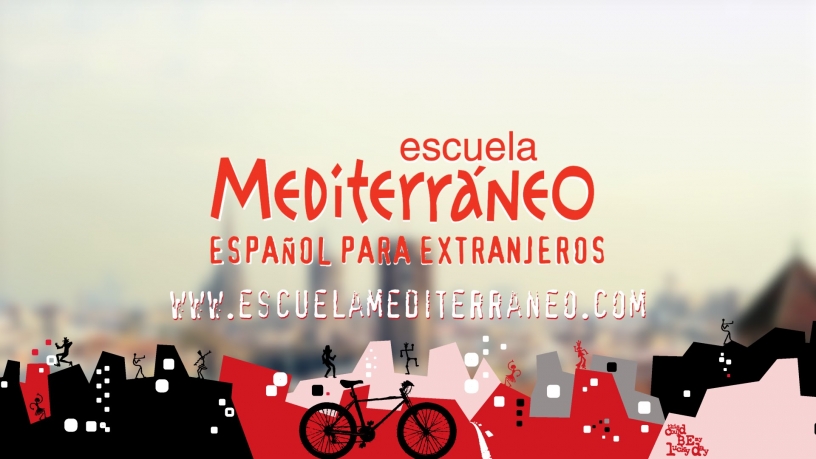 Escuela Mediterráneo Poster
The courses are suited to all needs. The central location next to Las Ramblas and Boquería market fully immerses this school in the daily life of Barcelona. The centre also offers accommodation options for international students and organizes meet-up events. If you also want to learn Catalan and feel fully integrated into Catalan society, then Escuela Mediterráneo is ideal.
Address: Carrer Santa Mónica 2
Telephone: +34 93 318 70 70
Speakeasy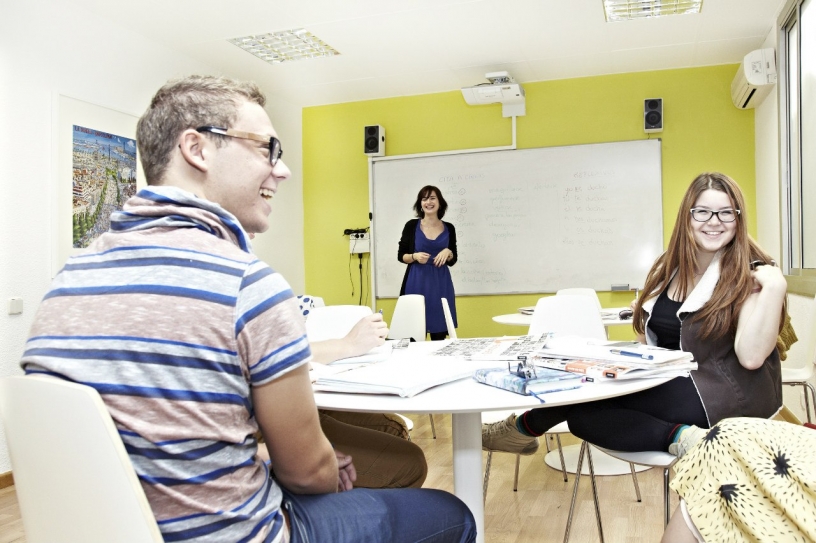 A class at Speakeasy in Barcelona
Speakeasy offer excellent intensive courses each week, ideal for those who want to learn Spanish but don't have much time to spend in Barcelona before going home. The number of students in each class is limited, which favours a rapid acquisition of the language. It also includes 'talk time' and a break so that students get to know each other well.
They also do combined courses, which is to say that you can take group classes in addition to private lessons. Their aim is to prepare you for the obtaining a DELE certification (Diploma Español de Lengua Extranjera).
Address: Ronda Universitat nº7
Telephone: +34 93 342 71 97
Don Quijote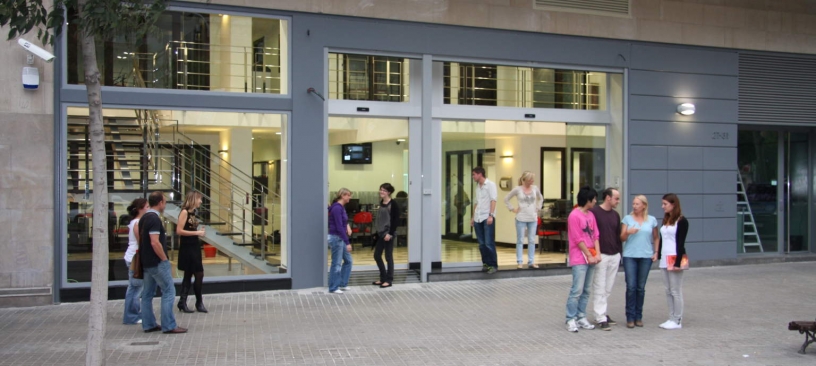 Don Quijote School exterior
They have ben teaching Spanish to more than one million students worldwide for over 30 years. You'll join a support community that will value your 'uniqueness' and offer a language course tailored to suit you. The 55 classrooms are fully equipped, while the public areas are spacious, comfortable and include a beautiful courtyard where students can connect to the Wi-Fi network that's available throughout the school.
TIP: If you don't feel that any of the schools listed above are right for you, then here's a link to the rest of the schools accredited by the Instituto Cervantes: http://eee.cervantes.es
University courses
For those who have a sufficient level of Spanish (and courage), going to university and taking classes in Spanish is one of the best ways to learn. In addition to learning continuously, during the course you'll be surrounded by Spanish students, which will require you to communicate effectively. It's also common to find Spanish language reinforcement courses at universities around Barcelona, given the large number of Erasmus students that arrive each year.
Learn Spanish smartphone apps
It's true that sometimes people lack the desire to sit at another desk to learn Spanish after a long day of work or classes. That's why — with the increasing importance of smartphones in our daily life — you might want to learn at your own pace using one of the many apps to learn languages. They're very complete and interactive, with different levels, games and even voice recognition. These are the three most recommended apps by popularity in the app stores: Babbel, Duolingo and Busuu. Check those out.
Learn Spanish for free
Linguistic bar meet-ups are common in Barcelona
Language meet-ups
This concept came to be thanks to the rise of social networks. The activity usually comes from groups of volunteers, where attendees (mostly) include other foreigners who speak Spanish obligatorily during activities like drinks, sports, tours and dancing. Any activity is a good enough excuse to meet new people and learn a new language.
The group meetings have become so trendy that people now work hard to organize these language encounters. To carry out this kind of learning for yourself, just browse through Facebook and search for expat groups like Barcelona Expats — International BCN to find them — the group search box is your friend. Some schools try to offer activities of this type to compete, but they're not free.
Look for Spanish roommates
The best way to learn a language is to practice a lot and speak Spanish as much as possible. Instead of looking for a flat where tenants speak your language, try to find Spanish flatmates so that you're obligated to speak in Spanish. If you struggle to speak well, even better! Learning in a relaxed environment, such as your home, is often one of the most effective ways to learn without even realizing it.
Make Spanish friends
This last way is perhaps the most banal, yet sometimes we forget about it. From our own personal experiences here at OK Apartment, we can assure you that more often than not, people tend to make groups of friends in their own language and don't mix with the natives thanks to the language barrier. Two things happen in this case, the first is that it gives off a sort of hostile exterior to natives who'll see you as closed off. The second is that you'll have even more difficulty leaving your comfort zone and speaking Spanish when it's really necessary.
Don't be shy, the Spanish people are very friendly, and if they see you making an effort to learn, well, they really love helping foreigners who are trying to integrate. In addition, they can help open doors for you to discover the best activities available around Barcelona.
TIP: If you want to reach the next language level and prove that it's no longer a barrier, then you need to get out there and date a Spanish person. Do it for love though... It's not unusual for foreigners to complain that they've been used to learn a language by one of the locals... Don't be that person!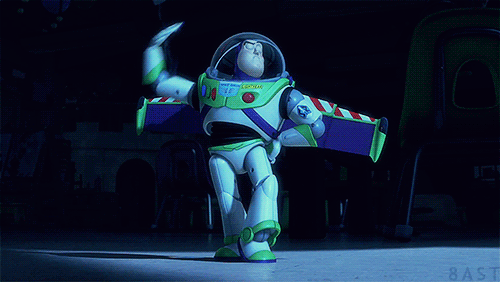 ¡Olé! Activate your Spanish mode like Buzz.