Theatrical improvisation: listen, accept, be generous and be true
Theatrical improvisation and improv comedy is about listening, accepting, being generous by covering for your stage-mates when they get stuck, and being true to your role both with respect to your fellow actors and the audience. These are small theatrical works with a script developed as the action takes place.
If you are coming to study in Barcelona we advise you to look at our student apartments in Barcelona.We offer apartments of different types, renovated and well furnished in all areas of Barcelona!
Usually they begin by simply asking a title from the public… or a gesture, emotion, small input, perhaps even a cinematographic genre and, from there, a whole story arises. The actors don't plan anything; they don't know what roles they'll be performing before arriving at the theatre, and at the moment of improvisation —  yes, even then — they don't know where the plot will go. Perhaps one enters with their own idea on the stage, but it surely will be modified by the imagination of any partner.
The relationship between the characters will be based on accepting, and that's a golden rule in Improv. Say 'yes' to everything. "Hi, honey" your stage partner might say, and suddenly you're partners. You retort, "I'm home, my dear Wasdan of Omicron IV, Sector 52 of Andromedian Star System", and now your partner is going along with being your extraterrestrial fiancée. Does the next character that's about to enter stage-right know about the alien? Maybe they've decided they're part of the Men in Black. Or maybe they're also an alien and it's the human that's now away from home… The possibilities are endless.
In improvisation, they use a lot of expressive body language. In an atmosphere that is to be lived and breathed, a word or smile can, without wanting, escape and change it all. Listening closely to that environment, those words and their integration in the work, will be the key to transmitting smiles to the public. Listening is very important. Actors, in addition to acting, are the directors and scriptwriters at the same time, so everything that comes on the stage and from outside of it have to be collected and taken advantage of for the plot. In this way, everything will make sense and the improv will flow.
A work will emerge instantly, a set of scenes that have never been represented before and will never be again. Each improv is unique, ephemeral and is true for that moment. At any other time it will be something else.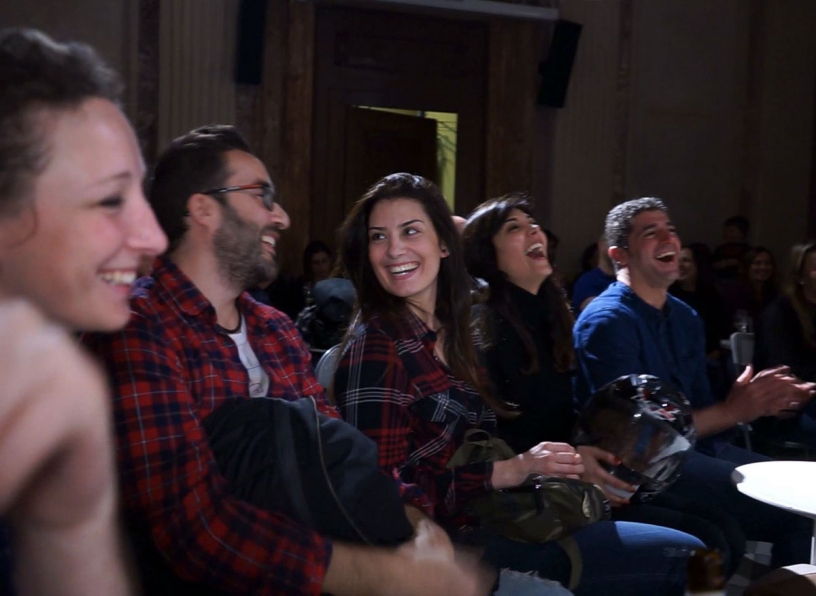 People laughing at an improvisation show
Excursions in Barcelona
To make the most of Barcelona and fill your trip with unforgettable experiences and emotions, we offer you the excursions through the Catalan capital organized by our friends - the GetYourGuide team. Choose your excursion and fall in love with Barcelona:
Where to see improv in Barcelona
A classic show called Planeta Impro is repeated every weekend at Teatreneu. There is also innovation, creativity and a search for new formulas with shows with Impro Magic, The Imprólogos of José Malaguilla and the MEAM Museum Micro Impros. Then there are yet more classic ones like The Ring of Impro and Comando Impro at Sala Barts. Improvisation in Barcelona is enormous and there are a variety of troupes offering very different shows. 
Comando Impro
The veteran improvisers who form Impro Barcelona deliver great scenic gifts in their shows "without script, without scenery and without shame" as they proclaim. You'll be here as a spectator of works worthy of Goyas, Oscars and many illegal downloads on the internet. Here, the audience is in charge. Those attending the show will be at all times choosing the style, titles and even the words and phrases of the actors. Classical methods of improvisation, carried out by some of the best professionals of this discipline in Barcelona. They perform every Sunday at Sala Barts.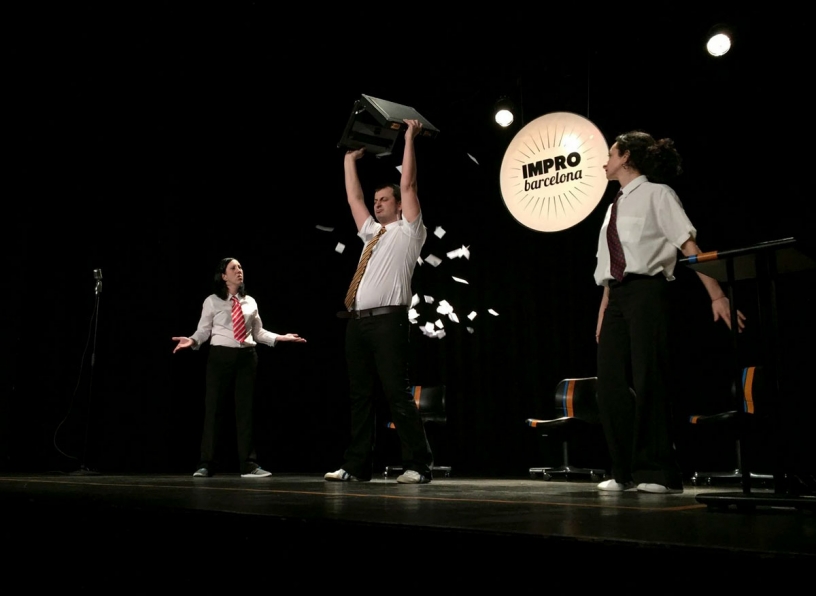 Comando Impro
Impro Magia
This troupe consists of three Barcelona improvisation greats — Nicolás Acevedo, Javier Alba de Alba and Sam Gutierrez. They don't define it as an improvisation show, nor as a magic show, simply, according to them, it's Impromagic. A different and new way of entertaining the public with humour and surprise. If you look at their website, you can see their next performances in Barcelona and other Spanish cities.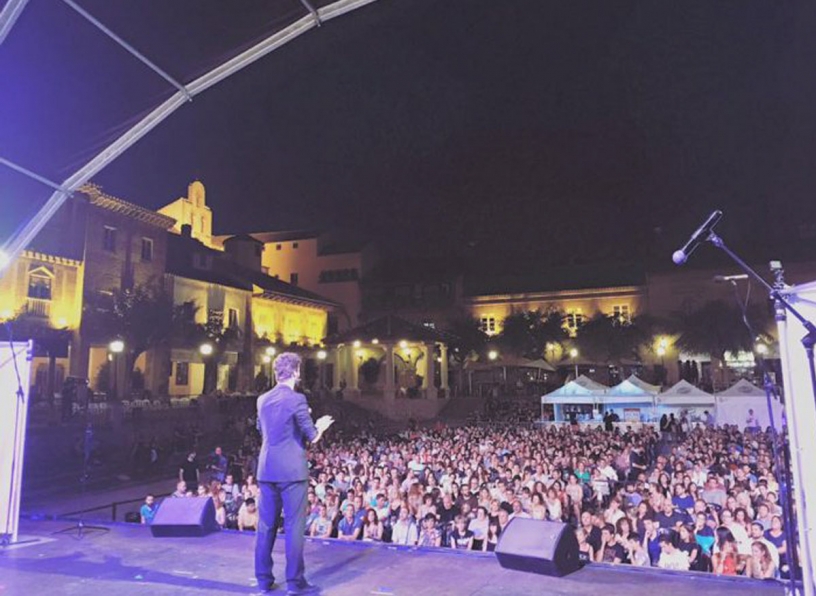 Impromagia
Imprólogo
José Malaguilla gathers instructions from the audience, like the title, place, genre, scripts, and artistically any suggestion — all the inputs — and he carries them out all alone. He takes to the stage, he plays all parts — the protagonist but also the protagonist's bride… He's the enemy, the antagonist who wants to steal the bride from the protagonist. Then he's a pirate, a princess in a play by Disney, and then a whole cast of musical dancers... In short, millions of characters, all represented by the same person in a non-stop laughing bonanza that he has defined as an Imprólogo.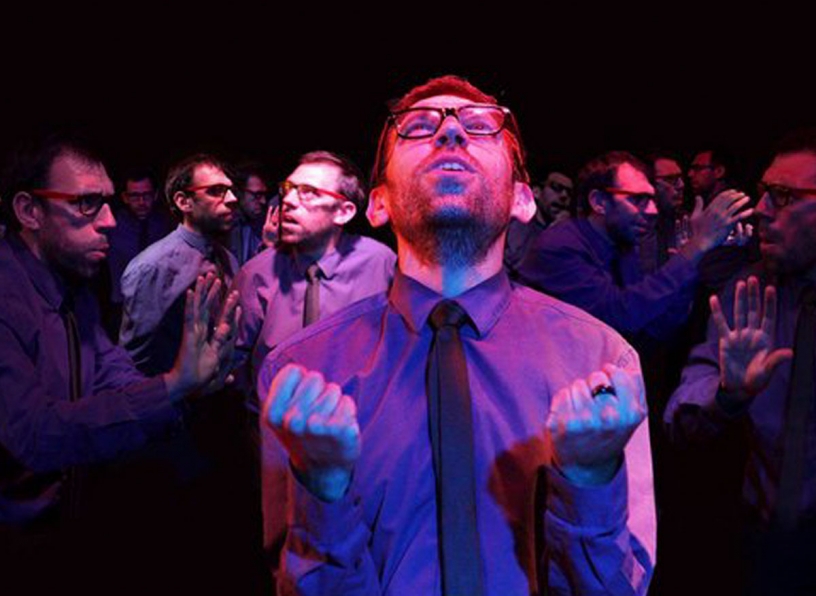 José Malaguilla and the Imprólogo
Filosofía Bastarda
Nicolás Acevedo is the master of ceremonies in this unusual spectacle. Philosophy mixed with impro. Knowledge coupled with laughter. Through the legacy of the most important thinkers in the history of mankind, we reach everyday topics that are analysed in a forum open to everyone. In the meantime, professional improv performers stage it all with the active input of the audience, which changes the argument in an astonishing process of collective improvisation. You can follow their Facebook to get to know more about this unique mode of improv and see when it takes place.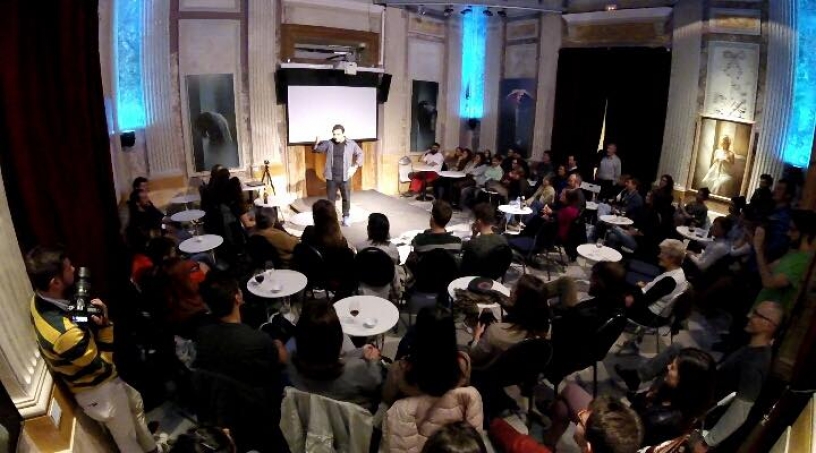 Nicolás Acevedo in Filosofía Bastarda
Micro Impro
Once a month, the European Museum of Modern Art — better known by its acronym, MEAM — opens the door to the best improvisation in Barcelona. Five or six rooms, depending on the date, are open to different improv troupes. Micro shows of 15 minutes happen during almost two hours that surprise and make the public laugh. Spectators go through the museum room by room, troupe by troupe. 
The interesting thing here is that each troupe performs a different show. From classic improvisational plays represented by the youngest of the troupes in the museum, 'inSítu', to improvisations inspired by the verses of great poets like Salva Soler and Dani Orviz who are also there reciting. You can find artists from the previously mentioned troupes too, improvisation with philosophy and even improvisations that come from people who thought they were attending the show, like you, and turned out to be part of it.
In this video you can get an idea of what this format is like:
Improvisation marathon in Barcelona
For the first time in Barcelona, an improvisation marathon is going to be held. Improv is booming in the Catalan capital. This is reflected in activities such as this marathon and in shows carried out by the troupes you've just read about.
One single day — 8 July 2017. Note the date. Improvisers from all over the country come to the city to laugh and improvise. Something to keep in mind is that the best of each troupe will come and demonstrate all kinds of formats and ways to do improv. Here you can see the schedule.
You'll see magicians, singers, musicians, dancers, poets and clowns performing. Whether you're used to this type of show or if you've never heard of people doing improvised comedy on stage, this is a good first contact with improvisation because they'll let anyone join in who wants to improvise. Practising with professionals on the subject is a very good opportunity — as well as fun — to start getting bitten by the improv bug. Of course, there are other ways to do improv, as you'll see in the rest of the article.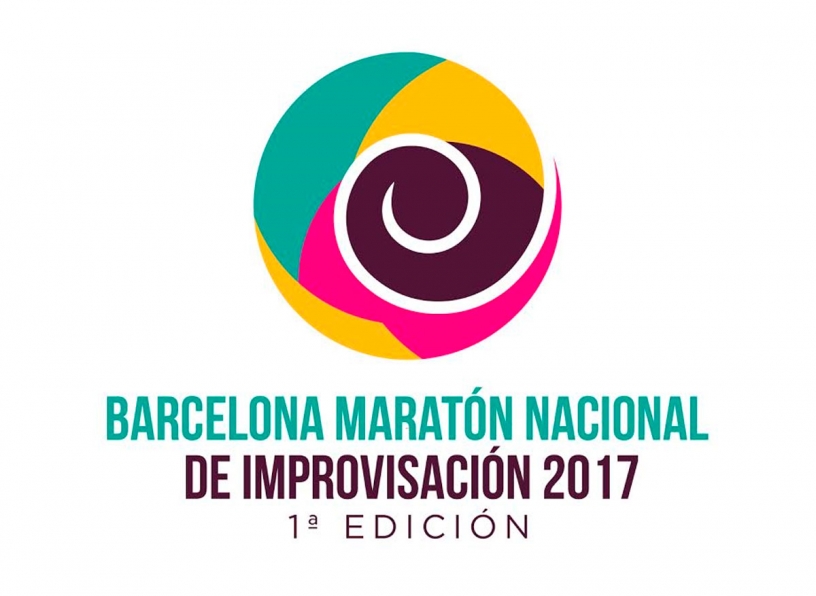 First improv marathon in Barcelona
How to start improvisation
Improv School of Barcelona
We start with the Improv School of Barcelona. As they define it on their website, they're the first school in Barcelona to offer integral training in improvisation. They have classes of different levels that include everyone, from beginners who know nothing of this theatrical modality, to professional actors who are looking for perfection and additional training in this discipline.
By playing and understanding the technique of improvisation, students are taught and pushed forward in a fun way. Enter the world of improv through this school and you'll certainly never leave. Their classes are adapted to all schedules, with morning and afternoon shifts available. In addition — and this may interest you — knowledgeable as they are of the attractiveness of their classes, they offer the first class for free without any commitment. Weird is the person who does not return.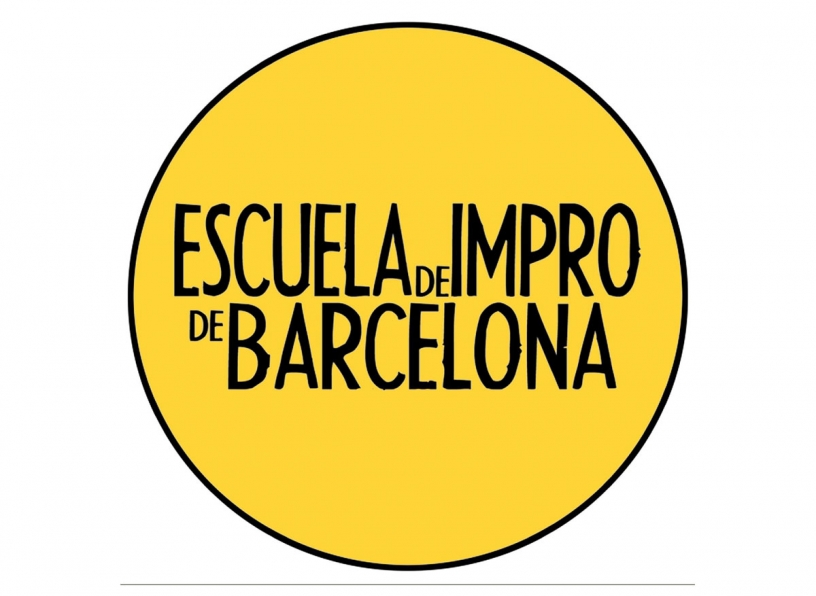 Improv School of Barcelona
Improvisation in English
This article is available in 5 languages. We know that some of you may still have difficulty handling Spanish, so here's a good option for English speakers: Barcelona Improv Group (BIG), founded by two English people. They're the ones essentially in charge of Barcelona's theatrical improvisation offering in the language of Shakespeare. They not only offer shows in English around the city, but they also teach classes at all levels.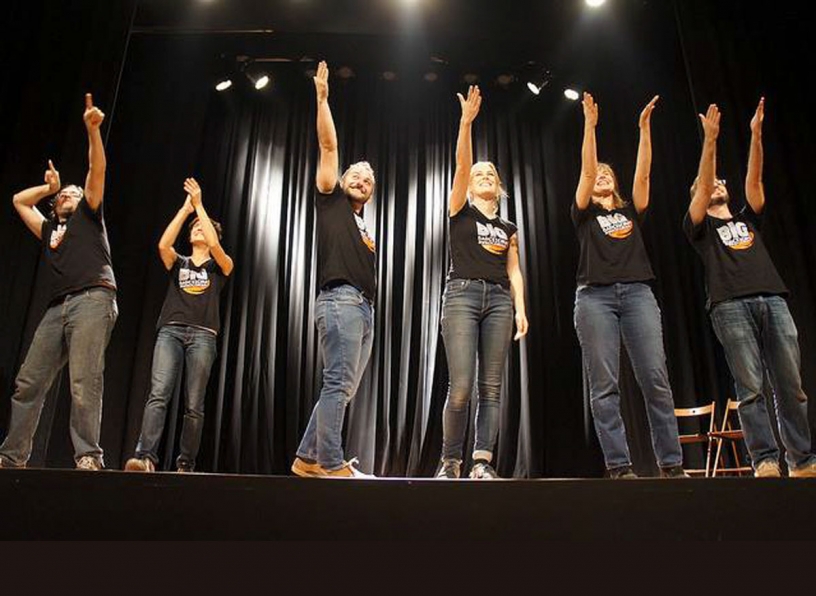 Barcelona Improv Group
Solidarity Improvs
Numerous improvisers of different levels, schools and troupes come together from time to time to carry out joint improvisations. The idea is to contribute their grain of sand for a better world, promoting improvisation all the while. They alternate about 15 people on stage, among which there are improvisers, singers, monologues, poets, and philosophers... It paves way for some of the most interesting collaborations.
Hèlia Dones, an association to help women who suffer violence; and Dinamic International, an association that seeks to promote education of indigenous communities in developing countries. These are some of the organisations that have received funds from these improvs. The public can turn up for free and take part too. At the end of the show, each attendant can donate an amount of money for the cause. You can follow the activity of these solidarity improvisers on their Facebook.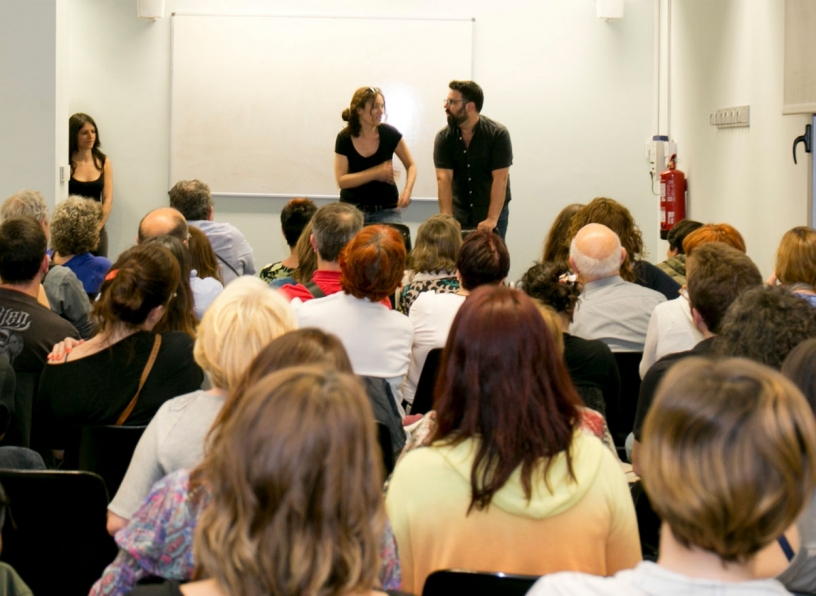 Solidarity improvisation at Hèlia Dones association
La Casa de la Impro
Shows, classes, events, workshops, stages... And if you're French — bonus — here you have the possibility to practise in your language too! The options to see and learn improv in Barcelona are tremendous and varied.
In this article we've only given just a few brushstrokes and recommendations. If you want to stay informed, then go check the different options that exist and get up to date with improvisation in Barcelona on the Facebook of La Casa de la Impro.
According to their website, La Casa de la Impro is a collective whose objective is to promote events related to improvisation in Barcelona. It presents itself as a producer and intends to support the different entities (troupes, schools, locales...) that work with improv in various areas. It also offers courses in various theatrical, musical and, of course, improvisational disciplines at all levels.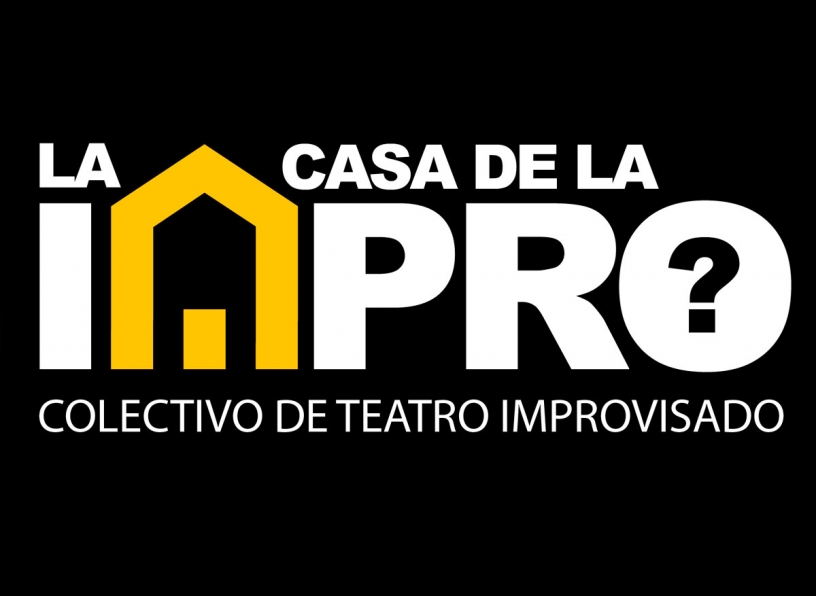 La Casa de la Impro