1. An overview
Each municipality of Spain has its own rules and laws when it comes to handling domestic animals. You can assume that there aren't too many laws regarding cats, except for those that are living on the streets. 
The groups of stray cats in Catalunya are now in controlled colonies and they cannot be adopted since they are scared of humans. However, you can adopt cats in Barcelona from animal shelters. 
2. Adopting a cat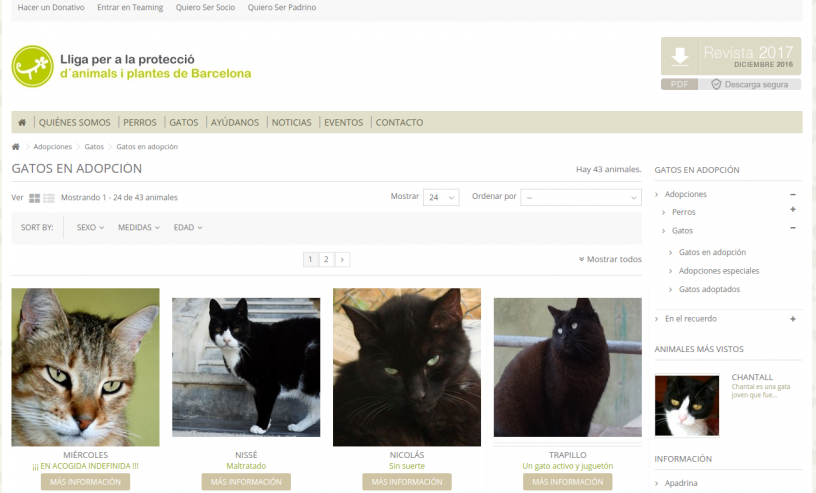 Animal Shelter: Protectora Bcn
If you want to adopt a cat in Barcelona, then there are plenty of shelters that offer lovely kitties to animal-loving people. The biggest, most well-known shelter is Protectora de Animales Barcelona. They're always happy to welcome new volunteers and donors. Each shelter handles the adoption process differently, but we have summarised the most common process for you.
Your flat will be visited to see if it's clean enough and has sufficient space for your new companion.
You will be interviewed.
They will visit again after adoption, to see if the cat is getting along with its new family.
Each animal is dewormed, vaccinated, castrated/spayed and has a microchip. If you adopt it at a young age, you're obligated to take it to the vet as soon as it is old enough to have these treatments.
The new owner has to register the cat at its municipality.
To cover veterinarian costs, you need to pay around €125 (in this case, at protectorabcn.com).
If you come to visit the capital of Catalonia, ​​we will help you to find the best central apartments in Barcelona. We offer apartments of different types, renovated and well furnished in all areas of Barcelona!
3. Care - Vets and pet shops
Vets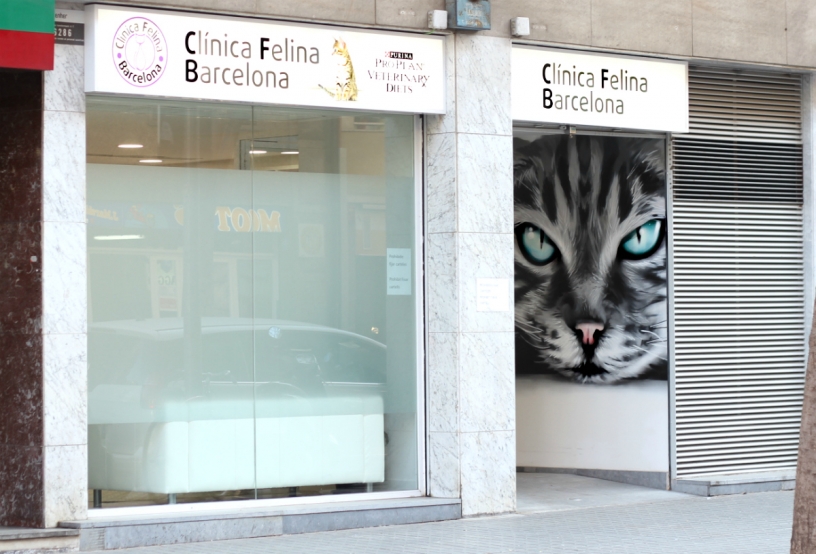 Clinica Felina in Barcelona
You'll find a lot of veterinarians in Barcelona, but there is also one that specializes in treating cats, as you can see by their decór right by the entrance. In case of emergencies, there are also animal clinics that are opened 24 hours, every day of the week:
Clínica Felina: Carrer Aribau, 103 — Monday to Friday, 10AM to 8PM and Saturdays from 9:30AM to 1PM.
Hospital Veterinari Glòries: Avinguga Diagonal, 237 — Monday to Sunday, open 24h.
Pet shops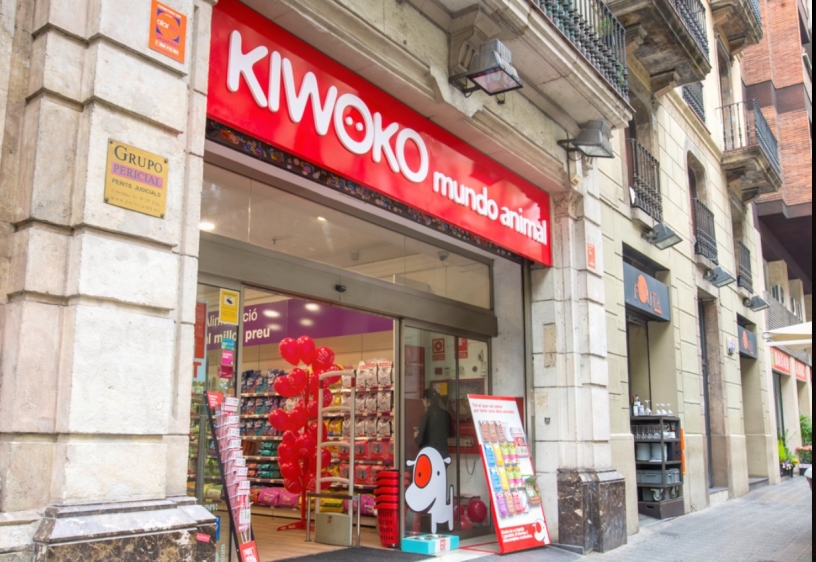 Kiwoko Mundo Animal
You won't need to look for too long to find food or toys for your cat. Kiwoko is known for having a huge selection of animal food, accessories and toys. We also like the Terranova CNC 42 pet shop because of its reputation for satisfied clients who praise the nice customer service. It's directly in the centre and also offers a hairdressing salon for your pet. 
Kiwoko: Carrer d'Aribau, 21 — Monday to Saturday from 10AM to 9PM.
Terranova CNC 42: Carrer d'Aragó, 403 — Monday to Saturday from 10AM to 2PM and 4PM to 9PM.
Excursions in Barcelona
To make the most of Barcelona and fill your trip with unforgettable experiences and emotions, we offer you the excursions through the Catalan capital organized by our friends - the GetYourGuide team. Choose your excursion and fall in love with Barcelona:
4. Stray Cats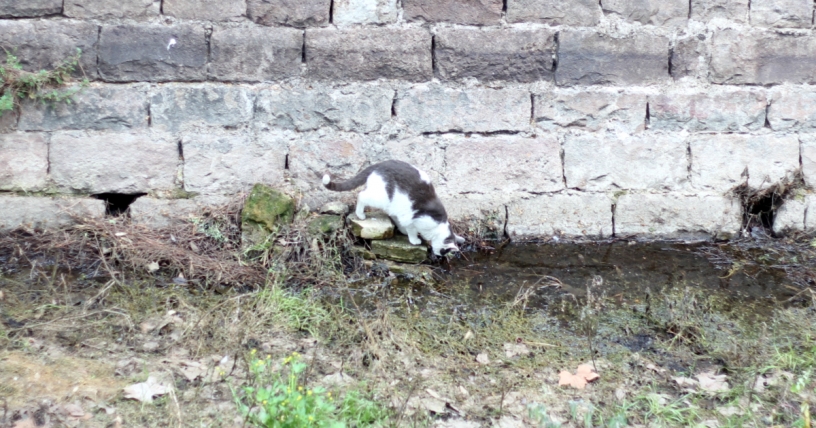 Stray cat drinking water
In Catalonia — and probably any decent civilised society — it's prohibited by law to kill stray cats. Here they are considered legally as domestic animals, which are not supposed to live on the streets. Abandoning a cat will be punished, and local councils are obligated to collect and care for them as well as lost feral cats.
You won't find stray cats in the city centre, but rather in less frequented places such as on Montjuïc, along the backstreets of Gràcia and the fortress next to the Maritime Museum. If you find one on it's own, then it's either wandering from its home or has been recently abandoned. Strays in Barcelona usually stay in controlled colonies.
Since stray cats that have been born and raised on the streets don't trust humans, it's difficult to adopt them and thus the government of Catalonia created these controlled colonies. These groups of cats still live without a home, but in controlled and manageable areas where they are castrated/spayed, and where volunteers ensure their well-being with basic healthcare and proper food. 
Creating a cat colony
In Catalonia, not only is it permitted to feed these cats (without polluting the environment), but it's also possible to create controlled cat colonies yourself, by first offering your help at a district administration office in your barrio. 
5. Travelling with Cats to Barcelona
Travelling with cats
If you want to take the plane to Barcelona but don't want to leave your cat at home, it can accompany you as long as it fulfils these conditions:  
Anti-rabies inoculation within the past year, but also made at least 21 days before travel.

EU passport and a health letter from a vet.

Since 3 July 2011, dogs, cats and ferrets must have an implanted microchip. 

You should also search for apartments that allow cats. 
For further information click here.
6. Barcelona loves Cats
Els Quatre Gats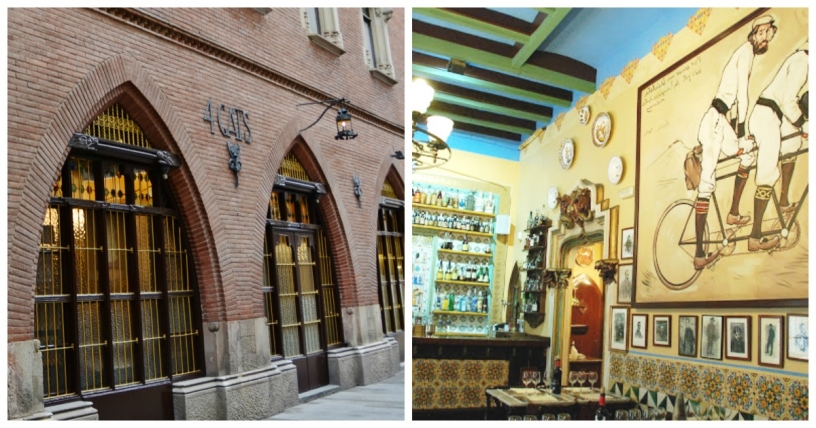 Els Quatre Gats restaurant
Pere Romeu, an entertainments presenter and a waiter from Paris, was inspired by the Le Chat Noir cabaret and wanted to create a similar locale with cheap food and piano music in Barcelona. It opened on 12 June 1897 on Carrer de Montsió 3. It didn't just offer food, but also shows to entertain its customers. In 1899, Picasso started to frequent the place during the beginning of his career; he even carried out his first exhibition there. It became one of the main centres of Modernism in Barcelona, so this cat bar is a must for everybody planning to visit Barcelona.
Espai de Gats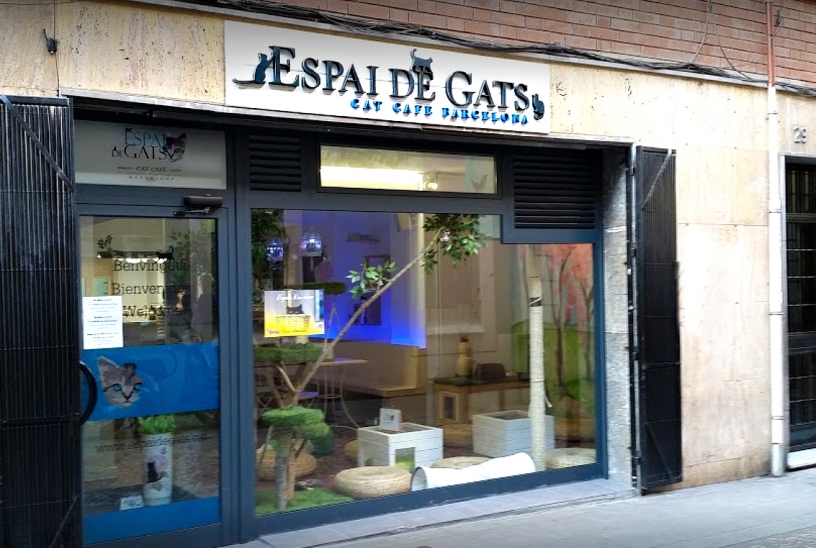 Cat's Space — Barcelona Cat Café
You've probably already heard of cat cafés, where you can get some snacks along with a cup of coffee or beverage while petting a cat or two. However, did you know there's one in Barcelona too? Well, now you do! We recommend reserving a table before you visit these little fur-balls, since the cats club is really popular and almost always full. 
Espai de Gats: Carrer Terol 29-33 - Monday to Sunday, from 10AM to 1:30PM & from 5PM to 10PM
You can even adopt some of the cats in the café. You just have to ask staff members for more information on the adoption process. 
Gato de Raval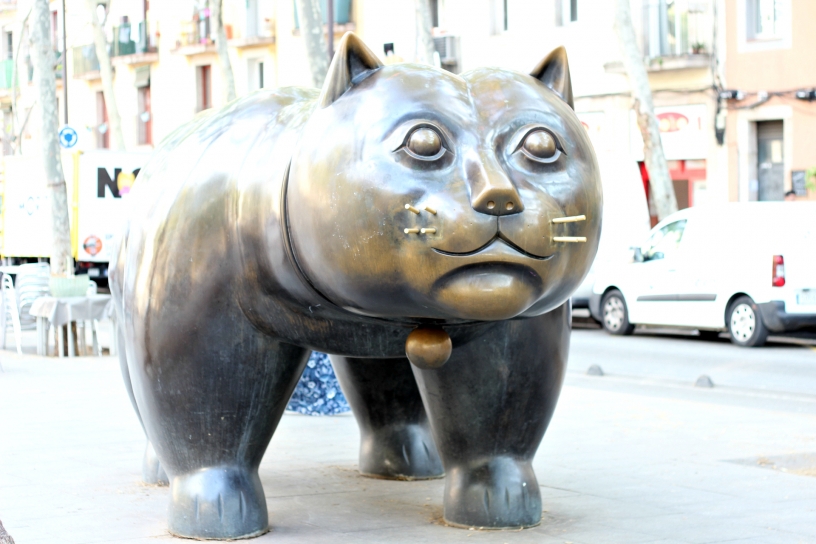 El Gato Sculpture by Botero
Barcelona just loves cats! Here you can see El Gato de Botero, a statue of a cat in the vibrant neighbourhood Raval. If you also love cats as much as Barcelona does, then don't wait any longer, book your flight and visit us — our office is very close to this Gato del Raval!