1. Los Bunkers del Carmel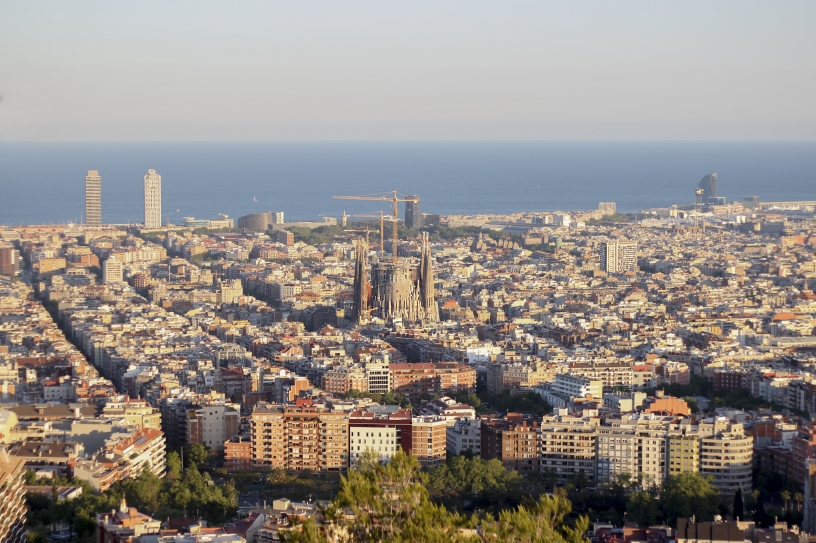 The Bunkers boast sea views
If you come to visit the capital of Catalonia, ​​we will help you to find the best vacation rentals in barcelona. We offer apartments of different types, renovated and well furnished in all areas of Barcelona!
One of the most beautiful viewpoints of Barcelona. Some say this historic place is also really romantic for couples and the perfect place to take photos. You'll have a view over the Sagrada Familia, Torre Agbar, Torres Mapfre, W hotel and the Mediterranean sea. Take some warm clothes with you if you are not visiting in summer as it can get really windy and cold at the bunkers. You can't access them directly by bus or car, but you only have to walk up to the bunkers for around 5 minutes. It will be worth it, look: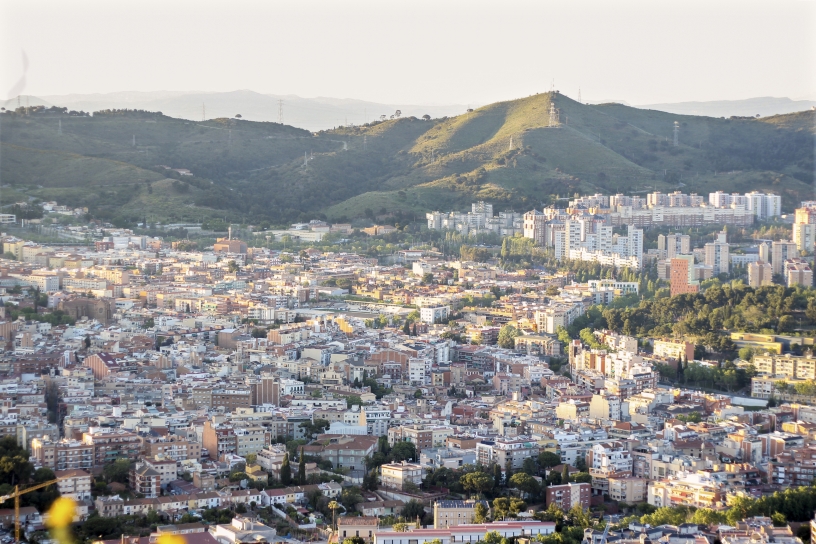 Bunkers view on the mountains
What are the bunkers? 
The bunkers were built during the Spanish Civil War and served as a resistance spot to defend the city against the fascists. Here the antifascist troops protected the city with cannons. The bunkers remained when the civil war ended and the power was seized by the dictator Franco, but people saw it as a form of shelter. In its effort to improve Barcelona's appearance, before the Barcelona Olympic Games were held in 1992, the city council relocated the residents and the bunkers were forgotten until 2011. At that time, accessibility was improved and they partially restored the bunkers. Today, locals as well as tourists like to enjoy the view and play music while having a picnic or chatting with friends up here.
People on the Bunkers
How to get there
Bus V17 (Port Vell / Carmel) + walk up 5 min
Car (hard to find parking spots): MUHBA — Turó de la Rovira, Carrer de Marià Lavèrnia
2. Barceloneta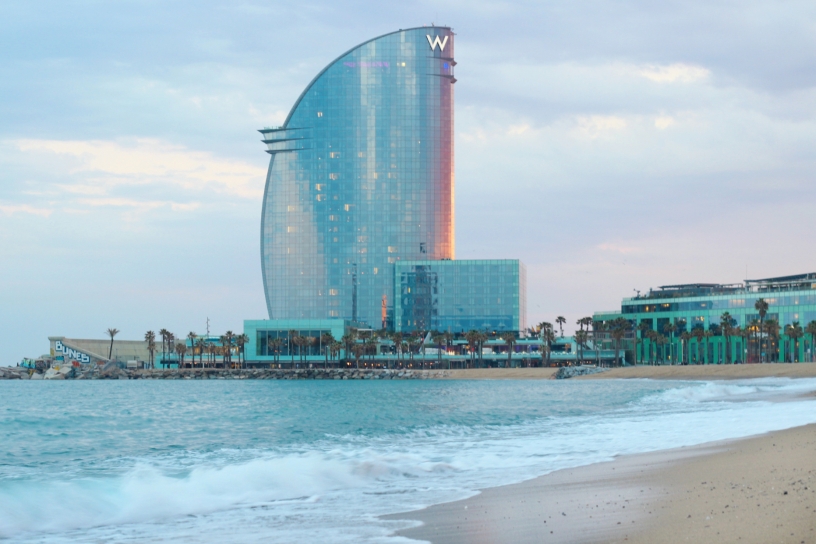 W hotel beach
You've surely already heard of Barceloneta's beach, maybe you've already been and got a nice tan or partied hard at one of its famous discos like Pacha, Shoko or Opium. You also might have experienced that usually too many people will stumble into the frame of your pictures while you're trying to get a nice shot of the W hotel, beach or palm trees. Don't worry! As soon as the sun goes down, people start to pack their stuff and leave for dinner. At sunset, the pictures will turn out even better, believe us! If it's still not empty enough, walk across the sand to take your pictures, as we did in the picture above.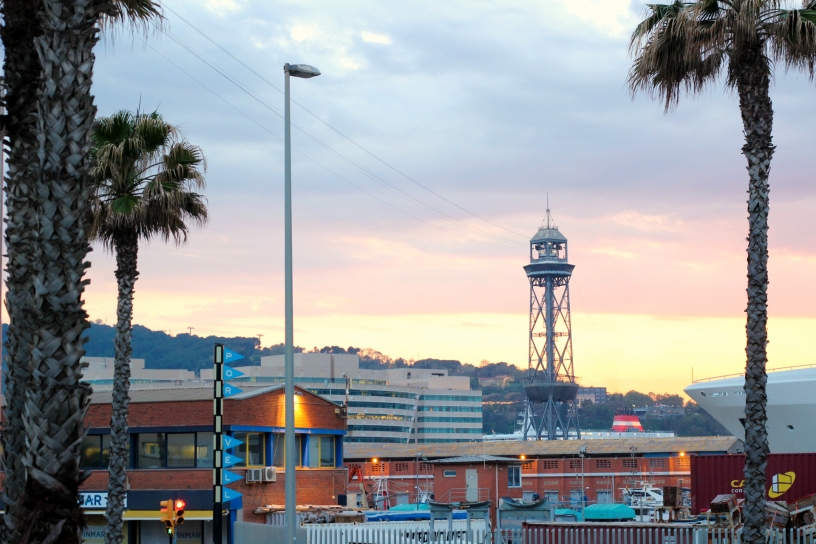 Other side of Barceloneta: Funicular with palms
Another option would be to walk past all the discos, until you reach the two Mapfre Towers. There's a walkway that's almost always empty and on the right side you'll have the beach, sea, palms, Barceloneta and the beautiful towers in your pictures. 
In this picture, you can see the jetty where a few people are enjoying the view. It's the perfect place to get a panoramic view of Barceloneta's beach.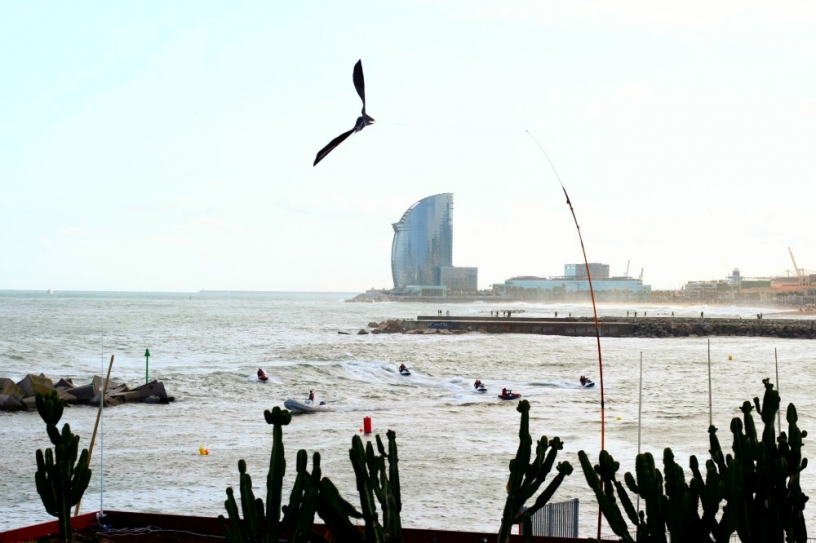 Views from a jetty on Barceloneta beach
How to get there
Metro L4, yellow line (La Pau - Trinitat Nova)
Bus 59 (Passeig Marítim - Plaça Reina Maria Cristina)
Excursions in Barcelona
To make the most of Barcelona and fill your trip with unforgettable experiences and emotions, we offer you the excursions through the Catalan capital organized by our friends - the GetYourGuide team. Choose your excursion and fall in love with Barcelona:
3. Miramar Montjuïc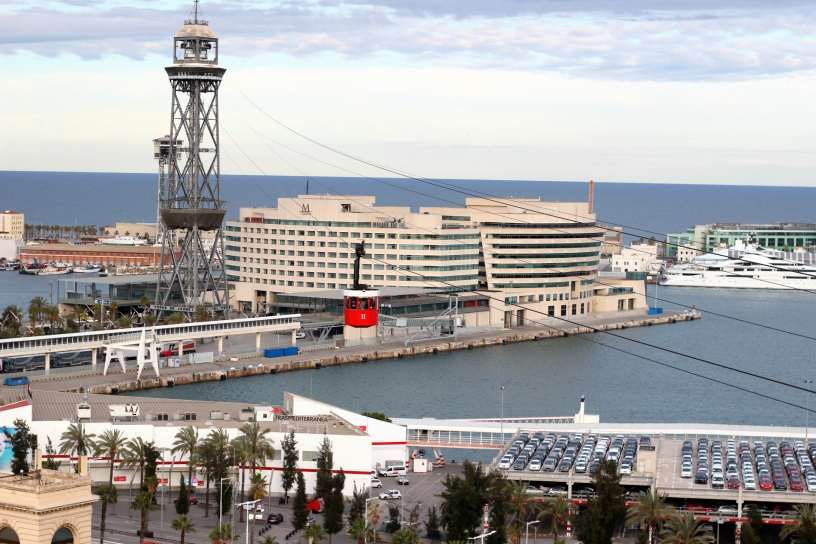 View from Miramar Montjuïc
A wonderful way to get a complete panoramic view over Barcelona is to take the funicular to Miramar Montjuic. Right after you've photographed the beach in Barceloneta, you can hop on to the funicular from there, since the station is directly at the port. Be aware that many people want to experience the wonderful views and so there will be queues that last for hours. Be one of the first to stand in line, prepared to wait among school classes and tourist groups. An elevator takes passengers up to the funicular and depending on what time of the year you want to make this ride, it can be really windy and cold up there, so we suggest to take a scarf and jacket with you.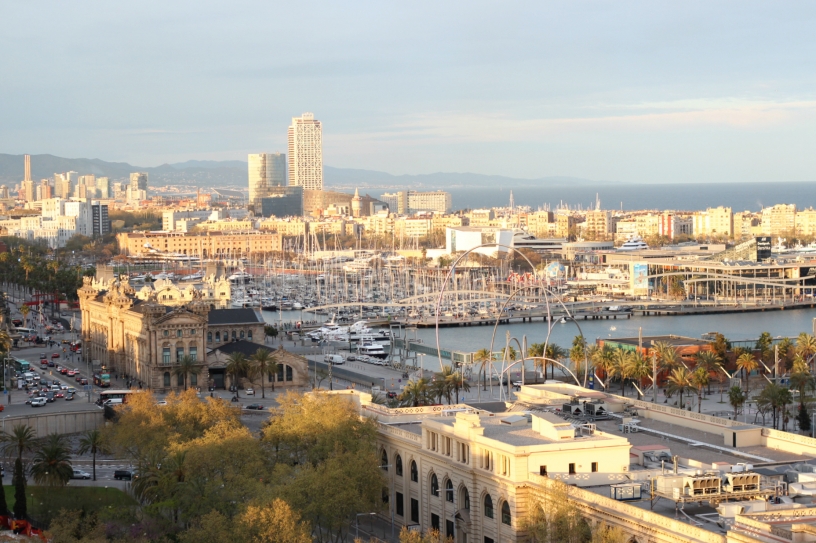 View of the city
Opening Hours
Spring & Autumn: 10:30AM to 7PM | Summer: 10:30AM to 8PM | Winter: 11AM to 5:30PM
Price: One way — €11 | Round trip  — €16.50 (to Miramar Montjuic and back to the port).
More information: Website
How to get there
Metro L4, yellow line (Barceloneta) + walk to funicular Torre de San Sebastián
Bus 17, 39, 45, 64, 57, 59 and 157 + walk to funicular Torre de San Sebastián
Bus 50, 100 and 193 directly to Miramar Montjuïc
4. Park Güell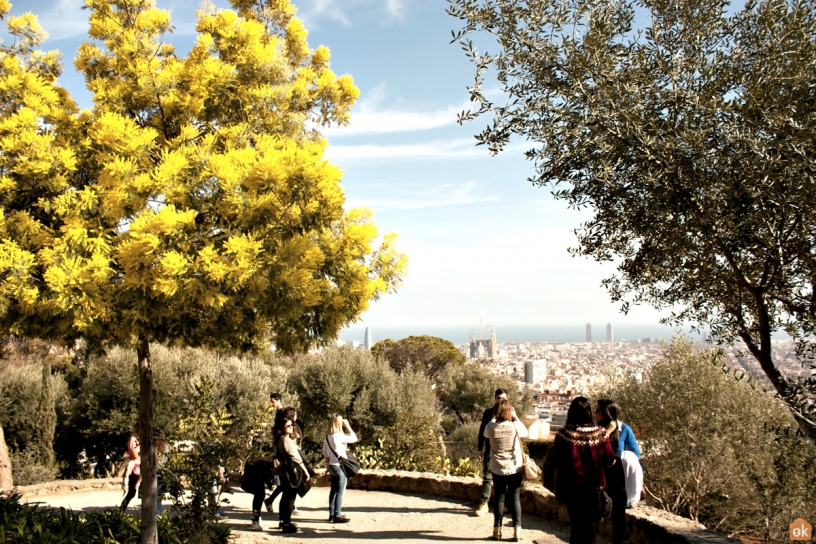 Park Güell visitors
Park Güell is almost certainly going to be one of your must-visit locations in Barcelona. Here you can admire Gaudi's breathtaking artworks. The entry to the park is no longer completely free and there are usually long waiting times if you don't buy your ticket beforehand. Groups of tourists buy tickets online and the ticket staff will usually tell you to come back in a few hours to buy yours because places are limited. However, you don't have to visit Gaudi's masterpieces to get some nice shots. Just walk around the non-monumental section of the park (which is free) and you'll see that there are wonderful views just waiting to be captured by you.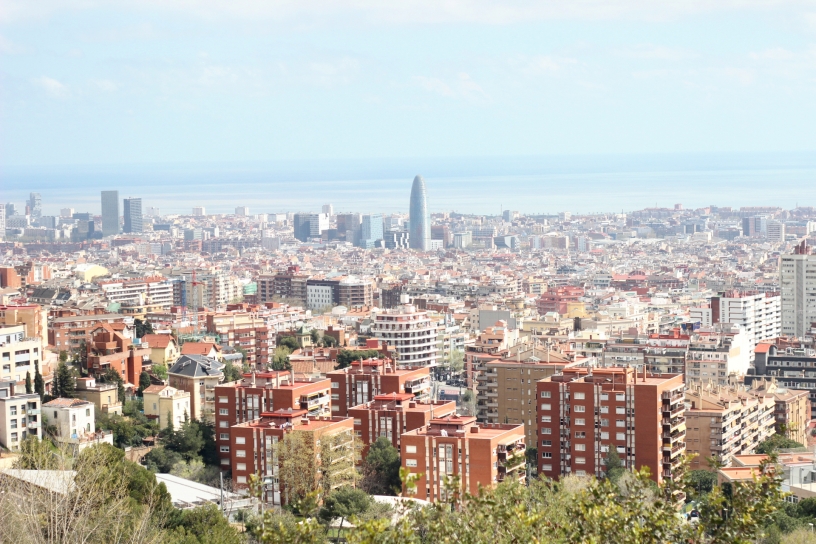 Views from Park Güell
Opening Hours
29 October - 25 March: 8:30AM to 6:30PM
26 May - 30 April & 28 August - 28 October: 8:00AM to 8:30PM
1 May - 27 August: 8:00AM to 9:30PM
How to get there
Bus: line 24 (Paral·lel/El Carmel) or line 92 (Pg. Marítim - Av. Tibidabo), stops directly infront of main entrance. 
Metro: Green Line (L3) to Vallcarca station (take the escalator on Baixada de la Glòria). 15-minute walk.
Price: Most of the park is free, but entry to the area with Gaudi's artworks is €8 
5. Tibidabo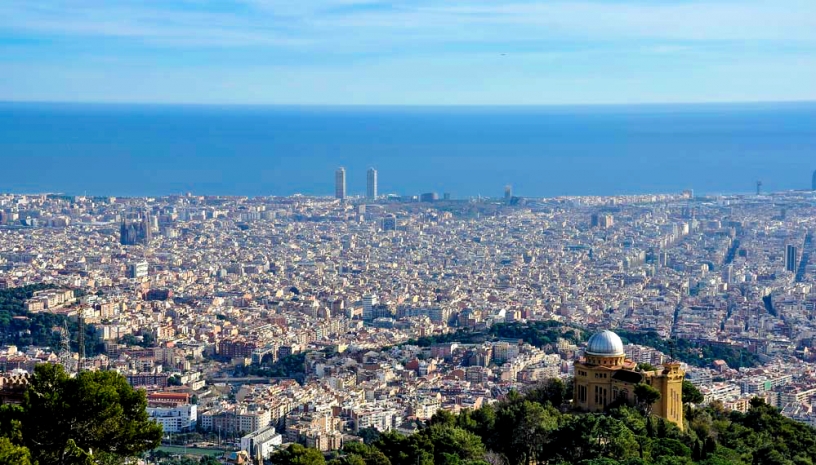 Panorama view from Tibidabo
Wherever you go, you'll almost always be able to see the famous Tibidabo, a big church with a 100 years old amusement park  next to it. It's known for its lovely attractions, street theatre shows and the best views over Barcelona. It's quite tricky to get there, but we'll try to explain you the directions as simply as possible: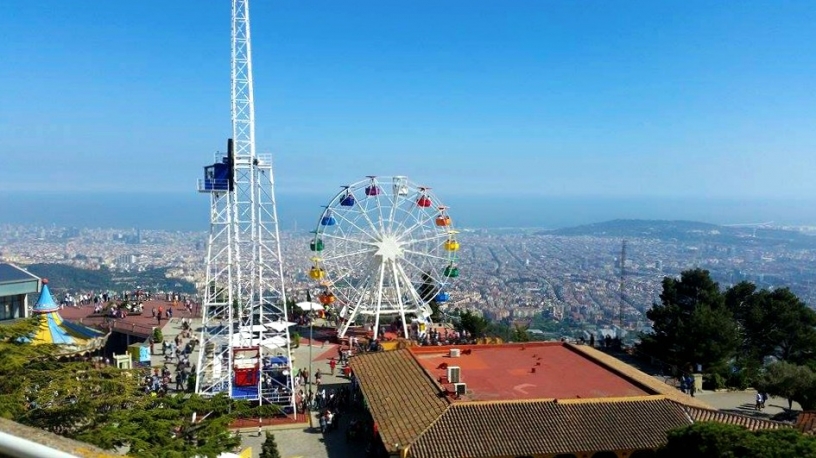 Tibidabo attractions
How to get there
Metro: L7 (brown line) to Av. Tibidabo. Take Tramvia Blau (single ticket €5.50/person) or bus 196 to

Tibidabo F

unicular (€7.70/person).
FGC (cheapest): S1, S5, or S55 to Vallvidrera Inferior (Funicular). Change to the 

Vallvidrera 

Funicular and then catch the 111 bus to the peak (€0.95 with T-10 ticket).
Bus: Touristic bus T2A from Plaça Catalunya (single ticket €3/person), then catch the funicular to Tibidabo.
Car: Tibidabo-Vall d'Hebron car park, parking fees €3/hour and €10/day
Don't forget that the Tibidabo funicular will only take you to the viewpoint and church, where you already can take amazing pictures. If you want to have access to the amusement park you need to pay depending on your height, age and health condition (between €5.60-€28.50).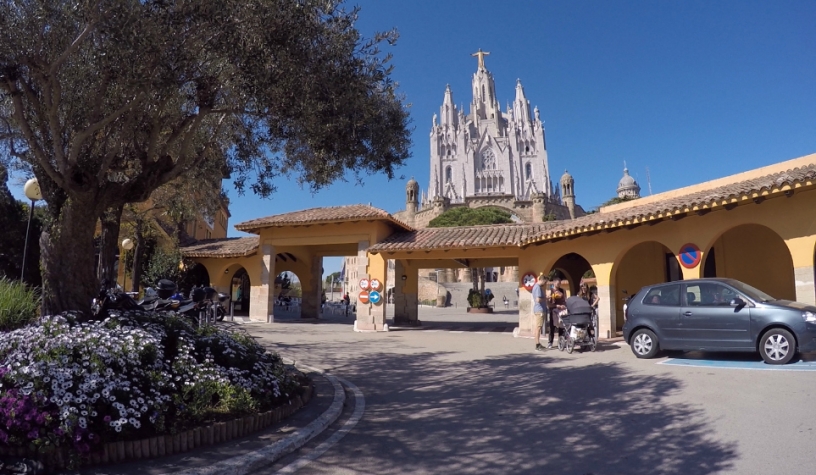 Tibidabo Church
Funfair tickets
Normal ticket: €28.50
Children under 120cm: €10.30 | Children under 90cm: free 
People over 60 years of age: €9
Entrance for disabled visitors (need a certificate with the degree of disability — min. 33%): €5.60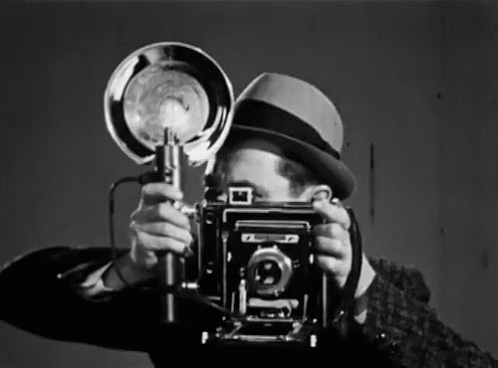 Start taking photos already!
Now that we've shown you a lot of wonderful viewpoints around Barcelona where you can take amazing photos. Which one did you like the most? Do you know a better place? Let us know in the comment section!