1. Granja Petitbo
If you are coming to study in Barcelona we advise you to look at our student accommodation in Barcelona.We offer apartments of different types, renovated and well furnished in all areas of Barcelona!
This little cafe is located in the Eixample Dret neighbourhood on Passeig de Sant Joan, 82 (not far from Plaça de Tetuan). In the early twentieth century it was a dairy farm, now it's a designer cafe with fantastic chairs where you can relax with a coffee while reading a book or writing on your laptop or tablet.
Highly recommended for breakfast because they make delicious homemade cakes, but there are also enormous sandwiches and scrambled egg dishes. Each Saturday and Sunday they prepare fantastic brunches. Here's their website.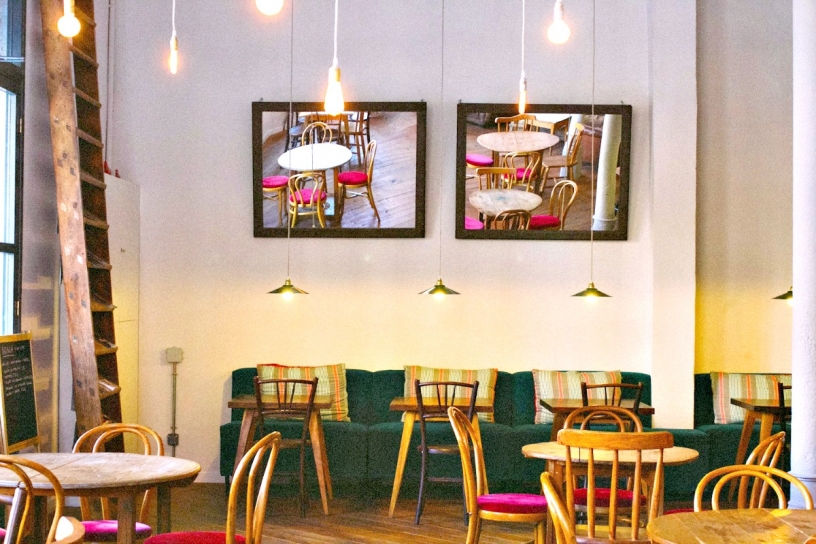 Granja Barcelona
2. Cosmo Café y Galería de Arte
This bar is... Interesting... It's certainly not shy about being hipster and can be found on Enric Granados, 3. It is not just a café, but also a gallery. Paintings, designer lamps, tubes, coloured walls, stools, and chairs of various pastel shades... Hard to miss because at the entrance there is a bike on the wall.
It's a quiet place where you can relax a little, read a book or study while savouring a delicious fresh juice with a slice of cake. Open every day at different times. When I went though, the staff told me they don't have WiFi, older reviews say they do have it, but maybe they got rid of it (the internet is pretty mainstream these days). Anyway, the website is here, including information on the temporary exhibitions.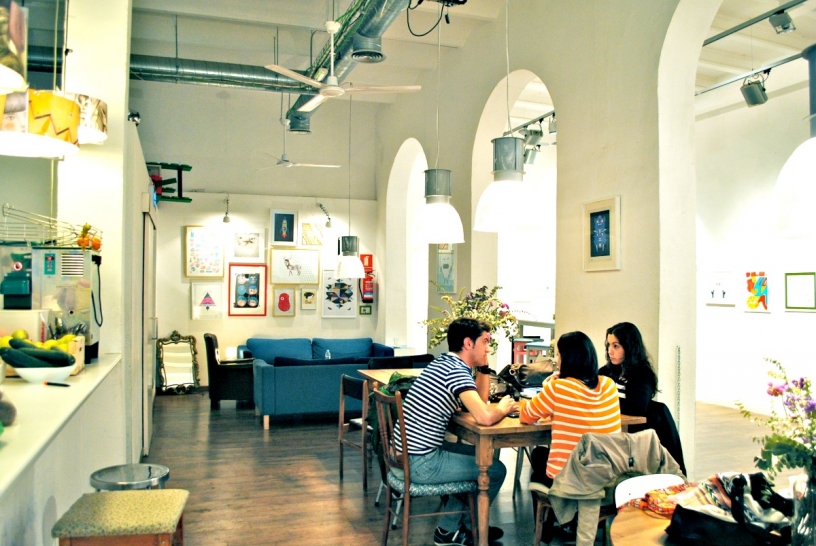 Cosmo Café
Excursions in Barcelona
To make the most of Barcelona and fill your trip with unforgettable experiences and emotions, we offer you the excursions through the Catalan capital organized by our friends - the GetYourGuide team. Choose your excursion and fall in love with Barcelona:
3. Babelia, books & coffee
This cafe is located in the neighbourhood of Sant Antoni on Villarroel, 27. Here you can choose from a multitude of books and a variety of teas and coffees to accompany them. It is a library / cafe where you can go quietly with your books to study, or with your laptop. A colourful and relaxing place to spend some concentration time. Open daily with the girl who owns the place speaking multiple languages! Here is her website.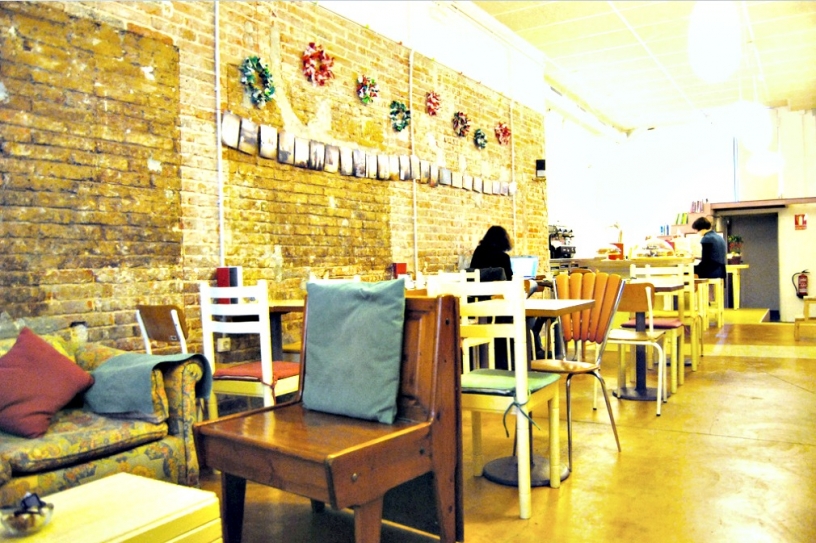 Babelia Café
4. Bitte
Also located in the Eixample (c / Londres, 87), this cafe is decorated in a special way, let's say... Almost tropical. There are botanical Gardens, soft lights, and colourful chairs ... This is fantastic little place not only to spend time in silence, but also to test delicious dishes - all homemade. There is a cosmopolitan menu with tropical flavours and often small events are organized here. Check out the blog.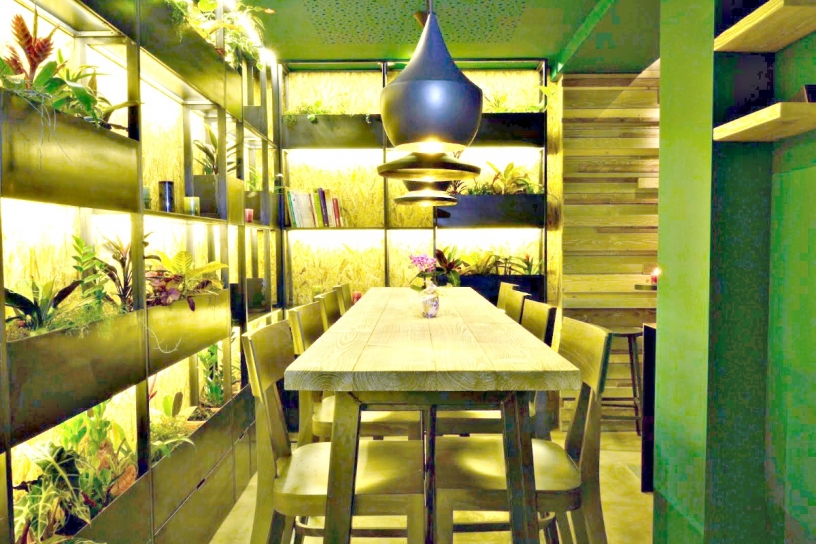 Bitte Barcelona
5. Oval
This restaurant is located in Eixample Esquerre (Valencia, 199), but more than a normal bar it's a gourmet burger bar, where you can eat scrumptious... Well, burgers, of course. You can choose from the many ingredients available and make the combinations that you want. And after eating a good meal, it's time to study! :) Also, the atmosphere is very relaxing with indie music in the background. Open daily, the average price of a dish goes from €10-20. Here's the website.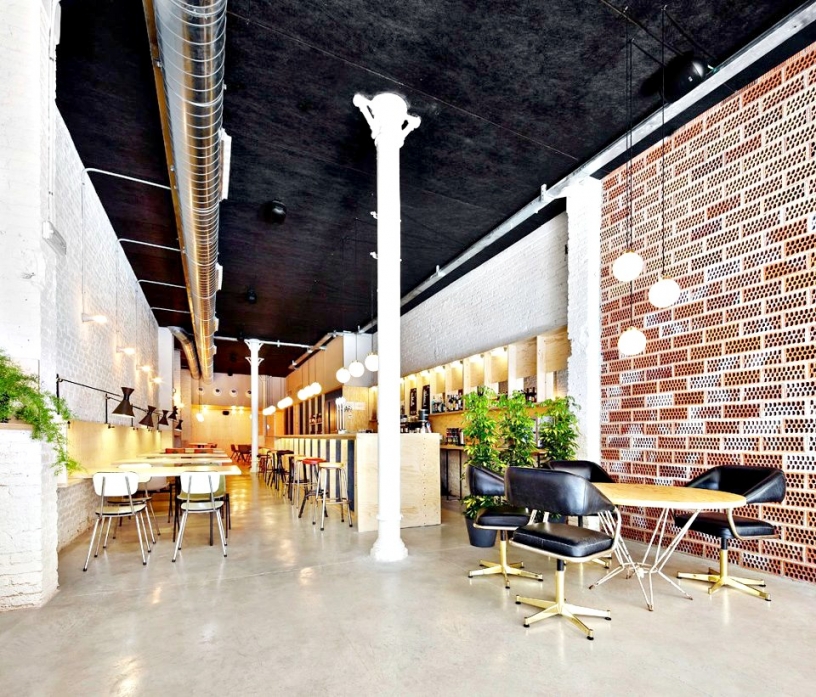 Oval Barcelona
6. Café Cometa
Café in Sant Antoni on Carrer del Parlament 20 from the same group as Galeria Cosmo. You can have a natural juice, a sandwich or a bun and unlike it's counterpart Cosmo, it doesn't suffer from lack of internet connection as wifi is available! They are not super-cheap at €3 for a juice, but they are very delicious and different than what you'd expect, with cucumber, ginger, and carrots for unique flavours. On a recent visit here our English editor was in a rush and short-changed, seemingly on purpose, so err with caution when visiting here and check.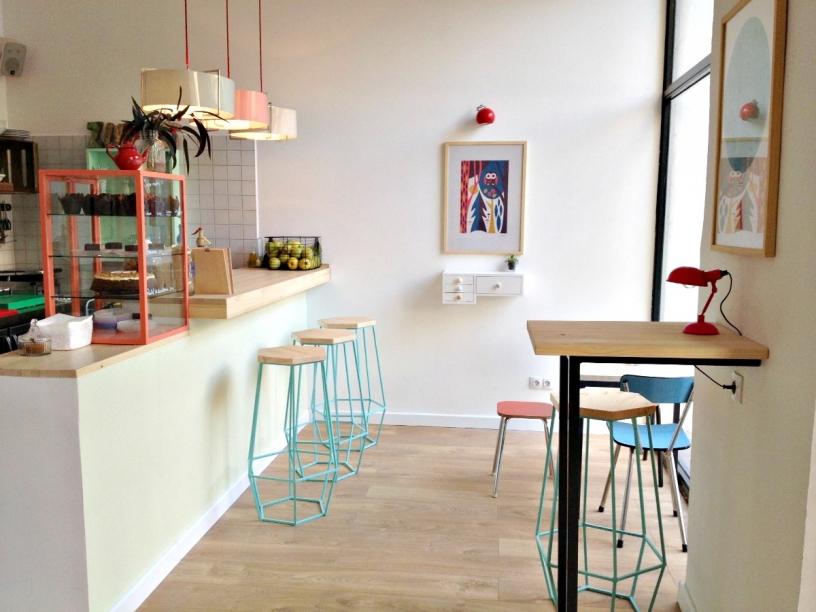 Café Cometa
7. CoCo Coffice
Coffee + Office = Coffice! This concept was one of the first to pop up in barcelona. It's more than just a café with a nice environment to study and have some good food, because as previously mentioned it's a place made specifically for working and studying. It's sort of like a public co-working space. They have prices based on the time you plan to stay - from 1 hour to multiple months depending on your needs - while the coffee and snacks come free. They're open Monday to Friday from 9AM to 8PM. More details on their website.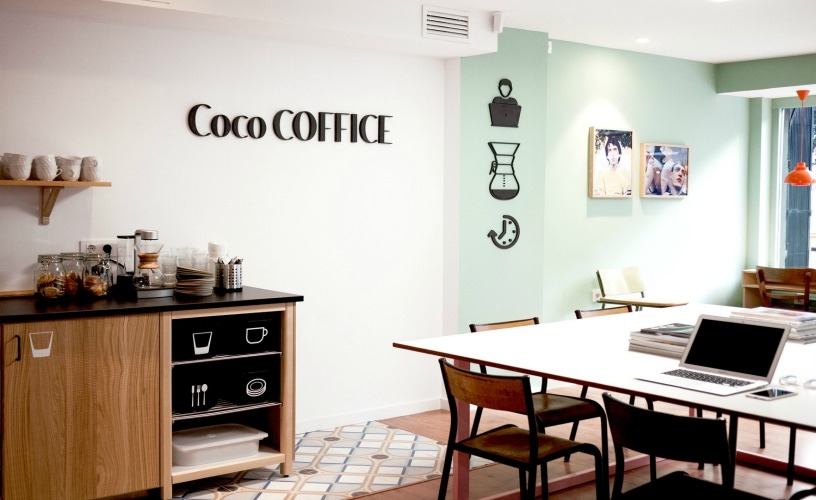 Coffice Barcelona
There you go! I chose these locals because they are charming and alternative, so much so you'll probably look forward to working or studying in them! :) A nice juice sitting on your own colourful chair instead of sitting at your desk at home alone ... Now you know exactly where to go! If you know some other places, comment on the article and I'll include it on the list! ;)
A map of the cafés