Girona Airport to Barcelona
Barcelona is easily accessible from Girona Airport by various types of transport:
I will now tell you how to get from Girona to Barcelona on the most appropriate transport for you.
Bus from Girona airport to Barcelona
There are 2 buses from Girona airport to Barcelona:
Bus 602;
Bus 604.
If you come to visit the capital of Catalonia, ​​we will help you to find the best monthly rentals in barcelona. We offer apartments of different types, renovated and well furnished in all areas of Barcelona!
These buses from Girona-Costa Brava Airport to Barcelona have the common name - Barcelona Bus.
To get directly from Girona airport to Barcelona you can take airport buses 602 and 604. Both buses depart from the Barcelona Nord station and the journey time is 1.5 hours. Tickets cost €16 for a one-way trip and €25 two-way trip.
The bus schedule can be viewed here.
Train
AVE 34192.
You need to take the bus L-28 and get off at the Estación de autobuses Girona. The train goes from the bus station Girona, you can get off at Barcelona Sants station. The total time of the trip is 1 hour and 10 minutes.
AVE 34182.
At the bus station near Girona airport take the bus 607 at the bus stop N-156 - CIM La Selva and then go to Estación de autobuses Girona (7 stops). You can get off at Barcelona Sants station. The duration of the route is 2 and a half hours.
Excursions in Barcelona
To make the most of Barcelona and fill your trip with unforgettable experiences and emotions, we offer you the excursions through the Catalan capital organized by our friends - the GetYourGuide team. Choose your excursion and fall in love with Barcelona:
Taxi
A taxi from Girona Airport to Barcelona takes about 1.5 hours and will cost about €120. If you are going in a group, this is an ideal option as you will be able to split the cost between all the passengers.
To get from Barcelona to Girona Airport you can use the same mode of transport described above but in the opposite direction. If you have bought a two way ticket at Girona Airport, just go to Barcelona Nord and take an appropriate bus.
Comparative infographics
Here we give you some comparative infographics on all the types of transport which can help you to get to Barcelona from Girona Airport and return to the airport. You can check differences in journey times, prices and comfort. Actually, there is a difference in comfort between train and bus. If you choose the bus transfer option, you do not need to take any other transport however if you take the train, you will need to take a bus to the train station first.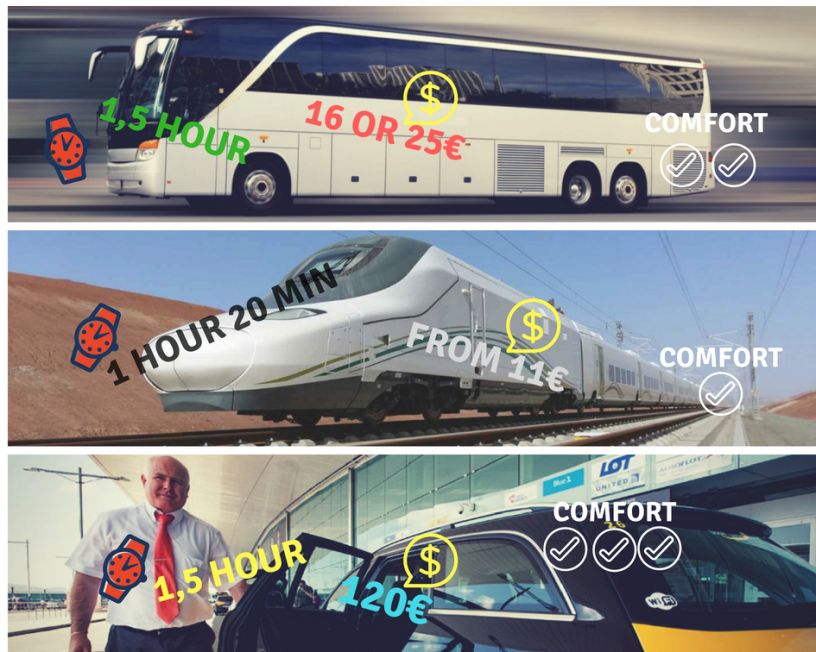 Barcelona Girona Airport
Barcelona, Girona Airport
Barcelona, Girona Airport is an international airport located in Catalonia, Spain. It is 12 km from Girona and 90 km from Barcelona. This is the nearest Airport to Girona.
In fact, the airport is called Aeroport de Girona - Costa Brava. The international abbreviation of the airport of Girona is - GRO.
The airport was built in 1965 and was not a large airport with a high passenger traffic. However, in 2000, low-cost airline Ryanair decided to turn the airport into one of its hubs, so that the number of people using the airport increased almost 10 times from 557,000 in 2002 to 5.5 million in 2008. In addition, Girona Airport is often used as an alternative to the Barcelona airport, El Prat.
Is Girona airport in barcelona?
No, Girona Airport is 90 km from the city of Barcelona.
Is Girona airport big?
At the moment Girona Airport is the eighth largest airport in terms of passenger traffic in Spain.
Does Girona airport have duty free?
Yes, Girona Airport has a Duty Free shop. The opening hours are from 5:30am to 10:00pm.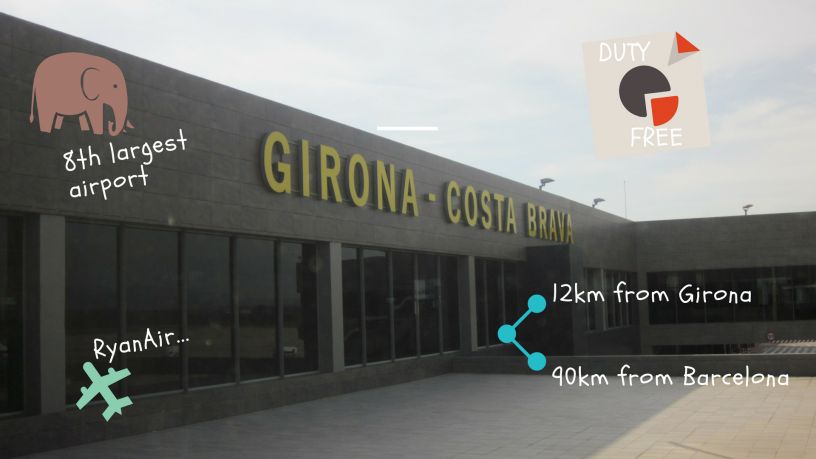 Girona Airport infographics
Who flys to Girona airport?
There are plenty of airlines that operate flights to Girona Airport from different countries all over the world.
RyanAir Girona Airport
Low-cost airline RyanAir has flights through the airport of Girona from/to most European countries, such as Germany, France, the United Kingdom, Holland, etc. With a full list of countries and for buying tickets, you can access the official RyanAir website.
Pobeda Airlines
Russian low-cost company "Pobeda" has flights to Girona airport from Moscow, Vnukovo airport. The cost of the flight starts at 999 rubles.
"Pobeda" offers passengers the service of a single Fly&Bus ticket, which you can use at an affordable price on comfortable express buses to the centre of Barcelona and back to Girona Airport. To see the available tickets, go to the official page of the airline "Pobeda".
The rest of the list of airlines flying to Girona airport can be found on this page.
Girona Airport Barcelona contact information 
Tel: +34 90 240 4704 (Spain)
Tel: +34 91 321 1000 (International)
If you have something to add or you like our article, check out the OK Apartment official Facebook page.