How do apartment scams work?

Be careful with the kinds of data you give away online
Main advice to avoid scams: Always keep in mind that scammers aren't stupid and try to cover all the details. They know how to play to emotion and the amount of effort it requires to find an apartment, especially in cities like Barcelona. The best way to avoid getting scammed is by having some healthy cynicism and don't get overexcited when dealing with any person offering something as big and important as an apartment, nor fall into sap-stories about some sort of tragic event.
If you are coming to study in Barcelona we advise you to look at our student accommodations in Barcelona.
1. Illegal apartment rentals are common in Barcelona
Technically it's not a scam that affects you financially if you pay for an apartment and you get just that. However, if you thought you were staying legally that could be a different story; if you were to get kicked out during your stay it's unlikely you'd get refunded. Businesses like Airbnb and Wimdu, for instance, have a significant number of illegal short-term apartments.
If you are coming to study in Barcelona we advise you to look at our student accommodations in Barcelona.
The problem is that they have a hands-off policy when it comes to verifying if the apartments that owners list are legally allowed to be let in this way. There is a registry in Barcelona with a list of apartments that have a HUTB number (Habitatge d'Ús Turístic de Barcelona / Housing for Use by Tourists Barcelona). For an apartment to be valid for use under 32 nights per stay, it's legally obligated to have this number appear in the advert.
After years of resisting this, recently Airbnb has announced that it would allow the city council to "notify it of illegal tourist lodgings" and it would act on them. However, this won't stop illegal apartments being listed in the first place — a check that should happen before allowing the apartment advert to be published to begin with. It remains to be seen what becomes of this.
Another form of illegal rental is subletting without permission. This occurs with you rent an apartment from the tenant instead of the actual owner, and that tenant does not have the permission/legal rights to rent it. This activity is usually carried out by mafias in a bid to make quick money, and you can see a real-world example that happened in Barcelona on one of the aforementioned platforms.
How to avoid this apartment scam
Check if the apartment advert has the obligatory HUTB number if your stay is less than 32 nights. 
The number could simply be fake. If you have any doubts you can check if the flat address is listed here. http://meet.barcelona.cat/habitatgesturistics/en/
If they're the owner of the apartment, they should have no problem proving that to you with a document like a contract, if you ask.
2. Phishing — Your personal details are worth money

Careful where you send your card info
Phishing means to fish for personal information, usually in a bid to get money or commit fraud as a person. In its main form, phishing consists of replicating the appearance of a well-known website in order to get you to think you are reserving an apartment, when in fact you're just passing them your sensitive personal information through the fake booking form. It's not only illegal to steal someone's personal information in this way, it's also very illegal to fake the identity of a business. The password you use to "sign up" to this fake website could also be used if you also use it on other website such as Gmail, Amazon or eBay.
It doesn't necessarily have to be a website that tries to take your personal information. Anyone could pretend they have an apartment to rent, via facebook or email, and ask for you to send them details to make a payment. Unless you really trust that person, never send them your personal information. You should you be wary of giving any information, not just credit card details. Just an email address could profit a Phisher, who may be trying to amass a list of hundreds or thousands of emails so that they can sell them to spammers. Seemingly basic information such as your date of birth, name of your pet or area you were born in could potentially be used to access an account your have on another website, maybe even your bank account.
How to avoid this apartment scam
Verify the identity of the website you are using
If you're on a website that asks for sensitive information, always check that you're really on the site that you think you are. For example, that you're currently on https://www.barcelonacheckin.com, not https://www.barcelona-checkin.com or https://www.barcelonacheckin.apartments.com, or something that has a very similar URL to the original but not quite the same.

Check on any booking form if there is a padlock. Click that padlock and see if the certificate matches the URL. Any page with sensitive information should have https:// to start the URL instead of http://

Don't enter personal information on a website sent to you via a link in an email/messenger
Unless you're sure the email you receive is from the company, there is no reason to trust that the links are authentic, they should be directing you to a fraudulent website. It's always better to go directly to the website by writing it yourself or using one of your favourites that you saved for later. 
Keep your computer's security and browser up to date.
Anti-viruses today aren't just about preventing viruses, they also try to detect fraudulent websites. Modern web-browsers also try to do this and have in-built systems. However phishers are always updating their techniques, so it's a good idea to keep ahead with the latest versions of any browser and security system you have. Nothing should substitute your own caution though.
Phishing has no language
It knows no borders and it can come in any language. As a rule of thumb, adverts or correspondence will be poorly written, but that unto itself isn't a sign. Likewise if someone starts communicating with you about an advert you was looking at in Spanish, but the correspondence is in another language, tread carefully. Why would they suddenly start talking to you in another language?
If in doubt, proceed with extra caution and be prepared to walk away immediately
The best way to avoid getting phished is to simply walk away and not provide the requested information. Especially if the correspondence was unsolicited on your part to begin with. If you believe you've been a victim of phishing, it's important to let your bank know right away. You should also change your passwords if you provided them with that information.
In general, always keep an eye on your accounts
Even if you've never suspected that you've been a victim of phishing, check your accounts periodically for any unusual activity.

If you're not careful, they'll take everything
3. Scammers posing as landlords
Upon typing the words "apartments for rent in Barcelona" in your favourite search engine, you can find all sorts of offers, many of them legitimate. In some pages however, whether you know it or not you'll find an apartment advert listed under a false name, for an apartment that doesn't exist or that the person doesn't own. That's how it starts.
The advert appears normal, with photos of the interior and exterior, but they've simply taken those from another advert elsewhere. The first warning sign is if the price of the apartment is unusually low. That's not to say that instantly means it's fake, but one indicator is that "if something is too good to be true, then it probably is".
A scammer will want you to send them the deposit in advance by wire transfer or another method, without any guarantees or agency. An unsuspecting intermediary bank account is normally used that the scammer has access to, but can't be traced to them. The scammer may sometimes use their own bank account situated in a foreign country with the excuse that they are not based in Spain or not in the city, or something along those lines.
How to avoid this apartment scam
If an offer is too good to be true, it probably is. Investigate and proceed with caution, or walk away. 
If the apartment owner is only accessible by email or is based outside of Barcelona, be careful. Meeting face-to-face in Barcelona is even better if you can.
If the apartment owner is living in Spain but has very poor levels of Spanish, it's not a sign of a scam, but it's something to be wary of. A scammer will sometimes even fake a poor language level to come across as inoffensive and from position of weakness, or to be able to feign knowledge of local laws/customs.
A scammer will use classic marketing tactics to try to pile on the pressure in an attempt to make you want to part with your money quicker. For example, by saying that many people are interested in the apartment advert but they are keeping it open especially for you — they just need to pressure you into an immediate answer without much thought.
A scammer will ask you to pay the deposit upfront. Some agencies allow this, but the agency holds the funds between client and owner so the lister of the apartment cannot run away with the money — check agency reviews to see if they can really be trusted to act as a middleman. Otherwise, sending an upfront payment to any owner directly is always a bad idea. Excuses they can give include that they're not in the city so won't be able to pick the payment up on the day, that they want to know you're serious, or that the demand is so high they've decided to do it this way.
How to report a scam to Barcelona's authorities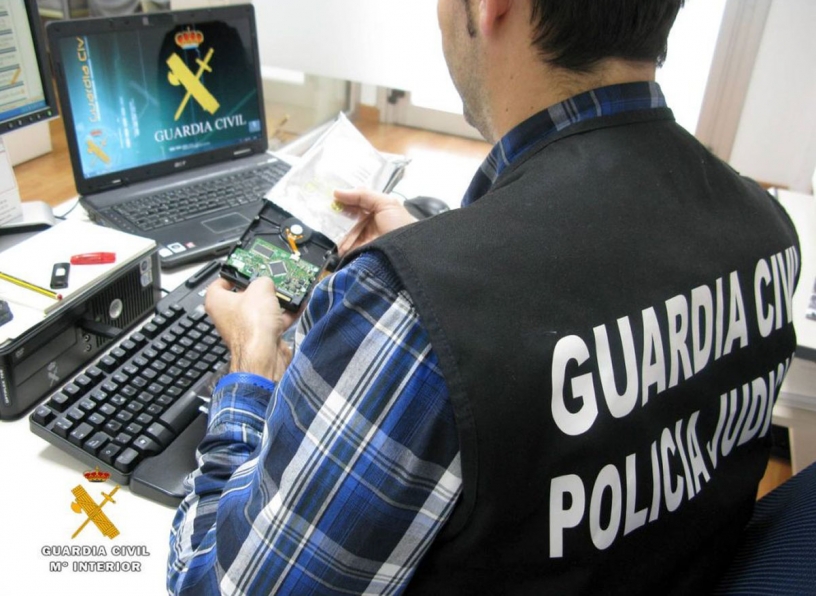 Cuidado con las estafas
If you've identified an apartment scam, try to gather as much information as possible on the person behind the scam. Most of what they've told you has probably been fake, but there might be some grains of truth in there. Keep your correspondences, such as email and messages. Take screenshots of any advert or facebook posts they may have made, or anything that could later be deleted.
Always ask for everything in writing, and above all, insist on seeing the reservation contract.
File a police report: You can call 915 822 900 or start by sending an email to fraudeinternet@policia.es. Of course, it would help if you can communicate in Spanish.
Ask for a receipt on any payment that you make.
Communicate it to the website or agency where you found the fraudulent advert so that they can act on it.