Palm Sunday
Maybe the most important and significant day of Easter is Palm Sunday. In the old quarter there is a procession known as La Burreta or "Little Donkey" that commemorates the return of Jesus to Jerusalem. Children bring their palm leaves in anticipation for them to be blessed with holy water and some of them even hide sweets and toys within their intricate designs. Olive and palm leaves are also hung from doors as they are said to protect from evil forces.
Though the Sunday procession is one of the more lively and therefore more well-known celebrations, there are also two over famous ones that take place on Good Friday which are Nuestra Señora de las Angustias (Our Lady of Sorrows) and Nuestro Padre Jesús del Gran Poder (Our Lord Jesus of Great Power). These processions are all concentrated pass through Las Ramblas and the Gothic Quarter.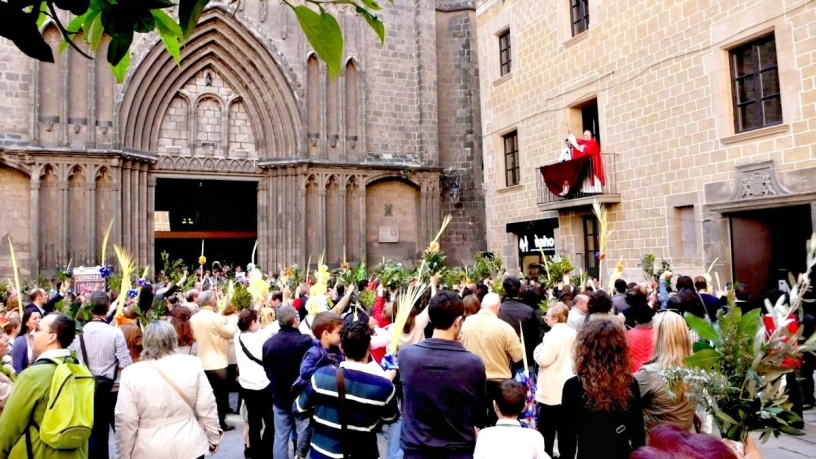 La Burreta
The "Mona de Pascua" and other sweet traditions
As Christian tradition dictates, meat is not to be eaten on Good Friday, which is why those taking part in the Easter celebrations in Barcelona eat Cod on this day. There are various ways to prepare it, for example cod with sanfaina (a ratatouille of sorts) or esqueixat (raw and shredded). Cod is one of the main ingredients used in typically Catalan dishes, and during these celebrations it becomes a traditional dish.
When it comes to sweets and desserts, in addition to the typical easter eggs you'll find around the world, Catalonia has its own thing called "La Mona de Pascua". It's a time-honoured easter dessert that started off as a cake decorated with cooked eggs, ribbons, and hand-made chicks and adornments. Today they incorporate well known characters from children's popular culture. Custom has it that the godparents gift the Mona to their godchildren on Easter Sunday, but these days everyone goes and buy one as early as Palm Sunday or even before.
What started off as a cake from Arabic and Roman conventions has turned more into an art-form these days, with cake-shops and bakeries building complete scenes from popular culture out of chocolate. There are some amazing works of art that you can enjoy simply by visiting these locales during this time of year.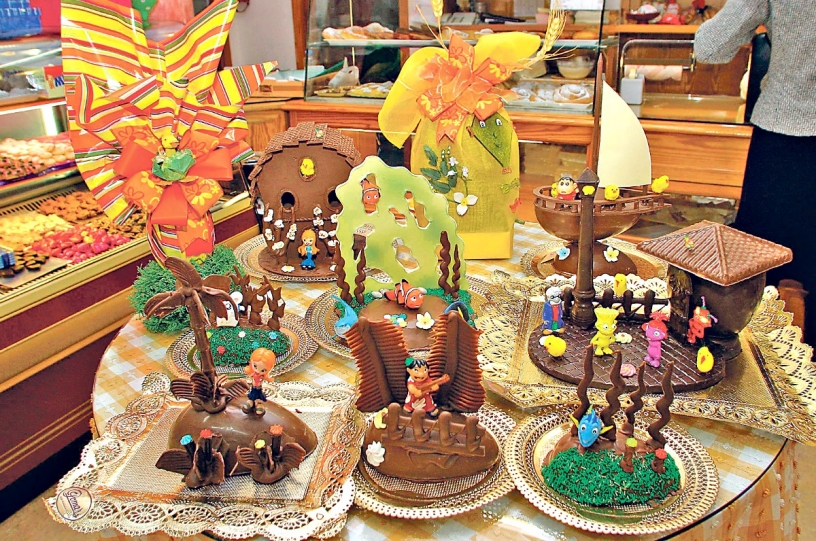 A typical modern Mona de Pascua
There are also other sweet treats like pestiños - fried pastries with sugar and honey - and the more local Bunyols de Quaresma which are fried balls of dough, sometimes served with cream and chocolate fillings.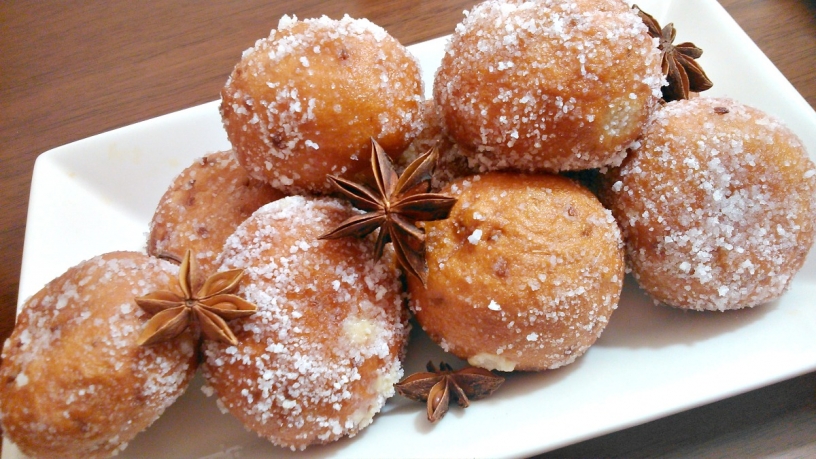 Bunyols de Quaresma
Public holidays during Easter in Barcelona
It's important to know the public holidays if you're visiting Barcelona during Easter. Shops and the majority of museums will be closed on Good Friday, Easter Sunday, and Easter Monday. On the other hand you can still find open restaurants especially to accommodate families and tourists looking to have family meals.
Outside of Barcelona...
If you have the chance to leave Barcelona, then it's recommended to visit the towns of Cervera or Verges where there are some really unique and spectacular celebrations. In Verges they have The Dance of the Dead and the Verges Procession events which have their roots in the mysterious Medieval era. It begins with a celebration on Maundy Thursday, in which practically the whole town will attend a theatrical representation that culminates in the Dance of the Dead where 10 people will dance dressed as skeletons in two groups with scythes or clocks without hands.
The procession is divided into two parts; the first represents the Passion and takes place in the town square at 10, telling the life of Jesus and emphasizing his last days; the second takes place at Midnight on the streets of Verges representing Christ's condemnation and crucifixion. After going through the whole town, the procession ends at the church.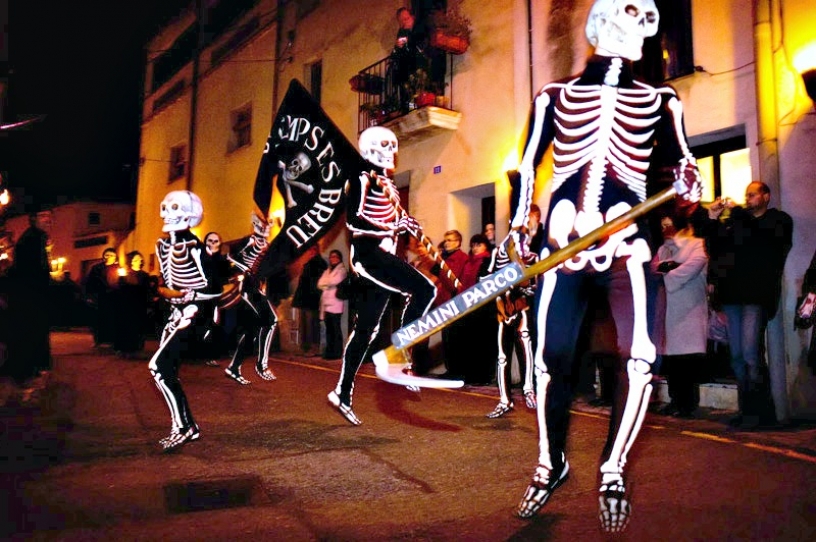 Danza de la Muerte
Cervera also has a Passion of Christ, it's a very traditional procession with roots from the 15th century, it involves some 300 participants.
That's Easter in Catalonia and Barcelona :). Are you aware of a tradition or event that's not listed but should be? Let me know through the comment box and I'll be sure to add it. Meanwhile, if you're looking for accommodation for the Easter holidays then take a look over on this page to find a place near the action.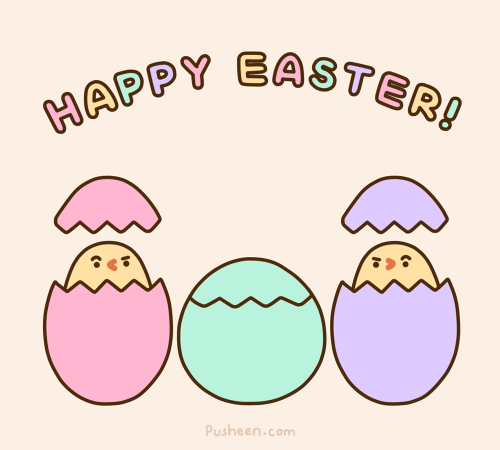 Happy Easter!