I - Brand Outlets
Mango

Mango Outlet
There are a number of Mango outlets around Barcelona, so you can shop at great prices in most parts of the city with discounts between 20% to 40%, which isn't bad. The most known outlets from Mango are around Tetuán (Line 1 on the Metro), where you'll find a large selection of clothes, shoes, bags and accessories and a Mango Outlet that specialises in night dresses.
Their timetable runs from 10AM to 9PM
Addresses:
Carrer de Girona, 37 (Metro 1: Tetuán)
Avenida Pau Casals, 12 – Outlet specialising in night dresses.
Web: Mango Outlet
Alma-Zen : Desigual
Discounts here go between 30% to 70% across the entire range for men, women and children. Updates in stock usually come every Wednesday and Thursday. It's open between 10AM and 9PM, except Sundays when it's closed. There's another Desigual outlet in the Maremagnum shopping centre on the second floor.
Address: Carrer Diputació, 323
Burberry Factory Shop
UK's Burberry has a place under the sun in Barcelona, with an outlet right here where you'll find discounts of about 50% to 70%. This outlet is right in the centre so it's easy to reach with a timetable between 10AM to 8:30PM, except Sundays.
Address: Carrer Valencia, 640 (Metro 1: Clot)
Lefties: Zara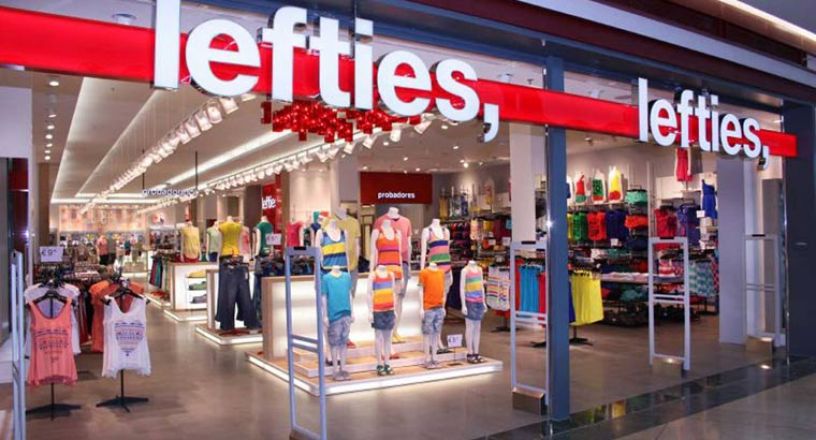 Lefties
Lefties stocks out of season clothes from Zara and other brands like Bershka, Pull and Bear, Oysho and more. You'll also run into clothes designed specifically for the store. Barcelona is home to two Lefties stores in the centre. The first is by Plaça Universitat (Metro Line 1) on Carrer Pelai, 2 and it has two floors. The second is at Maremagnum shopping centre.
Web: Lefties
Custo Outlet
Custo is one of the most representative brands of Spanish fashion. Any garment, accessory or shoe that you're looking for can be found here. It's open from Monday to Saturday from 10AM to 9PM and on Sundays from 12AM to 8PM, which is fine for when you don't have much free time during the week.
Dirección: Plaça de Pi, 2
Web: Custo
Nice Things Outlet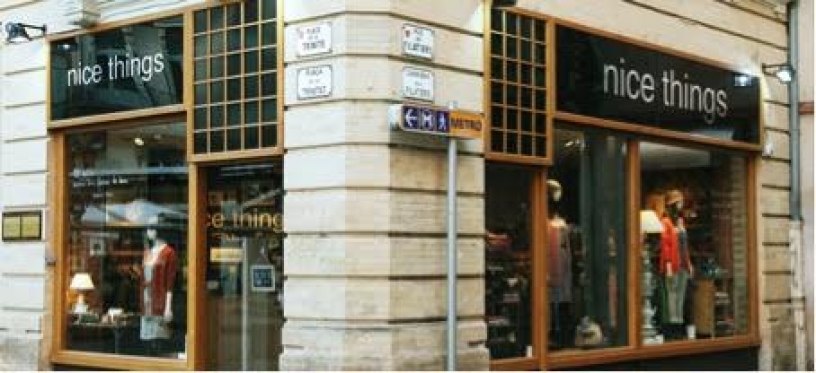 Nice Things Outlet
Spanish women's fashion brand with an open mind. There's a section for babies in the lower part of the store. The tones are very neutral with discreet patterns. Here you'll find products discounted up to 60% off retail price. In addition to clothes there are bags, scarves and jewellery.
Address: Carrer Girona, 38
Web: Nice Things
II - Multi-brand Outlets
Montana Outlet
There are various around Barcelona and it's where you can find the last stocks alongside to-date collections from brands like New Zealand Auckland, Miss Sixty, Pepe Jeans and more. In fact there are more than 50 brands present in these outlets that are open from 10AM to 8:30PM.
Web: Montana Outlet
Outlet Number One
There are two of these in Barcelona. There are brands like Superdry, Ralph Lauren, Liu Jo, Diesel, Kaporal, D&G and more with discounts up to 60%. With so many options you'll surely find something. It's open from 10:30AM to 8:30PM.
Address:
Carrer Aragó, 284
Carrer Comte de Salvatierra, 6
Web: Outlet Number One
The Outlet Born
D&G, Cavalli, Diesel, Versace and Armani are just some of the brands on offer here… There is also a large selection of small Italian brands like ZonaBrera, Olyo and Nosit… That's not all though, there is Fiber and Patricia, which specialise in manufacturing shirts and leather. It's open from Tuesday to Friday from 11AM to 3PM with a 2 hour break and then 5PM tp 8:30PM. On Monday it opens from from 5PM to 8:30PM. Finally, on Saturday it's open all day from 11AM to 9PM.
Address: Carrer del Bonaire, 5
Web: Outlet Born
III - Village Outlet & Shopping Centre: A little out of the way
La Roca Village
La Roca Village
This outlet centre - called La Roca Village due to its size - is a huge conglomeration of outlets from 100 luxury and high-end brands that put products from the last season on offer at cheaper prices throughout the year. This outlet isn't in Barcelona, but you can get there within 30 minutes and discounts usually are around 60%, even more during sales seasons. It's open all week from 10AM to 9PM.
Characteristics:
Play area for children
Free parking with more than 2000 parking spaces available
Bus service between Barcelona and Roca Village
Easy access for people with reduced mobility in all stores
VIP Card: Ask for one at the information desk for an additional 10% discount for 7 days, except on already discounted goods and certain brands have a minimum spend.
Brands at Roca village include but aren't limited to:
Spanish: Loewe, Adolfo Dominguez, FC Barcelona...
British: Burberry, Hackett, Jimmy Choo, Clarks...
French: L'Occitane, Lacoste...
Italian: Armani, Gucci, Bulgari...
American: Levi's, Quicksilver, Tommy Hillfiger, Timberland, Calvin Klein...
Web: La Roca Village
Heron City Shopping Centre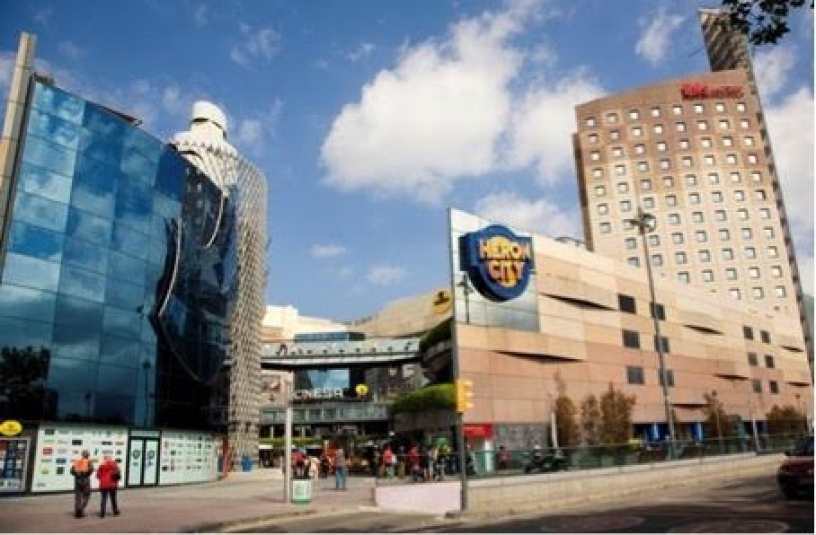 Heron City Shopping Centre
In this shopping centre you'll find many bargains with stores from Desigual, Mango, Diesel, Bershka, Triump, Pull & Bear and various shoe shops. The precinct includes a play area for children at €5/child which includes many activities for those ages between 4 - 12 years, so everyone can have fun! There are also restaurants to keep you fueled and a cinema to chill out afterwards.
Address: Avinguda Rio de Janeiro 42
Web: Heron City