Barcelona combines everything that is most charming about a Mediterranean city – a relaxed pace, months of endless sunshine, and unbeatable food – with the cultural and design clout of almost any city in the cold north.
It's not without reason that Barcelona was voted "World's Best Summer City" by Loney Planet. This was a well-deserved and impressive victory for the Catalan capital.
I don't have to mention that this city is absolutely worth a visit. Tourism in Barcelona is booming as many people escape the cold north for city break. But every pleasure has its downside and I'd like to help you prevent making the travel mistakes many tourists make.
1. Flying to Girona or Reus
Many travelers who are on a low-budget trip book a flight with the low-cost airline company Ryanair. When you book your ticket on their web-site you will notice that you can choose between "El Prat Llobregat (Barcelona)", "Reus (Barcelona)" and "Girona (Barcelona)".
Be aware that they mislead you by labeling the airports of Reus and Girona as belonging to Barcelona while those airports are more than 100 kilometers away, not even in the same region as Barcelona. For a comfortable trip, just fly to the airport of Barcelona (El Prat) and take either the low-cost taxi or the aerobus to the city center.
2. Eat on the Ramblas
The Ramblas, although a must-visit, is not the place to have a drink or meal. This is the most famous street of the city and therefore restaurants are exploiting tourists.
This comment on Trip Advisor says enough:
Despite some very pleasant and value for money experiences in Barcelona I was angered by the blatant rip off here. How 2 sandwiches ended up costing €36 was a total shock and they weren't even nice to eat. The staff were fairly unhelpful too. Just keep walking past.
by Mar67, 27 September 2012
3. Take the Bus Turistic
It sounds great, a full day hopping on and off the Bus Turistic, but the reality is different. It is true that the bus covers most of the city, but you won't be able to see it all in just one or two days.
The bus turistic is constantly held up by traffic jams. A day ticket for the bus will rip you off €22 per person for a single day. If you want to get quickly from one tourist attraction to another I'd advise you to take the Metro. You can buy a so-called T-10 for less than € 10, with which you can make ten trips, and you can travel with multiple people on one single card.
4. Going to Barceloneta beach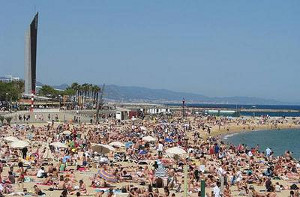 The beach of Barceloneta is by far the most-visited beach of the city. It is definitely worth a visit and take a stroll along the boulevard.
But if you are traveling during high season and you are planning a day at the beach I'd strongly recommend to go to one of the many other beaches of Barcelona. The beach of Barceloneta is small and over-crowded.
In just a couple of minutes you can walk to the beach of Nova Icària, Bogatell and Mar Bella. Or you can take the metro line 4 (yellow) to Vila Olímpica. Those beaches are larger, less crowded and have many facilities.
5. Not haggle for gifts
For many tourists it's sort of a habit to buy gifts for family and friends staying at home. In the city, especially in the city center, you will find many gift shops. Based on my own experience I was able to make simple 6 step haggle plan that certainly works.
Pretend you'd really like the gift you see until the salesman notices.
Ask them for the price.
Tell them that you find it too expensive.
They will lower the price.
Tell them that you still find it too expensive and walk way.
If the salesman comes after you he will make you a real good offer. If not, just go to the next gift shop and try it again.
Keep reading, next week I will publish part 2