Day Two:
Having devoted the first day to visiting Parc Güell, Torres Bellesguard, and Palau Güell, I decided to dedicate the second day to four other works of Gaudí whose locations you can find on the map at the bottom of the article.
4. Casa Batlló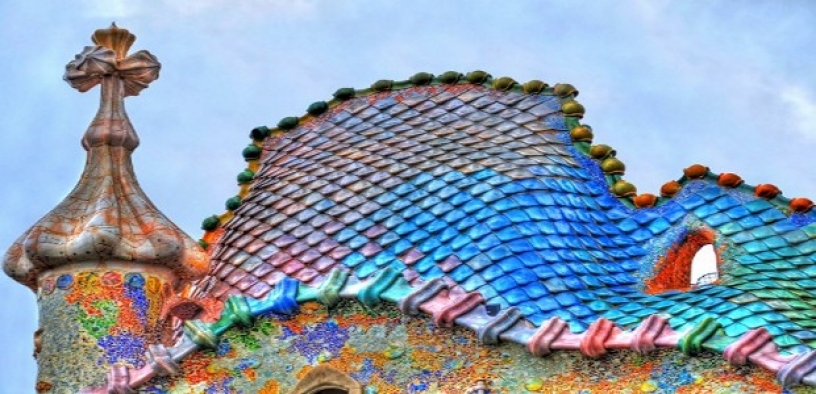 Casa Batlló Roof
Walking up from Las Ramblas and past Plaza Cataluña, I arrived at Passeig de Gracia where the first part of my second day began, one of the most unique works from the mind of Gaudí: Casa Batlló.
A charming building by day and a romantic building by night, the external façade has balconies resembling Venetian masks that literally left me with my jaw-dropped in awe. The roof is also magnificent, covered in little ceramic tiles that are reminiscent of dragon scales. That's because this building is actually one of the many representations of dragons in Barcelona.
5. La Pedrera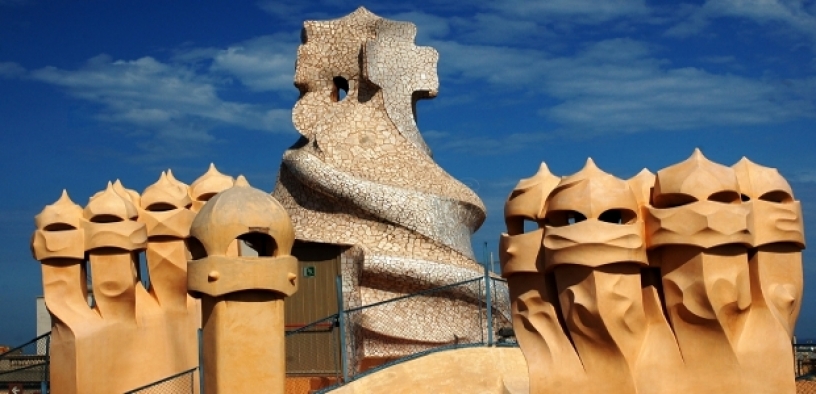 La Pedrera Roof
Just 5 minutes of the street from Casa Batlló, another famous landmark from Gaudí can be found; Casa Mila, widely known internationally as La Pedrera. A building of very sober colours, yet with so much attention to detail, it is characterized by the sumptuous façade and the wrought iron accents.
La Pedrera also features a peculiar roof, not for it's colours like at Casa Batlló, but rather for the chimneys that resemble medieval soldiers. Gaudí's architecture is unique in the world because his creativity will take visitors on a charming journey through his very own imagination.
6. Colonia Güell
After getting to the Metro station at Plaza España, I caught the train (Line S8) to get to Colonia Güell and discovered a work by Gaudí completely unique and very interesting for all who love Catalan art.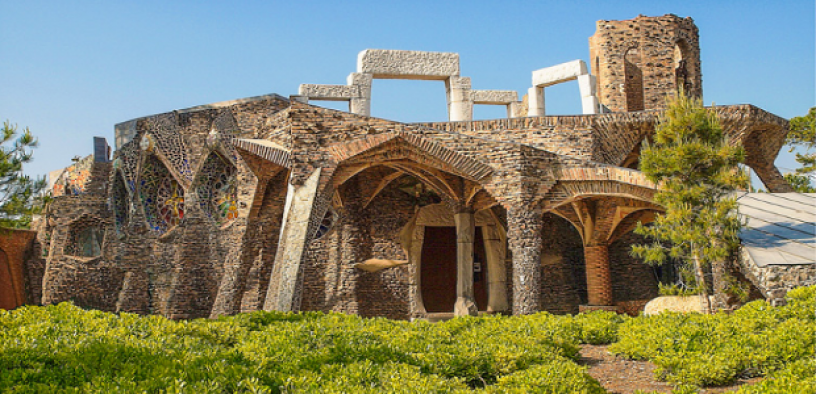 Colonia Güell
Colonia Güell, just a few kilometres from Barcelona, is a small industrial town that was commisioned by Güell to give accommodation to the workers of his textile factory.
Visiting this small population, I was particularly stunned by Gaudí's Crypt, also know as Church of the wonky columns. It's rather hard not to be impressed once you're under those columns that form part of the imposing structure of the church. Simply incredible. Guide never ceases to amaze. Es dificil no quedar impresionado cuando te encuentras debajo de esas columnas que por su forma parecen ceder el peso por la imponente estructura de la cripta. Increíble, Gaudí no deja de sorprender:¡es un genio!
7. Sagrada Familia
No amount of discovering Gaudí would be complete without visiting the Sagrada Familia, this architectural masterpiece is considered by many to be the symbol of the city. To get to the Sagrada Familia is easy enough, just catch the Metro to the station with the same name (Line 2 or Line 5)... but to truly discover it you might need to read this article
Sagrada Familia
Although this enormous building seems to be in a constant state of construction, it's impossible not to be impressed by its charm. I think by the fact that it's in this constant state of work, I began to realize the great importance of this project that Gaudí began working on more than one century ago, with such a ominous size and a still being incomplete after all this time, I felt so small in front of this astonishing structure. No wonder it is the most visited building in Spain.
It seems that it will be finished by 2026, though rumours are already circulating that it will be later than this. For those of us like me who love to return to see completed monuments, it will be a fantastic day when I finally get to see this project completed in person.
I'm not going to wait until 2026 to return to Barcelona... Because a part of me has already stayed there. From the Rambla, to Montjuïc and Barceloneta, it has it all, but it has certainly been Gaudí that has fuelled my love for the Catalan capital.
Map of Day Two
For another world-famous-artist-tour in Barcelona, why not follow the Picasso route.