Did you know?
They started working on the Sagrada Familia in 1882 and they're still not finished.
Gaudí spent the last years of his live on the Sagrada Familia.
Gaudí died in a tram accident and is burried within the Basilica's Crypt
2.5 million visitors come to see the Sagrada every year
To make the work seem even more endless, while on one end of the Sagrada Familia they're constructing new parts, on the other they're renovating the old constructions!
The Sagrada Familia, an endless project
Unlike many people think, the construction of the Sagrada Familia (found in the neighbourhood of Sagrada Familia) commenced before Gaudí was actually involved in the project. In 1883 Gaudí took over the project and transforming it with his architectural style, combining Gothic and Art Nouveau forms. So the actual building of the church as it has become nowadays started with the interference of Gaudí in 1883.
The photo above shows the Sagrada Familia in 1915, and most likely that was still the way the churche looked when Gaudí died in 1926, leaving the project being completed for about a quarter. His death was actually a disaster for the continuation project. The construction progressed very slowly, as it almost completely relied on donations.
In July 1936 started the Spanish Civil War. During the war there was almost no progress in the project. The construction was speeding up in the 1950s and still nowadays large part of the church isn't completed yet. It's expected that completion date will be around 2026.
Sagrada Familia in 2026
It is widely believed that the Sagrada Familia will be finished in 2026. Here you have a video and photo which shows how different the building will look once it is completed.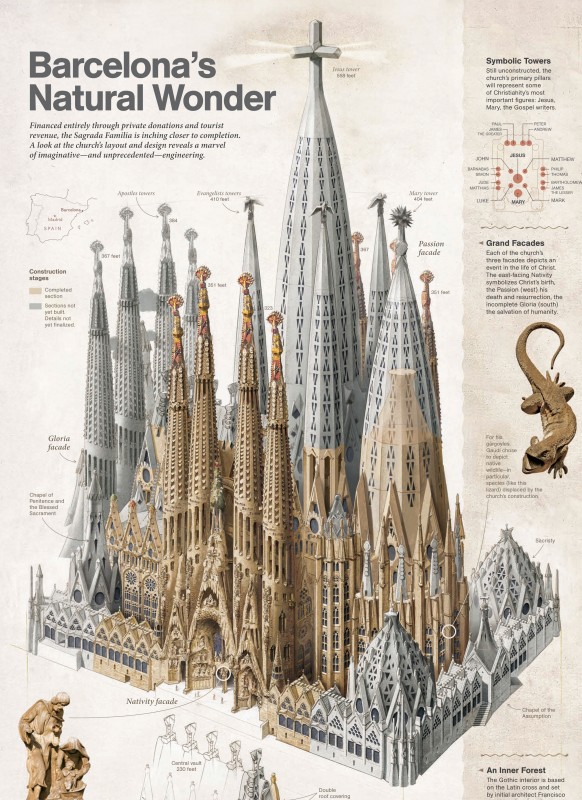 Other images