Barcelona Design Museum
(Museum)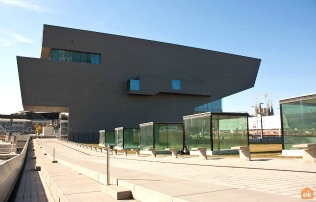 The Museu del Disseny, which opened its new headquarters in December 2014, is a museum dedicated to the history, practice, and uses of design.. One of its main objectives is to disseminate the culture of design in the 21st century, looking at conception, manufacturing and distribution, and analyzing aesthetic and functional capacities.
It features more than 70,000 objects, the result of the union between the collections of the Museum of Decorative Arts, Museum of Ceramics, Museum of the Textile Clothing, and Cabinet of Graphical Arts.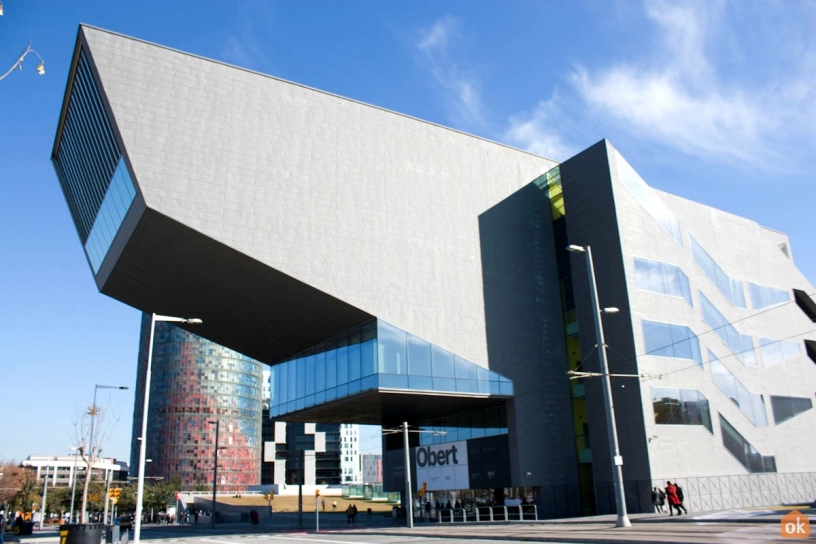 The Design Museum
Barcelona has always been a city historically linked to design and it is for this reason that in recent years the City Council has evaluated and decided to create a single space to find all the collections related to the world design.
The center aims to become a meeting point between individuals and institutions related to this sector in order to stimulate research. Moreover, the idea is to introduce visitors to each part of the design process; the study, the selection of materials, processing, etc.
A work of design, both inside and out
The museum building - Disseny Hub Barcelona - has the shape of an titled rectangle, made of materials like glass and zinc plates that give the typical appearance of industrial architecture, modern geometry and asymmetry. Among the locals it is known as The Stapler ;)
Inside the building there several rooms with permanent exhibitions and temporary exhibitions (a total of 5,000 m² of exhibition space), a documentation center (which has more than 22,000 documents), research rooms, a hall for events and a large auditorium. The new facility is located in Plaça de les Glories, in the Poblenou area.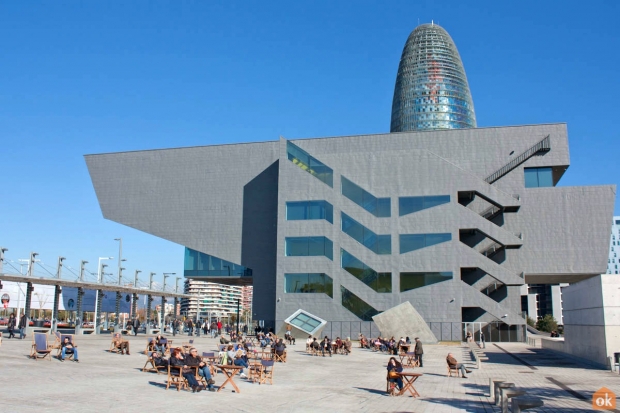 Exterior of the Design Museum
Permanent Exhibits
The museum has 4 permanent exhibits covering Graphic Design, Textiles, Decorative arts, and Industrial Design.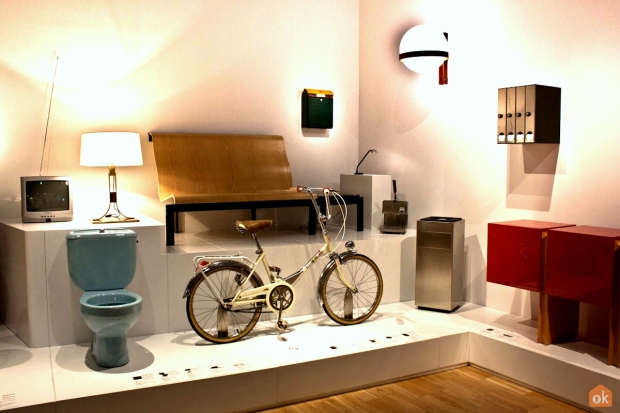 From the world to the museum exhibit
First Floor: From the world to the museum. Product Design, cultural heritage, dedicated to the design of objects from everyday life, discovering their functions and why they were created.
Second Floor: Extraordinary! Collections of Decorative and Author-Centred Art, a journey from the 3rd to the 21st century on the evolution of decorative art - ceramics, glass, clocks, furniture, and more.
Third Floor: Dressing the body. Silhouettes and fashion (1550-2015); A look at how clothing has evolved over history, not just in appearance, but culture and meaning.
Fourth Floor: Graphic Design: from trade to profession (1940-1980); More than 500 pieces of pioneering graphic design across history.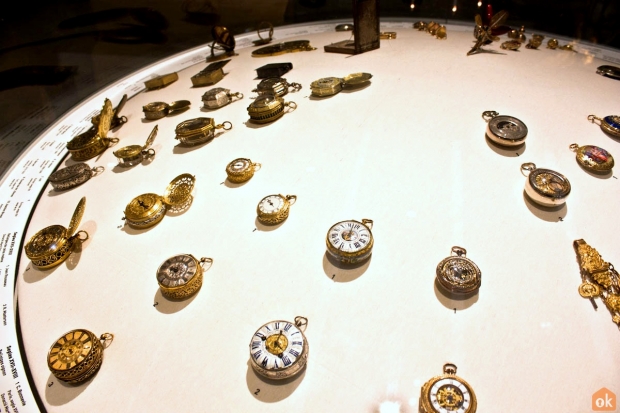 Pocket watches at the Design Museum
Practical information about the Barcelona Design Museum
Where: Disseny Hub Barcelona Building - Pl. de les Glòries Catalanes, 37-38
How to get ther: Metro station Glòries (Line 1). Bus lines (7, 60, 92, 192, H12). Tram station Glòries (T4, T5, T6)
Disabled access: The museum has ramps and wide elevators for people with mobility problems
Opening hours: The museum has a separate winter and summer timetable . You can consult the full timetable in English here.
Prices: €6 standard entry. €4 reduced price for certain criteria (elderly, students, club members).
Accommodation nearby: You can find places nearby the design museum here.
Other attractions in Sant Martí
Encants Market

One of the oldest and most unique markets in Europe

Somorrostro beach

Somorrostro is one of the most central beaches of Barcelona and is easily accessible ...
Upcoming events in Museu del Disseny

May

25

-

Aug

25

David Bowie Is Exhibition in Barcelona From 25 May to 25 August 2017, you can see an exhibition dedicated to the British artist, David Bowie.
Thu

25

May
Fri

25

Aug
Museu del Disseny, Barcelona
Do you like this post?
Join over 5000 subscribers and receive our posts delivered straight to your inbox. It's free :)
Share your thoughts
Apartments in Barcelona
Related articles
Tired of reading about Barcelona? Find an apartment and stay there!