Sant Martí
(Districts)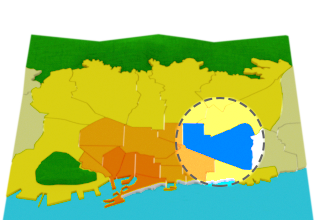 Sant Martí has transformed into a prime area thanks to the renovation for the 1992 olympics.
Until 1716, Sant Martí de Provensals consisted of a parish for the Santa Maria del Mar Cathedral. By 1897 is had grown and was added to the city of Barcelona together with the towns of Gràcia, Sant Andreu, Sants, Sant Gervasi, and Les Corts. Tourists do not usually wander through its streets and the area is mostly residential, giving it an authentic Barcelonian vibe. It's also really close to the sea, look at our apartments close to the beach for more.
Video presentation of Sant Martí
In this video you'll discover the different neighbourhoods of the Sant Martí district including Vila Olímpica, Poblenou, Sant Martí and Diagonal Mar.
Why Stay Here?
Low prices of the homes in this area have been attracting residents from all over the world. Sant Martí has many outdoor areas, gyms, and courts for basketball and football, making the area ideal for anyone who practices sports.
If you're into getting to know the locals, be close to one of the largest shopping centres in Barcelona, or want to stay away from the noisy city centre, you'll find this district perfect.
Attractions

Sant Martí Church
One of the places worth visiting thanks to the sheer history is the picturesque Sant Martí Church. It is located in the beautiful 'Sant Martí de la Verneda Park'.
You can also go to see something more modern, like this unique building in the Sant Martí district that has become a symbol of the city; Torre Abgar. At 145 metres high with 38 floors, it is easily one of the most famous buildings in Barcelona, ​​especially at night.
La Rambla Prim is another tourist attraction, a pleasant pedestrian street with trees and benches. Stroll by and go people-watching as the neighbours take the opportunity to walk the dog or play some sports.
Where to Eat

Tapas
There are a few decent places to eat in Sant Martí and one that stands out is Restaurante Sant Martí, a small and traditional locale. They specialize in seasonal food and only source fresh Spanish produce.
Ramblero, a tapas bar that serves the dishes you have come to expect, like Patatas bravas and croquettes, but also with creative additions like diced foie with praline and white chocolate.
If you're ever stuck for a place to go though, don't threat because there are many bars you can stop by in to grab a bite to eat.
Shopping

Glòries Shopping Centre
Sant Martí is ideal for shopping. It is home to the Glories Shopping Mall, with 166 stores in 3 different levels, a cinema with 8 screens, and a huge selection of restaurants and bars.
Like in other Barcelona districts, you'll also find a market in Sant Martí, giving the perfect chance to try the fresh local produce. It can be found on Carrer de Puigcerdà and has been serving the zone since 1966.
Getting Around

L2 - The Purple Line
Sant Martí has competent public transport options
L2 - Purple Line at Bac de Roda or St Martí will take you to the Sagrada Familia in 10 minutes or the city centre in 17 minutes.
L4 - Yellow Line at El Maresme/Fòrum or La Pau will take you to the city centre in 20 minutes.

The Tram network (Lines T4, T5 and T6) are a convenient option to traverse the eastern block of the city.
Attractions in Sant Martí
Do you like this post?
Join over 5000 subscribers and receive our posts delivered straight to your inbox. It's free :)
Share your thoughts
Select the area and discover the benefits of staying there




























Related articles
Tired of reading about Barcelona? Find an apartment and stay there!