Nou Barris
(Districts)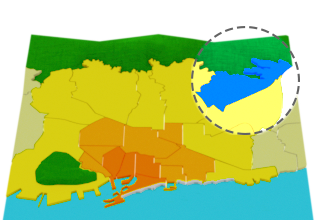 A little known district located in the north in the city.
Nou Barris translates from Catalan to English as 'Nine Neighbourhoods', so you can probably guess the number of neighbourhoods that this district is made up of... Fourteen actually. Over time 5 more have been added as the city infrastructure improved and this part of the city was renovated. Today it's certainly one of the most authentic residential districts of Barcelona, allowing you to experience the real Barcelonian lifestyle.
Why Stay Here?
Nou Barris is a quaint and not widely known district at the most north-western part of the city, close to the district of Sant Andreu. It's ideal for families or couples that want to spend some peaceful and romantic moments together. With lots of parks it's ideal for those demographics, and as an added bonus the accommodation is much less expensive than the city centre.
Attractions

Santa Creu Institution
The biggest attraction of the district is the large number of green spaces, like the very modern 17 hectare park around Plaça de ca N'Enseya, opened in 1999 and renovated in 2003. It's the second largest park in the city and has a range of significant buildings such as the Santa Creu Mental Instition (now a Library) and the Nou Barris Council Headquarters. The park is unique in that it is divided up into triangular sections and layouts, right down to the triangle fountains.
Also in the zone is the park of Turó de la Peira which gives an alternative panorama of the city. Or check out Guineueta Park where locals go to relax during the summer. If you like sculptures and Spanish history, then on Plaça Llucmajor there is a monument dedicated to the short-lived Spanish Republic and the president at the time Francesc Pi i Margall.
Dónde comer

Bar in Nou Barris
La Esquinica is a cool little place to eat out at. There is a wide menu selection with all kinds of tapas at a good price. The Patatas Bravas are brilliant, with a friendly and attentive staff. It's a good sample of Spanish cuisine and culture.
If you can get over then name of El Freak & Do, you'll find an original and fun locale that serves up tasty Mediterranean cuisine.
To step away from the tapas bars, step into All i Oli, a restaurant with top quality food at an even better value.
Shopping

Mercat de la Mercè
For your shopping needs, take a trip down Passeig Valldaura or Vía Júlia, zones with a diverse selection of stores. Supermarkets, banks, fashion boutiques, technology, home-wares, and more.
If you're looking for a bit of a fun and local shopping experience, stop off at the Mercat de la Mercè on Pg. Fabra i Puig. Established in 1961, this market has since offered the locals all kinds of fresh produce, like meat, fish, cereals, dairy, fruit, and much more.
Getting Around

L4 - The Yellow Line
Though it may be in the most northern part of the city, the Nou Barris has a massive selection of Metro stations
Canyelles, Trinitat Nova, Roquetes.
Llucmajor, Maragall, Trinitat Nova, Via Júlia.
Maragall, Vilapicina, Virrei Amat.
Casa de l'Aigua
There are also a variety of buses that pass through the district, like lines 80, 81, 82, and 83 at Plaça Llucmajor.
Do you like this post?
Join over 5000 subscribers and receive our posts delivered straight to your inbox. It's free :)
Share your thoughts
Select the area and discover the benefits of staying there




























Related articles
Tired of reading about Barcelona? Find an apartment and stay there!