Eixample Esquerre
(Districts)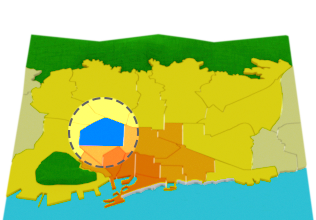 Eixample Esquerre in 5 minutes
Eixample was designed by engineer Ildefons Cerdà to extend Barcelona beyond the city walls it had at the time. It is split into Eixample Dret and Esquerre (Right and Left). The neighbourhood is characterized by its structured layout, with all the buildings laid out in blocks.
Video presentation of Eixample Esquerre, Barcelona
Why Stay Here?
If you seek a central location with a very active nightlife, you'll be pleased with Eixample Esquerre! This neighborhood is very close to Plaza Catalunya and has very good access to public transport.
In this neighborhood there is a great mix of people coming from all walks; the elderly bourgeois, middle class families, the young, and the not so young. It's also known for being the gay district of Barcelona, for which some have dubbed it Gayxample.
If a central, yet residential neighbourhood sounds like the place that you want to stay in, then hop on over and check out our list of apartments in Eixample Esquerre
Attractions

Fundación Tapies
The Antoni Tàpies Foundation is an interesting place. It was built to promote understanding of contemporary art. You'll love the library devoted to literature and documentation on modern art and artists of our century. To take advantage of the sun and good weather, we recommend strolling along the Rambla de Catalunya or Joan Miró park.
Dónde comer
Cinc sentits Restaurant
In this neighborhood there is a wide selection of restaurants. Everyone can find something, but Bodegueta is one of those places worth visiting for everyone. It can be found on Rambla de Catalunya, with very few tourists, so you'll have an authentic place at a good price. You can choose to eat outside on the terrace or inside.
For fans of Spanish ham, you have Mesón Cinco Jotas, also on the Rambla Catalunya. They specialize in Iberian cured ham, which is easily the best ham in the world! For those celebrating a special event in life, Cinc Sentits has a Michelín star and boasts a contemporary cuisine inspired by traditional Catalan dishes.
Nightlife

Chupitos
Eixample Esquerre is one of the most popular parts of the city for locals in the know to go. It's full of bars and clubs around the Universitat area of the city. So for a great experience head to the famous Hotel Axel that organize terrace parties open to the public each night.
Those who like to start their nights with some shots will love Espit Chupitos that offers more than 500 types of shots.
To have a more chilled night, there's a lounge bar called Opium Cinema, a laid back and elegant bar with some good music.
When it comes to nightlife, Eixample Esquerre has something for everyone. You won't have to look too hard.
Shopping

FNAC inside El Triangle Shopping Centre
Many of the best shops can be found around Plaça de Catalunya, on the border between Eixample Dret and Esquerre. Like the massive Apple Store, the "El Corte Inglés" department store, and more.
There are shopping centres too, like El Triangle just outside of Esquerre by Plaça de Catalunya, or Las Arenas on Plaça d'Espanya, where you can head up to the roof for full 360º views of Barcelona to discover the city like you've never seen it before or sit on a terrace and enjoy a refreshing drink.
The Mercat del Ninot is a typical local market, with lots of fresh produce on offer. It's the perfect place to get some good quality food during your stay in Barcelona.
Getting Around

Línea 1
Getting around the district is easy, you have 4 metro lines to choose from:
L1 - Red Line at Universitat, Urgell, or Rocafort.
L2 - Purple Line at Paral·lel, Sant Antoni, or Universitat
L3 - Green Line at Tarragona.
L5 - Blue Line at Entença or Hospital Clínic.
There are also many taxis and buses at your disposition in this zone.
Other images
Do you like this post?
Join over 5000 subscribers and receive our posts delivered straight to your inbox. It's free :)
Share your thoughts
Select the area and discover the benefits of staying there




























Related articles
Tired of reading about Barcelona? Find an apartment and stay there!